GOP-led states going after critical race theory in schools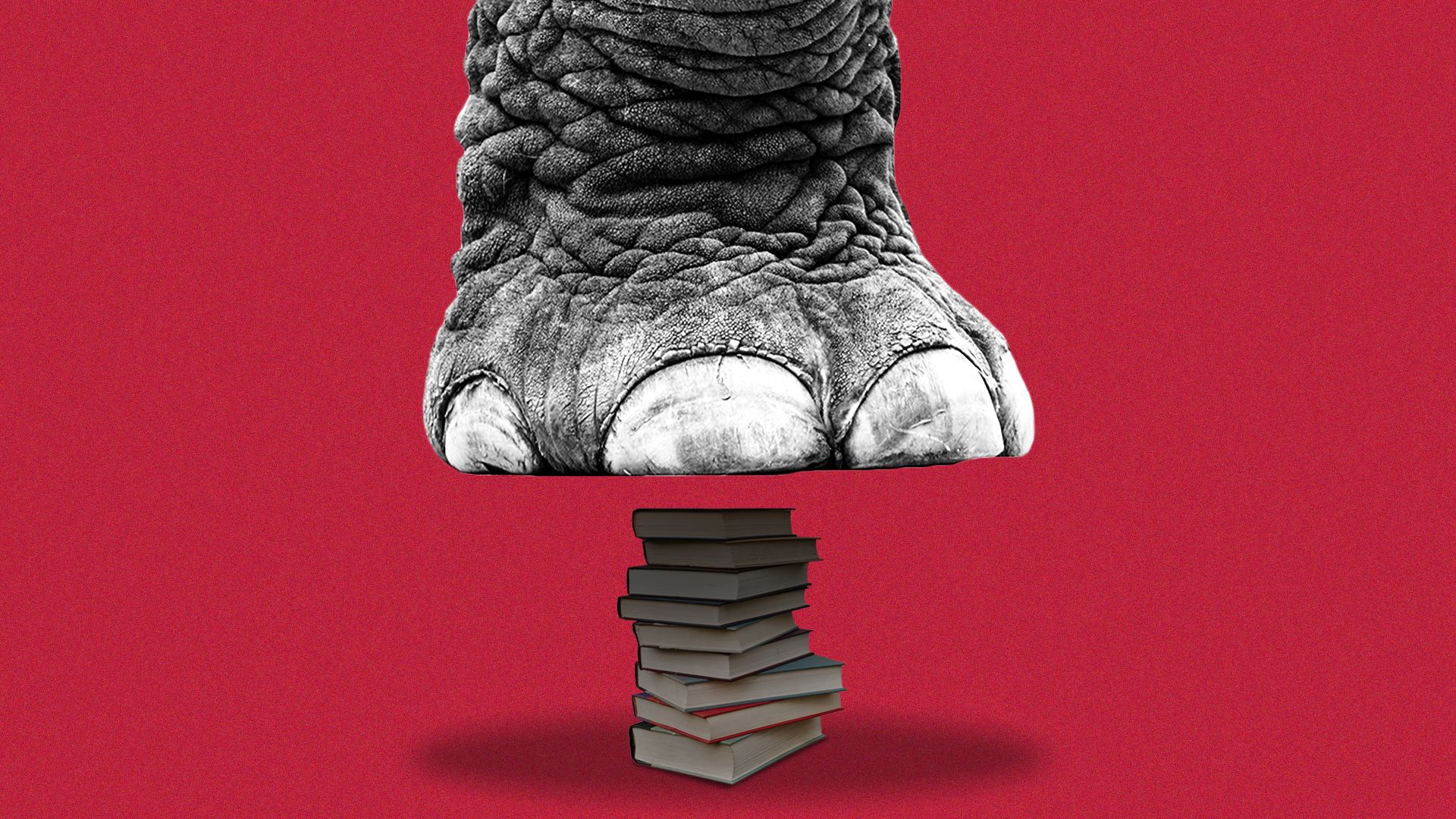 Republicans in at least nine states are moving to limit students' exposure to critical race theory — a concept that links racial discrimination to the nation's foundations and legal system.
Why it matters: A year after George Floyd's killing, how systemic racism is — or is not — taught in public schools has become a new fault line in the culture wars, with implications for how the next generation of Americans understands U.S. history.
Conservative activists are pressing for less talk about racism and more talk about patriotism.
Civil rights advocates and some educators say banning critical race theory from schools constrains academic freedom and suppresses the experiences of people of color.
Driving the news: Tennessee Gov. Bill Lee signed a bill this week banning the teaching of critical race theory in public schools — over the objections from Black Democrats in the county where Dr. Martin Luther King, Jr., was assassinated in 1968, WHBQ-TV reported.
Idaho Gov. Brad Little and Oklahoma Gov. Kevin Stitt recently signed similar bans, and lawmakers in Oregon, Arkansas, Utah, Missouri and Arizona are crafting their own versions.
Stitt was kicked off a commission marking the 100th anniversary of the Tulsa Race Massacre after he signed the bill banning critical race theory from schools.
In Texas last week, the state Senate approved a bill to ban critical race theory in public and open-enrollment charter schools and eliminate requirements to study writings by women and people of color.
What we're watching: A political action committee launched this week with ambitions to fill school boards around the country with candidates who oppose teaching critical race theory, as Axios' Stef W. Kight reported.
A forum at a Missouri school district turned heated last month after white parents booed speakers talking about racial discrimination and others denounced critical race theory as propaganda. School administrators reported receiving death threats.
What they're saying: Rep. Burgess Owens, a Utah Republican who is African American, said local school officials who advocate critical race theory should be fired.
"Fire them. Get rid of them," Owens said during a Saturday appearance on Newsmax. "That ideology is against everything we believe in. We need to fire everyone we can find, and those we will fire later on, we'll figure out a way to get rid of them, too."
The other side: Critical race theory "invites us to confront with unflinching honesty how race has operated in our history and our present, and to recognize the deep and ongoing operation of 'structural racism'," deans of the University of California Law Schools said in a joint statement last year.
"What comes next is...what we are going to do about it? That's what is scaring people," said Jeffery Robinson, executive director of The Who We Are Project.
Details: Critical race theory is a framework developed in the 1970s, by legal scholars including Derrick Bell and Richard Delgado, that argues white supremacy maintains power through the law and other legal systems.
Critical race theorists — also known as crits — dismiss the notion that racism stems from acts of individuals, saying it comes from how the nation formed. Only through attacking routine practices and institutions through color-conscious efforts will racism be dismantled, they say.
They note that the Declaration of Independence refers to Native Americans as "savages" and the U.S. Constitution counted enslaved Black people at a rate of three-fifths. They say such credos gave the U.S. cover to remove Indigenous people and keep Black people as second-class citizens.
What's next: President Biden will travel to Tulsa on June 1 to observe the centennial of the Tulsa Race Massacre, the White House said Tuesday.
The massacre has become a rallying cry for African Americans seeking reparations from one of the worst acts of racial violence in the nation's history.
City officials and the white mobs who destroyed Tulsa's Black Wall Street and killed 300 innocent people were never brought to justice, and the legal system prevented Black people from seeking redress.
Go deeper