What Russia's withdrawal from the grain deal means for the world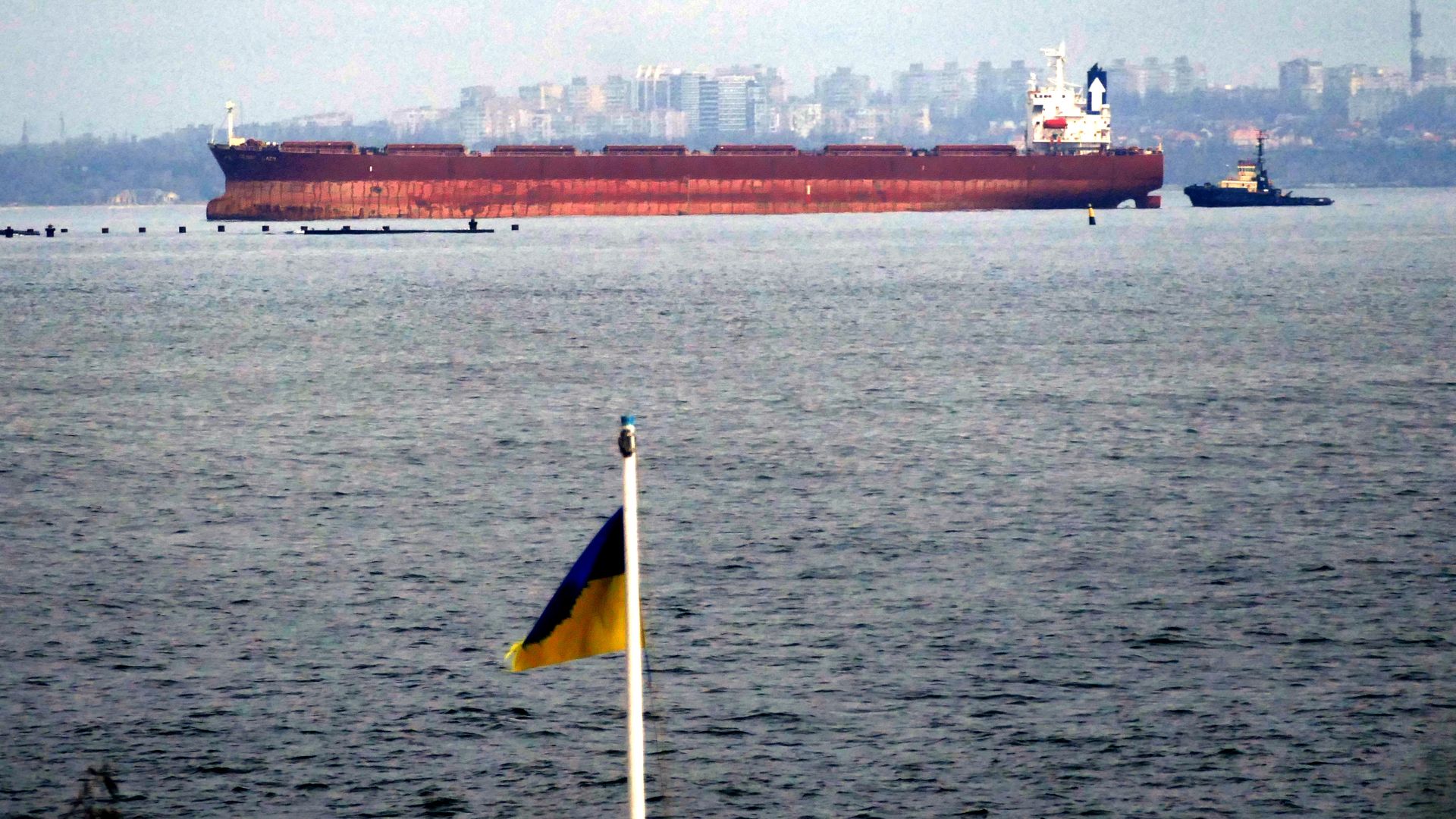 Russia's decision to pull out of a deal that allowed Ukraine to export grain via the Black Sea could have far-reaching global consequences, especially for the world's most vulnerable, the UN and other humanitarian aid groups warned Monday.
Why it matters: The deal had been crucial to stabilizing global food prices, particularly in regions where millions face hunger and food instability. Experts now fear the end of the deal will push more people into crisis.
Catch up quick: The Black Sea Grain Initiative was a set of agreements brokered by the UN and Turkey last year after Russia's invasion of Ukraine and blockade of Black Sea ports sent food prices soaring worldwide.
Ukraine and Russia in pre-war times provided more than one-quarter of the world's wheat supply.
The initiative helped reduce food prices by more than 23% since March of last year, according to the UN. More than 32 million metric tons of food commodities have left Ukrainian ports since the deal was signed.
Announcing it was pulling out of the initiative, the Kremlin said on Monday that certain conditions related to the deal have not been met.
Moscow previously complained the deal has benefited Ukraine, while Western sanctions at the same time restricted the flow of Russian fertilizer and wheat to foreign markets.
The UN said it had sent a letter to Russian President Vladimir Putin last week proposing additional ways to "remove hurdles affecting financial transactions through the Russian Agricultural Bank," UN spokesperson Stephane Dujarric told reporters.
The big picture: The end of the deal will likely have both immediate and long-lasting effects, experts and humanitarian aid groups say.
Wheat futures jumped on the news but ended the U.S. trading session down slightly more than 1%.
Food insecurity is expected to rise, putting pressure on the already strained humanitarian aid system that is responding to record displacement and an increase in hunger against the backdrop of significant funding shortfalls.
That could force aid groups to make even more difficult decisions about who gets assistance, Kate Phillips-Barasso, Mercy Corps vice president of policy and advocacy, told Axios.
Zoom in: Parts of Africa and the Middle East will likely feel the impacts of Russia's decision particularly hard due to their reliance on wheat from the two warring countries.
An estimated 80% of East Africa's gain supply comes from Russia and Ukraine. More than 50 million people across the region are already facing hunger at "crisis levels," according to the International Rescue Committee.
In the Middle East, countries such as Yemen, Lebanon and Egypt experienced wheat shortages and saw the price of staple bread items soar before the deal was signed last year.
"Any disruption to the global food supplies at a time of heightened need could have devastating consequences," IRC President David Miliband said in a statement.
Between the lines: The decision likely won't have as big of an immediate impact on global food prices as the onset of Russia's invasion and blockade did.
That's in part because other grain suppliers, including Brazil and Russia itself, have increased their output.
Ukraine has also increased the volume of its grain exports through EU countries via land and river routes, though logistical issues remain and the amount still pales in comparison to what is shipped by sea, Reuters noted.
UN data also shows shipments through the Black Sea Grain Initiative had already been falling prior to Russia's announcement.
What they're saying: Foreign governments and aid organizations immediately condemned Russia's decision on Monday.
UN Secretary-General António Guterres told reporters Monday that Russia's decision "will strike a blow to people in need everywhere."
U.S. Ambassador to the UN Linda Thomas-Greenfield said "while Russia is playing political games, real people will suffer."
"The child in the Horn of Africa who is severely malnourished; the mother who will stop producing breast milk for her baby because she doesn't have enough to eat herself — these are the consequences of Russia's actions. This is what it looks like when one country decides to hold humanity hostage," she added.
It was a sentiment echoed by international aid groups.
"Humanitarian assistance and things that are a lifeline to people should never be subject to politics," Mercy Corps' Phillips-Barasso said.
Phillips-Barasso told Axios that providing assistance in the short term is crucial, but it's also important to do everything possible, including investing in people's ability to support themselves, earlier to help alleviate the impact felt when shocks like conflict or climate-fueled disasters hit.
The grain deal is "absolutely fundamental, but it's one piece of the food insecurity puzzle," particularly as the world's most vulnerable are often those who feel the impacts of situations they cannot change or events they didn't create the most, she added.
Go deeper