Russia pulls out of vital Black Sea grain deal, causing global alarm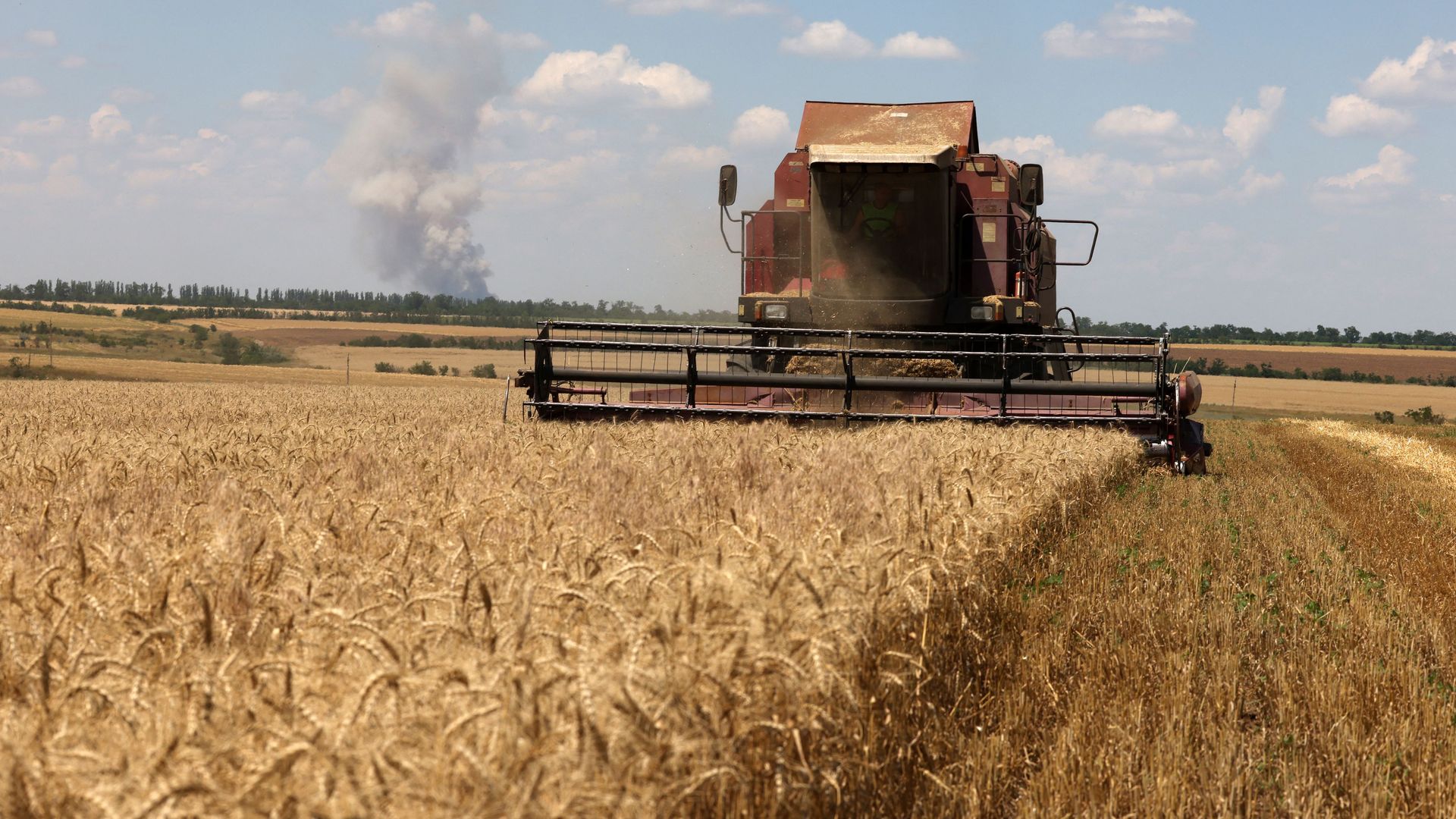 Russia on Monday said it's suspending its participation in the vital Black Sea grain deal until the country's conditions are met.
Why it matters: The UN and other humanitarian groups say the initiative, which allowed Ukrainian grain to be exported via the Black Sea despite Russia's blockade, has been crucial to stabilizing food prices worldwide amid a global hunger crisis.
Russia and Ukraine are both major suppliers of wheat and other food products. Since being signed last year, the initiative has "ensured the safe passage of over 32 million metric tons of food commodities from Ukrainian ports," UN Secretary-General António Guterres told reporters on Monday.
"At a time when the production and availability of food is being disrupted by conflict, climate change, energy prices and more, these agreements have helped to reduce food prices by over 23% since March last year," he added.
A blockade on Ukrainian grain exports after Russia's invasion began last year sent food prices soaring in parts of Africa and the Middle East that rely on wheat from the warring nations.
State of play: "The grain deal has stopped," Kremlin spokesperson Dmitry Peskov told reporters on Monday. "As soon as the Russian part is completed, the Russian side will immediately return to the implementation of this deal."
Moscow has complained that the deal, which was brokered by the UN and Turkey last summer, has benefited Ukraine, but Western sanctions have restricted the flow of Russian fertilizer and wheat to foreign markets.
The UN agreed in a separate agreement last year to help Russia overcome obstacles to getting its agricultural products to market.
Guterres last week sent a letter to Russian President Vladimir Putin proposing additional ways to "remove hurdles affecting financial transactions through the Russian Agricultural Bank," UN spokesperson Stephane Dujarric told reporters, per Reuters.
Peskov claimed that Russia's decision did not have anything to do with Monday's attack on a key bridge that connects the Crimean Peninsula to Russia.
What they're saying: "Ultimately, participation in these agreements is a choice," Guterres said.
"But struggling people everywhere and developing countries don't have a choice. Hundreds of millions of people face hunger and consumers are confronting a global cost-of-living crisis. They will pay the price," he added.
"Today's decision by the Russian Federation will strike a blow to people in need everywhere....There is simply too much at stake in a hungry and hurting world."
U.S. Ambassador to the UN Linda Thomas-Greenfield called Russia's decision an "act of cruelty."
"While Russia plays political games, real people will suffer," she told reporters at the UN.
EU Commission President Ursula von der Leyen condemned Russia's decision, calling it a "cynical move."
"EU is working to ensure food security for the world's vulnerable. #EUSolidarityLanes will continue bringing agrifood products out of Ukraine & to global markets," she tweeted.
Humanitarian aid organizations warned the world's most vulnerable will suffer the biggest consequences from Russia's decision.
"The International Rescue Committee is deeply alarmed at Russia's withdrawal ..., putting the future of the grain exports from the region at risk- a decision which will be most painfully felt by the 349 million people around the world facing food insecurity today," David Miliband, the president of the International Rescue Committee, said in a statement.
"The expiration of the deal risks holding global food security at ransom," he added. "The world's most vulnerable will face the harshest consequences."
Editor's note: This story has been updated with additional details throughout.
Go deeper