735 million people faced hunger in 2022, UN says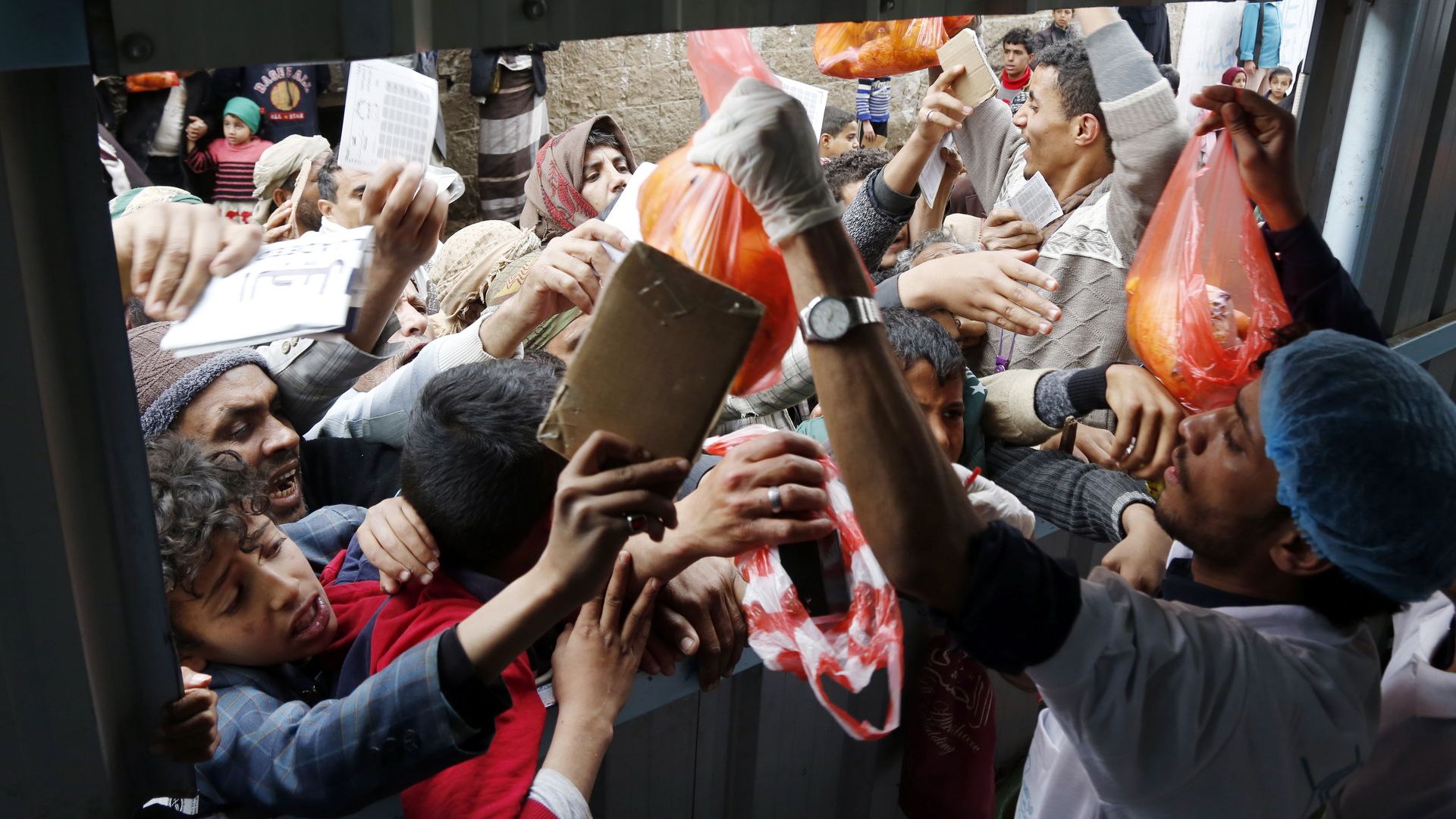 The world is "far off track" to meet its goal of ending hunger and food insecurity by 2030, the United Nations warned in a new report published on Wednesday.
The big picture: Between 691 and 783 million people faced hunger in 2022 — an increase of 122 million people since 2019. Multiple crises, including the COVID-19 pandemic, natural disasters exacerbated by climate change and Russia's invasion of Ukraine contributed to the increase, the UN said.
Instead of the world meeting its food goals by 2030, the UN estimated that 600 million people will be chronically undernourished by that year.
The UN's report said persisting effects of the pandemic and rising food prices from disasters or conflict left approximately 2.4 billion people — 29.6% of the world's population — without access to nutritious, safe and sufficient food all year round.
Of that 2.4 billion, 900 million people faced severe food insecurity, which means they had run out of food and went a day or more without eating at least once throughout the past year, according to the annual State of Food Security and Nutrition in the World (SOFI) report.
Around 230 million children under five years of age suffered from a form of malnutrition that year, including 148 million who were experiencing impaired growth and development and 45 million who were wasting, which is the most life-threatening form of malnutrition.
The remaining 37 million were experiencing obesity, which often exists side-by-side with food insecurity.
Thought bubble, via Axios' Laurin-Whitney Gottbrath: The worrying trend comes as UN agencies and humanitarian groups face significant funding shortfalls, further complicating efforts to respond to the global hunger crisis.
The World Food Program, for example, has been forced to cut food and cash-for-food assistance for millions of Syrians dependent on such aid. Similar cuts have been seen in Afghanistan, Yemen and other countries.
The UN said it only saw progress on global levels of exclusive breastfeeding and stunting among children under five years.
Hunger was reduced in Asia and Latin America in 2020, but it rose in West Asia, the Caribbean and throughout all subregions of Africa.
Africa remained the most-affected continent, where one in five people face hunger — more than twice the global average.
What they're saying: UN Secretary-General António Guterres said on Wednesday that "an intense and immediate global effort" must be made to salvage the 2030 goal.
"We must build resilience against the crises and shocks that drive food insecurity-from conflict to climate," he said.
The bottom line: "These numbers and trends may be a considerable disappointment for us, but for the children and people affected, they constitute an underlying fact of their lives, and this fuels our determination to keep finding solutions," the report reads.
Go deeper: AI can now forecast the next food crisis
Go deeper