Record 110 million people forcibly displaced worldwide, UN says
Russia's invasion of Ukraine, other conflicts like those in Syria and Sudan, and climate-fueled crises have pushed the number of people displaced by war, persecution, violence, human rights abuses and other events to a record 110 million, the UN refugee agency said in a new report Tuesday.
The big picture: The upward trend of forced displacement comes as humanitarian response plans and budgets remain severely underfunded. The right to asylum is also "under threat" in some places, and a rising number of compounding factors have made it even harder to provide protection to those most in need, according to UNHCR.
Last year also exposed the unequal treatment of different refugee groups. Nations, especially in Europe, have been lauded for welcoming Ukrainian refugees with open arms, but some of those same countries have also been criticized for closing their borders to displaced people from other places.
The new UNHCR report is "quite an indictment on the state of our world," UN High Commissioner for Refugees Filippo Grandi told reporters. "We are constantly confronted with emergencies."
Zoom out: There were 108.4 million forcibly displaced individuals — or one in 74 people worldwide — at the end of 2022, up 19 million compared to 2021. That was the largest year-to-year increase since UNHCR began tracking displacement, the agency said.
The global total includes 62.5 million internally displaced people, 35.3 million refugees, 5.4 million asylum seekers and 5.2 million others who are in need of international protection, per the report.
The upward trend has shown no sign of slowing this year. As of May, UNHCR estimated that the number of forcibly displaced people has already climbed to 110 million, largely due to the conflict in Sudan.
Zoom in: About 52% of refugees and other people in need of international protection came from just three countries: Syria (6.5 million), Ukraine (5.7 million) and Afghanistan (5.7 million).
Women and children remain disproportionately affected by violence and disasters. The UN estimates 41% of all refugees at the end of last year were children. About 51% were women and girls.
Driving the news: Russia's invasion was the "top driver of displacement" in 2022, with the exodus from Ukraine representing the fastest-growing refugee crisis in Europe since WWII, the UN said.
Climate-fueled natural disasters are also increasingly pushing people to flee, says UNHCR spokesperson Kathryn Mahoney.
"It's clear that the climate crisis ... is driving displacement," Mahoney tells Axios, pointing to places like Pakistan, which suffered deadly floods last year, and Somalia, where a prolonged drought has worsened a hunger crisis. "But it's also making life a lot harder for people who have already been forced to flee."
More than "70% of the world's refugees and displaced people come from some of the most climate-vulnerable countries," Mahoney notes.
That is especially worrying as the ultimate goal is for people to return to their home countries "in safety and in dignity," Mahoney adds. "What happens when those places that people come from are no longer habitable?"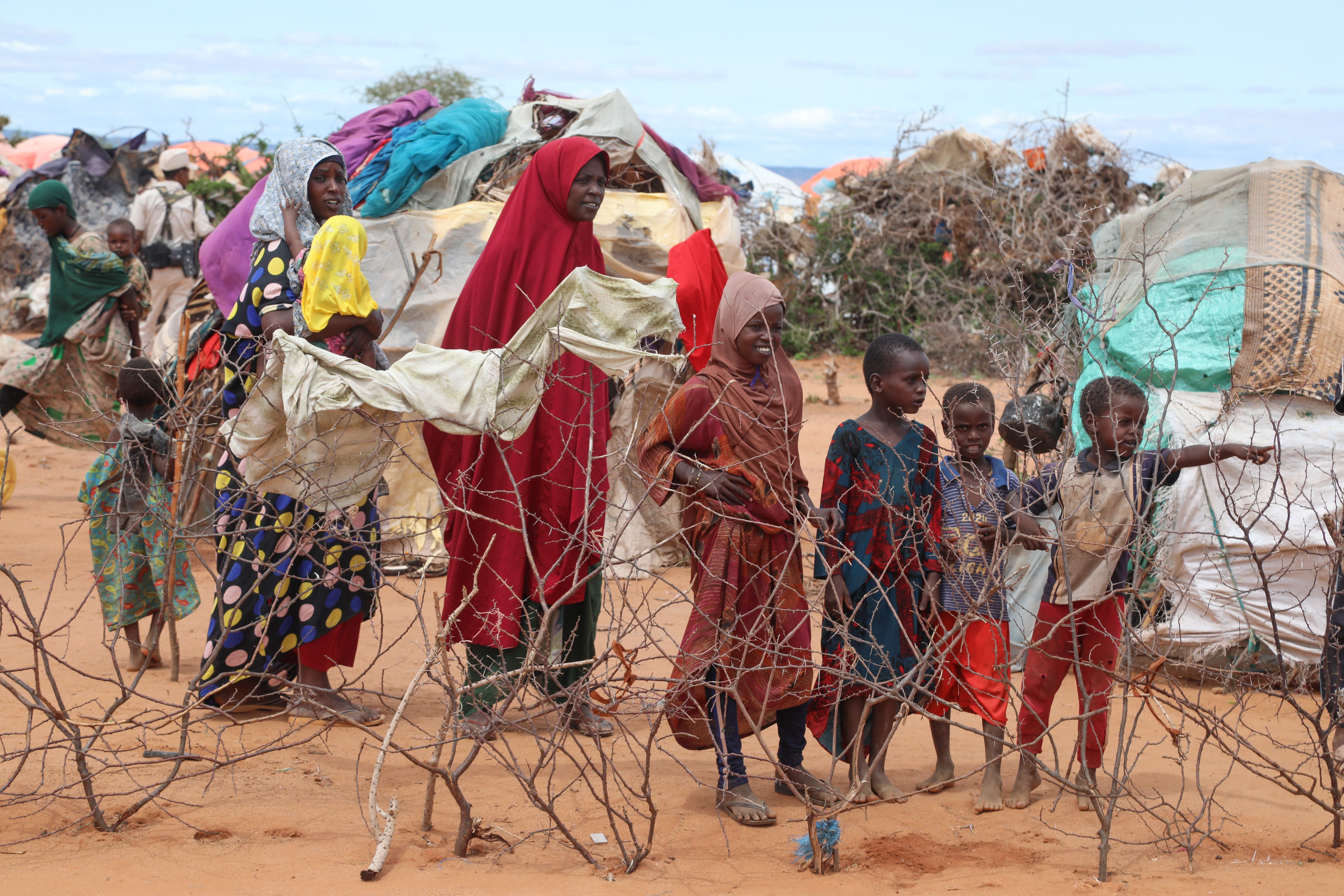 Context: The majority of displaced people "never cross an international border," the report noted. Internally displaced people represented 58% of all displaced people at the end of 2022.
About 76% of refugees and other people in need of international protection were hosted by low- and middle-income nations, according to the UNHCR report.
Countries hosting the most included Turkey (3.6 million), Iran (3.4 million), Colombia (2.5 million), Germany (2.1 million) and Pakistan (1.7 million).
At the same time, there were 2.6 million new asylum claims in 2022, with the U.S. receiving the most, per the report.
The high number of new claims comes amid what human rights groups describe as a crackdown on asylum worldwide, including in the U.S. and Europe.
The "fundamental right to seek asylum is under threat in some places, Mahoney says. "The need for asylum is greater than ever, but you have situations where ... expulsions, pushbacks, externalization are threatening the international asylum system and setting really dangerous precedent moving forward."
What to watch: The 2022 report is worrying, but there is some hope, Mahoney tells Axios.
The world's "incredible" response to and "solidarity" with Ukrainian refugees, in particular, but also Colombia's response to Venezuelans seeking refuge can be used as models, she says.
But an effective response will only work if the international community focuses on addressing the root causes of displacement and creates a more equal system — one that values "asylum for all."
"We know what fair, efficient and humane solutions are," Mahoney adds. "We just need to implement them."
Go deeper: Listen to the Axios Today podcast, where host Niala Boodhoo and Laurin-Whitney Gottbrath share why a record number of people are being displaced around the world.
Go deeper