43,000 died last year due to drought in Somalia, report estimates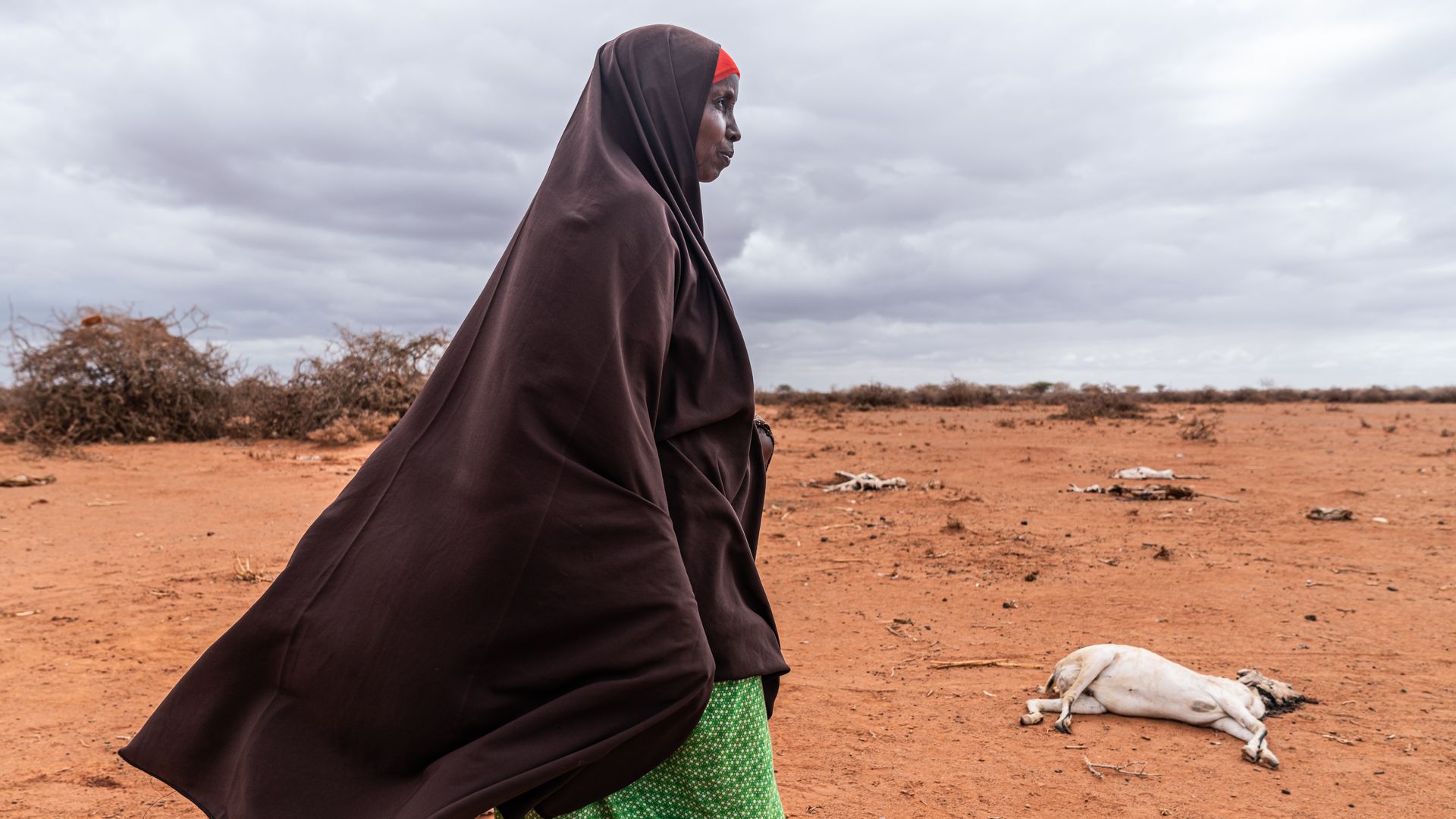 An estimated 43,000 people, half of them children under the age of 5, died last year due to prolonged drought in Somalia, a report released Monday by the UN and Somali government estimates.
Driving the news: The Horn of Africa, which includes much of Somalia, Kenya and Ethiopia, is experiencing the worst drought in 40 years. The region faces a sixth straight rainy season this year.
Drought and other factors, including conflict and political instability, have displaced millions across the region.
In Somalia alone, about 7.9 million people — nearly half the population — are in need of humanitarian assistance, according to the UN.
The big picture: More people were estimated to have died last year than in the first year of the 2017-2018 drought crisis, according to Monday's report, which was released by the UN children's agency, World Health Organization and the Somali government and put together by the London School of Hygiene and Tropical Medicine.
The report projects at least 135 people will die each day in Somalia due to the drought crisis, with a total of 18,100 to 34,000 drought-related deaths in the first six months of this year.
The multi-partner body, known as the Integrated Food Security Phase Classification (IPC), that monitors global hunger said earlier this year that the food insecurity and acute malnutrition situation did not meet the threshold for an official famine declaration in the last three months of last year, but "the underlying crisis ... has not improved and even more appalling outcomes are only temporarily averted."
Humanitarian groups have long warned, however, that an official famine declaration will be too late. They point to the fact that half of nearly 260,000 deaths during the last famine occurred before it was officially declared in 2011.
What they're saying: "We are racing against time to prevent deaths ... that are avoidable," WHO representative Mamunur Rahman Malik said in a statement about the new report.
"We have seen deaths and diseases thrive when hunger and food crises prolong. We will see more people dying from disease than from hunger and malnutrition combined if we do not act now," Malik added.
"The cost of our inaction will mean that children, women and other vulnerable people will pay with their lives while we hopelessly, helplessly, witness the tragedy unfold."
Somalia's Health Minister Ali Hadji Adam Abubakar said the government continues to be "concerned about the level and scale of the public health impact of this deepening and protracted food crisis in Somalia."
But it is also "optimistic that if we can sustain our ongoing and scaled-up health and nutrition actions and humanitarian response to save lives and protect the health of our vulnerable, we can push back the risk of famine forever, else those vulnerable and marginalized will pay the price of this crisis with their lives."
What to watch: Humanitarian groups and the UN warn the crisis is only set to get worse, as the country contends with climate change-induced extreme weather, political instability, ethnic tensions, rising global food prices, and insecurity.
The drought itself has its roots in a combination of human-induced global warming and La Niña conditions in the tropical Pacific Ocean, Axios' Andrew Freedman writes.
Go deeper: Famine at Somalia's door — explained
Go deeper