Gig workers' push for better pay is still a struggle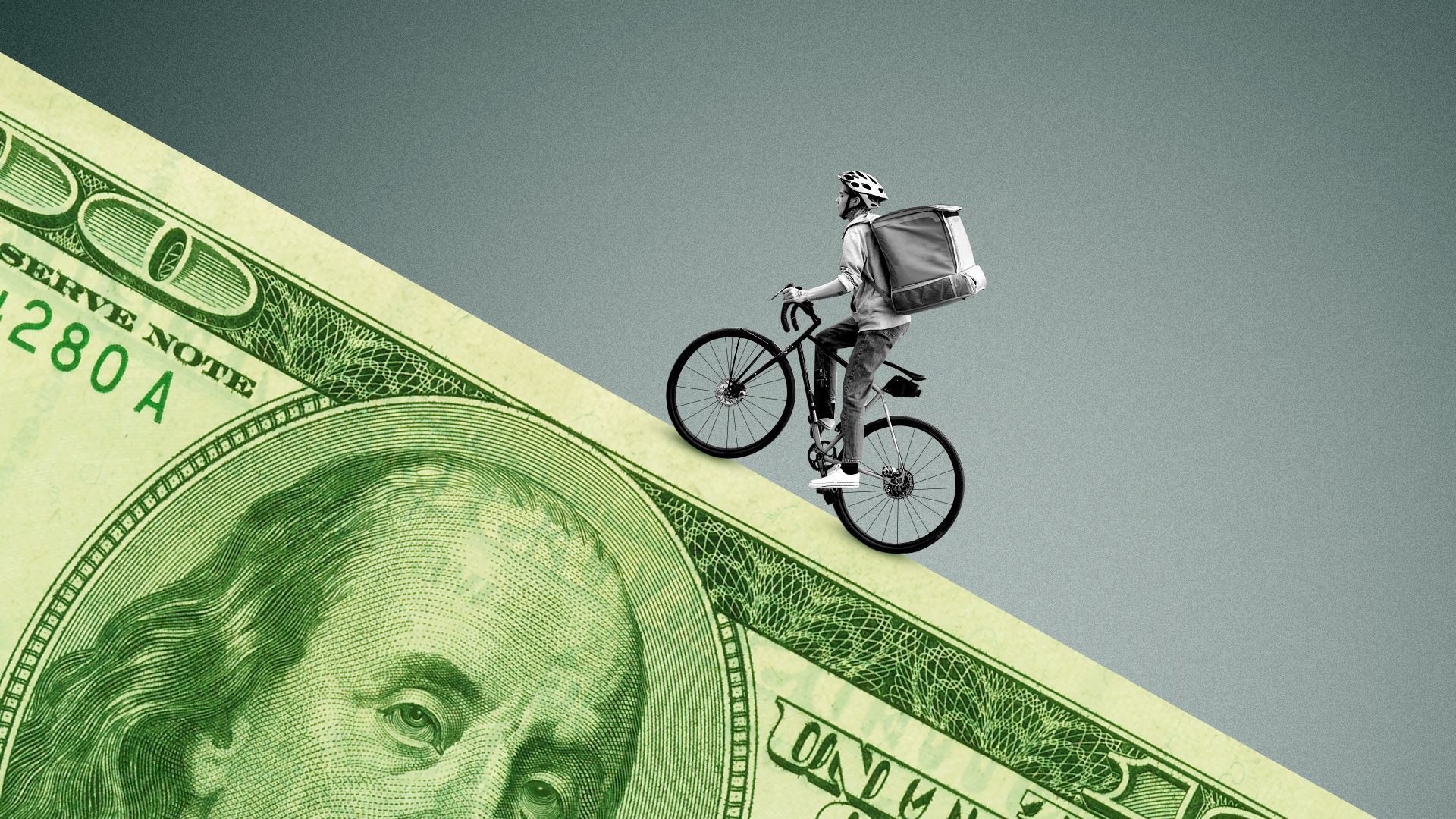 Even in a tight labor market where the lowest-wage workers are seeing outsized gains, gig drivers, who deliver food or people for companies like Uber or DoorDash, are having a hard time notching pay wins.
Driving the news: A minimum wage of $17.96 an hour for food delivery workers in New York City was supposed to go into effect this week, but a last-minute lawsuit from the app companies put the law on hold.
Details: The new wage would more than double earnings for the 60,000 or so delivery workers. According to the city's estimates, they make below the $15 an hour minimum wage in the city, even with tips, and are also responsible for covering their expenses (an electric bike, health insurance, etc.).
In the lawsuit, Uber, DoorDash and Grubhub argue that the higher wages would raise prices for customers, decrease work for the delivery workers, and harm restaurants.
The big picture: The battle over NYC's law — it was already pushed back from a January start date — reflects the bumpy, uneven road to getting gig workers better pay and benefits.
It's been a patchwork effort, taking place across different localities — with no real end in sight — each met with fierce resistance from the app operators, some of which have gone from scrappy startups to multibillion-dollar public companies.
"It's going to go on for years, really," said Scott Devitt, a Wedbush analyst, emphasizing that he discounts any profit estimates from Uber to take all the labor fights into account.
Of note: With unemployment so low and demand for low-wage workers so high, these folks in theory have a good deal of leverage to demand better working conditions.
But gig workers are still struggling because they're often at the margins of the labor market, said Kate Bahn, an economist at the Urban Institute.
In New York City especially, many app-delivery workers are undocumented immigrants, noted Andrew Wolf, a labor professor at Cornell.
Flashback: Gig workers initially fought to be classified as employees of the app companies, rather than independent contractors.
Under federal and state labor laws, employees have far more rights and protections than contractors — they're covered by workers' comp laws, have more robust civil rights protections; and they can unionize and access state-paid leave benefits.
That means, of course, that they're more costly to businesses.
The classification movement initially seemed to pay off when California passed a law in this direction. But the app companies backed a voter referendum to enshrine the workers as contractors — spending more than $200 million in a single year — and won at the ballot box. (A legal fight over that referendum continues.)
With classification proving difficult, the fight in recent years narrowed to wages, said James Parrott, director of economic and fiscal policy at the Center for New York City Affairs at the New School.
In 2019, New York City became the first in the country to set a wage standard for ride-share drivers, who get a minimum fee per ride. Seattle passed a similar law the next year.
Also last year, Seattle passed a different minimum wage law for those who deliver food — like New York's — it's set to take effect in January 2024.
Washington, D.C., and Chicago are also considering taking action, Parrott pointed out.
Meanwhile, in May, the Democratic governor of Minnesota, Tim Walz, vetoed a bill guaranteeing a minimum wage to app-based drivers; he sided with the arguments of the companies that had threatened to pull out of the state because the pay would've been too high.
Walz then established a commission to study the issue and recommend a policy to ensure fair wages.
The wins in the pay arena are progress, Parrott said. "But in the broader scheme of things, in terms of workers' rights, they're pretty much empty-handed."
The push for classification has not faded entirely, he emphasized, with a federal proposal from the Labor Department still in flux and a court dispute in Massachusetts on the issue.
The bottom line: The path to getting gig workers a living wage is going a bit like an NYC taxi ride — the car surges forward for a moment, only to come to a screeching halt at the next light.
Go deeper