Cost could limit demand for over-the-counter birth control pills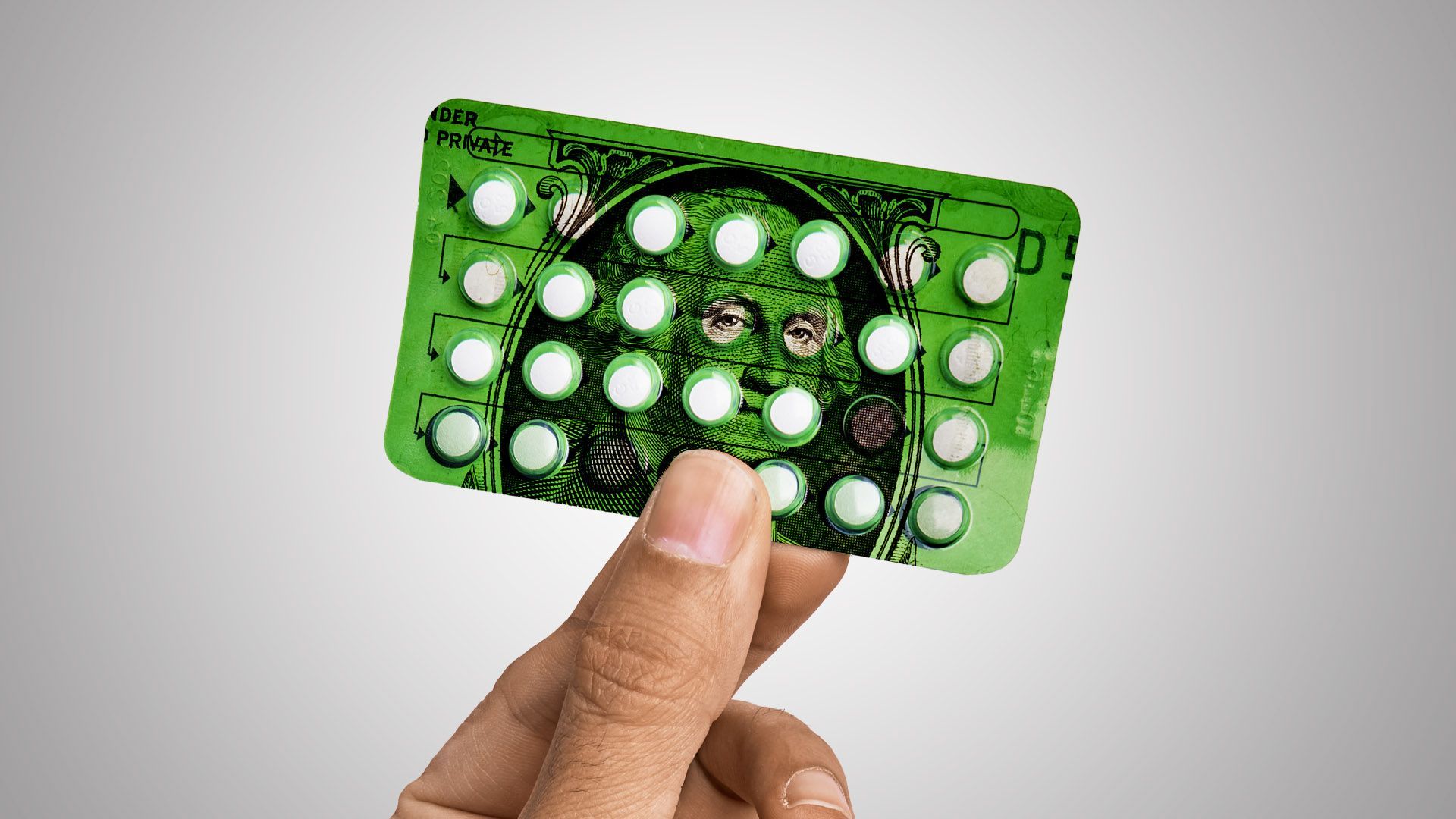 While the Food and Drug Administration's decision to approve over-the-counter birth control pills could make contraception more accessible in places where it's hard to find a prescriber, the still-unknown cost could be a major hurdle.
Why it matters: Health insurance plans are not required to cover birth control methods obtained without a prescription, meaning that consumers who take HRA Pharma's Opill, once it's available over-the-counter next year, will likely pay out-of-pocket.
"Plans generally exclude coverage for drugs unless they are prescribed by a provider," the National Association of Insurance Commissioners said in a statement to Axios.
Be smart: The over-the-counter status eliminates a health plan's ability to negotiate prices with the pharmacy, making coverage a less attractive proposition.
"If you pay out-of-pocket for it, and then ... submit it for a direct reimbursement for your insurance, there is no ability for the [pharmacy benefit manager] to step in and say, 'Well, that's not our contracted rate.' So, how much are they going to be willing to reimburse individuals that buy this on their own?" said Daniel Tomaszewski, an associate professor at the University of Southern California.
The big picture: Consumer product giant Perrigo, which owns HRA Pharma, is "absolutely" under a lot pressure to ensure that Opill is affordable, said Sarah McBane, associate dean of pharmacy education at the University of California, Irvine.
The company wasn't ready to disclose a price on Thursday and will vie with both prescription birth control pills that are usually covered by health plans and retail for between $20 and $50, along with alternatives like condoms, which usually cost less than $1 each.
"I'm frankly hoping ... that it's going to be somewhere around the $20 price point because I think that's going to probably be the sweet spot of being appealing to people who are interested," McBane told Axios.
Frederique Welgryn, Perrigo's global vice president for women's health, said on Thursday the company is "committed to ensuring that Opill is affordable and accessible to people who need it," and added that it is working on creating a patient assistance program for those in need.
Welgryn said the price would be announced "in the coming months," before Opill becomes available without a prescription in early 2024.
Between the lines: Perrigo is likely focusing on uninsured and underinsured people, as well as individuals who do not want to go through the process of getting a prescription.
"In those scenarios, you're not talking about folks that have a lot of extra income lying around to purchases these products, which will also drive that [over-the-counter] price down," Tomaszewski told Axios.
By the numbers: 77% of women between the ages of 18 and 49 favor making birth control pills available over-the-counter, per a 2022 KFF survey.
But when focusing on use, a plurality (46%) of reproductive age women say they are somewhat or very unlikely to take them, 39% say they're somewhat or very likely to use them, and 14% say they're not sure.
Among those who are likely, 39% say they'd be willing and able to pay $1-$10 per month for them, 34% say between $11 and $20, and 16% say over $20. Another 11% say they are unwilling or unable to pay anything.
Specifically looking at the uninsured, 1 in 4 say they're very likely to use them.
State of play: President Biden last month issued an executive order directing the Health, Labor and Treasury departments to take steps to increase access to contraceptives.
A spokesperson for the Centers for Medicare and Medicaid Services told Axios that in response to Biden's order, the agency is "collaborating closely" with those departments in to find ways in which private insurers can cover all FDA-approved contraceptives, including ones purchased without a prescription. No specifics were provided.
An HHS spokesperson said the department "remains committed to protecting and strengthening access to contraception," including by implementing Biden's order. The Labor and Treasury departments did not respond to Axios' requests for comment.
What we're watching: Congress would need to take legislative action in order for there to be a federal policy mandating insurers to cover over-the-counter birth control.
Democrats in May re-introduced the Affordability is Access Act, legislation that would required private health insurers to provide no-cost FDA-approved birth control methods without a prescription.
While it is highly unlikely that this bill would become law, there's interest among some Republicans to increase access to contraception, Axios reported in April.
Zoom in: Currently, at least 12 states and the District of Columbia require insurers to cover all over-the-counter contraceptive methods, and how people get reimbursed may vary.
If a state allows a pharmacist to prescribe hormonal birth control, a Medicaid beneficiary could potentially go to a pharmacist and ask that Opill be prescribed to guarantee coverage, said Laurie Sobel, KFF associate director of women's health policy.
Another way, Sobel said, is to have the state place a standing order for a prescription for anyone who walks in. Additionally, states could also choose to use their own funds to cover drugs bought without a prescription.
The bottom line: While we won't know until 2024 how Opill's does over-the-counter, health experts expect that the FDA's decision will improve overall access and reduce the number of unplanned pregnancies, which is resonating in the post-Roe era.
Go deeper: Over-the-counter birth control is a post-Roe "game-changer"
Go deeper