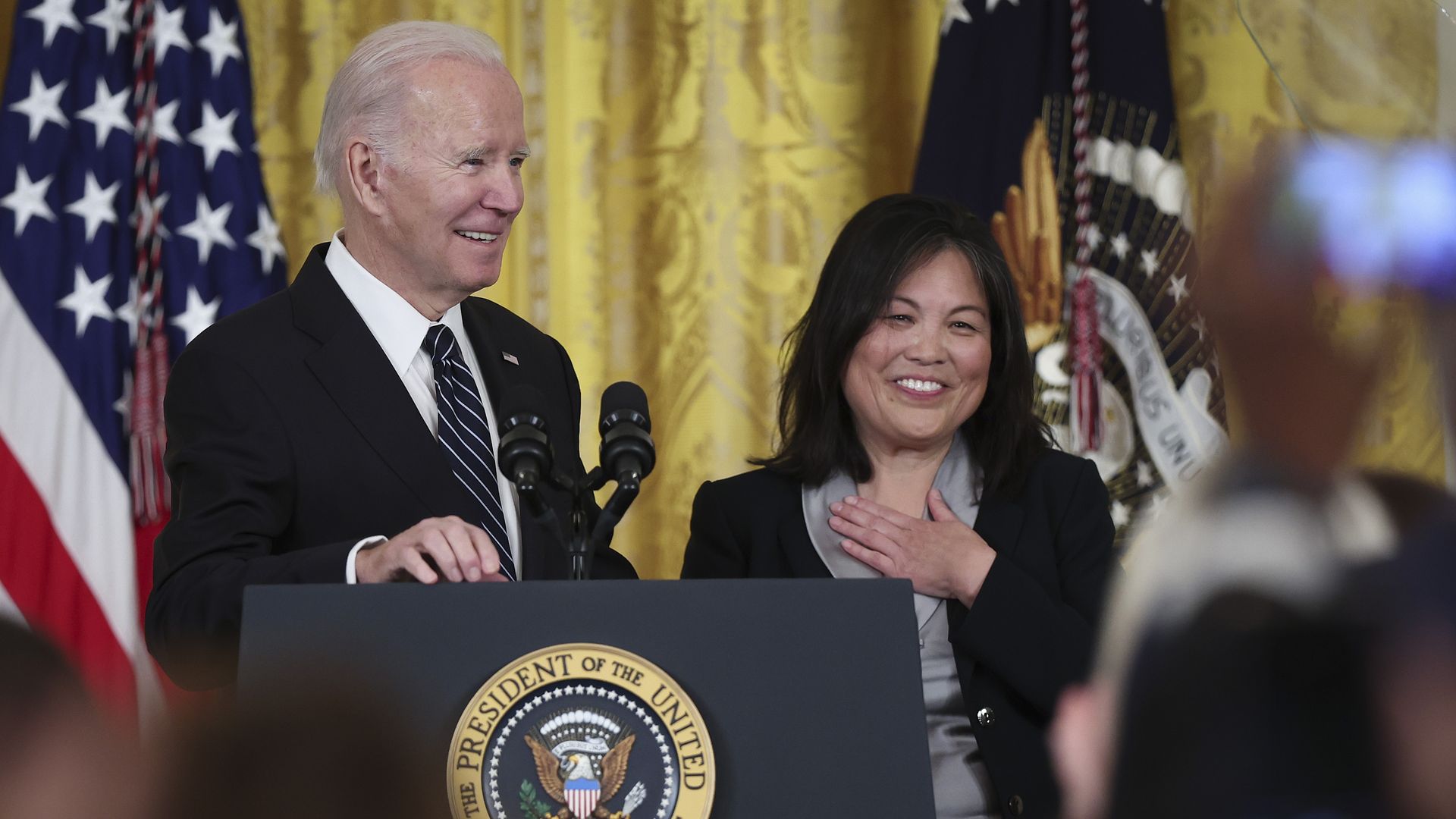 The White House acknowledged Thursday that Deputy Labor Secretary Julie Su doesn't have the Senate votes to be confirmed to lead the agency. But months ago, officials determined Su could serve as acting secretary indefinitely — even without Senate confirmation.
Why it matters: The twin determinations from team Biden — one political and one legal — will raise the temperature on Su's confirmation, potentially complicating her path to winning 50 votes on the Senate floor.
Driving the news: A White House official called on Sens. Joe Manchin (D-W.Va.) and Kyrsten Sinema (I-Ariz.) Thursday to reconsider their positions — even though only Manchin has publicly voiced opposition to her nomination.
"President Biden and his team continue fighting for Acting Secretary of Labor Julie Su's confirmation," a White House official told Axios in a statement, adding, "[W]e hope Senator Manchin and Senator Sinema reconsider their position."
That amounts to a frank acknowledgment that Sinema isn't a "yes."
The statement could irritate the independent senator from Arizona, who rarely indicates how she's going to vote on a nominee before the roll is called.
Zoom out: By singling the two senators out by name, the White House is indicating that it's bracing for a long fight. They also have a plan B to keep Su in her acting role.
When she took over from then-Secretary Marty Walsh in March, the Biden administration relied on a statute that would ensure that there was "no clock" on her ability to serve as acting secretary of the department.
"Because Acting Secretary Su has been nominated, there is no clock on how long she can serve," a Labor Department spokesperson told Axios. "Because she was already deputy secretary, she is serving under Seection 552 of Title 29 of the U.S. Code."
"Her correct title is acting secretary of labor," the spokesperson said.
The other side: That legal reasoning will aggravate Republicans, especially senators who will view the move as an attempt to circumvent their advise-and-consent role in confirming members of the Cabinet who are in the line of succession.
"This creates the perception that DOL is attempting to protect Ms. Su's ability to serve as acting secretary, in perpetuity, even if she is unable to secure the votes required for Senate confirmation," said Sen. Bill Cassidy (R-La.).
Between the lines: Biden is taking a page out of former President Trump's playbook by embracing the complicated laws around acting leadership positions to keep his preferred candidate running DOL indefinitely — even without Senate confirmation.
Many lawmakers —and journalists — assumed Su was elevated to the role of acting labor secretary under Vacancies Reform Act (VRA). But that law would have imposed a 210-day time limit on Su's ability to serve if her nomination was formally rejected or withdrawn.
Flashback: Trump famously loved having acting secretaries leading his agencies, claiming it gave him "more flexibility."
At the Department of Homeland Security, for example, leadership was full of "acting" positions.
The agency shuffled through five secretaries in four years — the last three of them in acting roles, which did not follow the right rules of succession, according to the Government Accountability Office.
How we got here: Su assumed her new role on March 11, stepping in for Walsh, who left the Cabinet to serve as the president of the National Hockey League players association. She was then nominated by Biden for the top position on March 14.
Later that month, the Labor Department sent a formal notification to the president of the Senate, the speaker of the House and the comptroller general that Su's authority as acting labor secretary resided in the Labor Department statute, not the Vacancies Act.
In June, Law360 posted a story that captured the attention of labor lawyers and Republican congressional offices, headlined, "DOL Says Julie Su Can Run Agency Without Senate Approval."
"If you thought the Committee was watching Su closely before, just wait until her nomination withers beyond 210 days," said Rep. Virginia Foxx (R-N.C.), the chair of the Education and the Workforce Committee.
"The legality of every regulatory action she takes will be called into question and scrutinized under a microscope."
Go deeper