Scoop: Biden's pick for Labor in doubt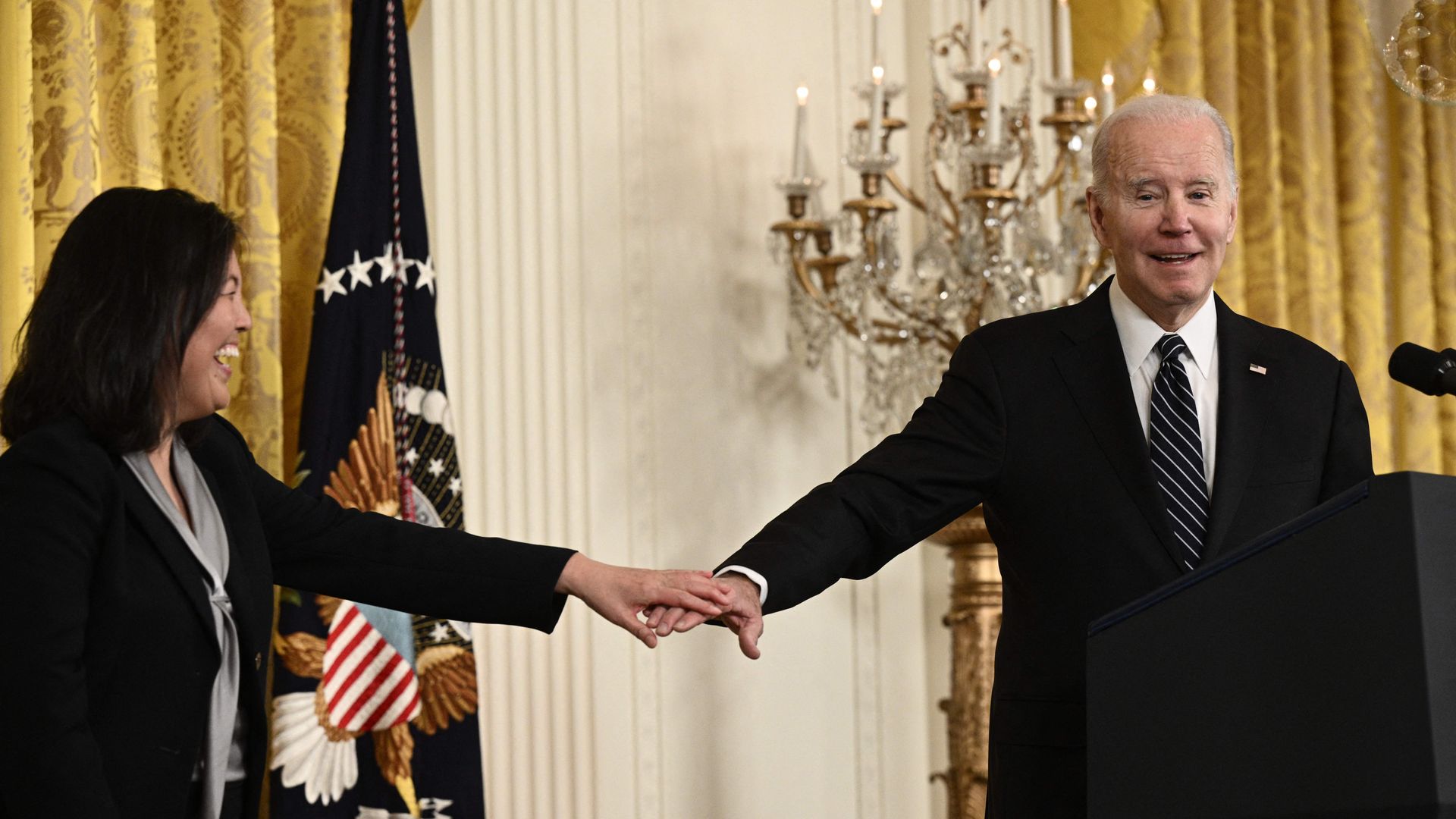 President Biden's nomination of Julie Su as Labor secretary is in serious danger, as Sen. Joe Manchin (D-W.Va.) has told the Biden administration he has deep reservations about her, according to people familiar with the situation.
Why it matters: For Biden, the cold, hard math of the divided Senate means that Manchin's opposition — combined with one other Democratic defection— would scuttle Su's chances.
It would mark the third defeat of a Biden nominee this year, a reflection of how a few Democrats who face tough re-election races in 2024 have resisted being seen as rubber stamps for Biden's picks.
Two previous Biden nominees — Gigi Sohn for an open seat on the Federal Communications Commission, and Phil Washington to lead the Federal Aviation Administration — withdrew after Democrats signaled their opposition.
The 49 Republicans in the 100-seat Senate are expected to uniformly oppose Su. There are concerns among Senate Democrats backing Su that Arizona Sen. Kyrsten Sinema, a Democrat-turned-independent, also will vote no, though she has not said so.
The big picture: With Senate Democrats facing a difficult map in 2024, vulnerable senators such as Manchin, Sinema and Jon Tester (D-Mont.) are looking for ways to create some political space from Biden, whose approval/disapproval rating is an 8 points underwater in national polls, according to a Real Clear Politics polling average.
Su's nomination also is a front in the running war between labor unions and corporate interests on the best ways to protect workers' rights while promoting a dynamic economy.
She was narrowly confirmed early in Biden's term as deputy to then-Labor Secretary Marty Walsh, who left earlier this year to lead the NHL's players' union.
Like they did in Su's previous confirmation battle, Republicans have planned to focus on the more than $30 billion in unemployment benefits that criminals scammed in California while she led the state's labor commission.
Driving the news: Ahead of Su's committee confirmation hearing on April 20, Biden officials and supportive Democrats have been canvassing senators to gauge support for her.
What they're saying: "Julie is a champion for workers," said Emilie Simons, a White House spokesperson. "Our administration is currently engaged with a broad coalition of supporters on Julie's nomination, including elected officials, labor leaders, key stakeholders, and business groups."
Spokespeople for Manchin and Sinema declined to comment.
Between the lines: Some West Virginia union voters are pressing Manchin to support Su, making his home state politics more complicated than in 2021, when he effectively killed Biden's nomination of Neera Tanden to lead the Office of Management and Budget.
Su's track record as California's labor commissioner, and her support for AB5 — a California bill that put pressure on companies to treat gig workers like full-time employees — has earned her critics in small business and big tech.
The intensity of Manchin's concerns about Su's nomination, well known among some of his Senate colleagues, is partially reflected in his public statements.
Last month, he explained his yes vote for Su as deputy labor secretary by noting, "I had Marty Walsh," in the top position then — suggesting that he was fine with Su at the number-two slot at Labor, but not as secretary.
What we're watching: Many Democrats are concerned that Sinema's new identification as an independent — and a progressive challenge from Rep. Ruben Gallego (D-Ariz.) in 2024 — will leave little space for her to be to the left of Manchin on either policy or personnel.
Be smart: The White House always knew this was going to be a dogfight and would come down to Manchin and Sinema.
Top officials privately acknowledge that they have some work to do. But they haven't given up hope.
Go deeper