Democrat Ruben Gallego challenging Kyrsten Sinema in 2024 Senate race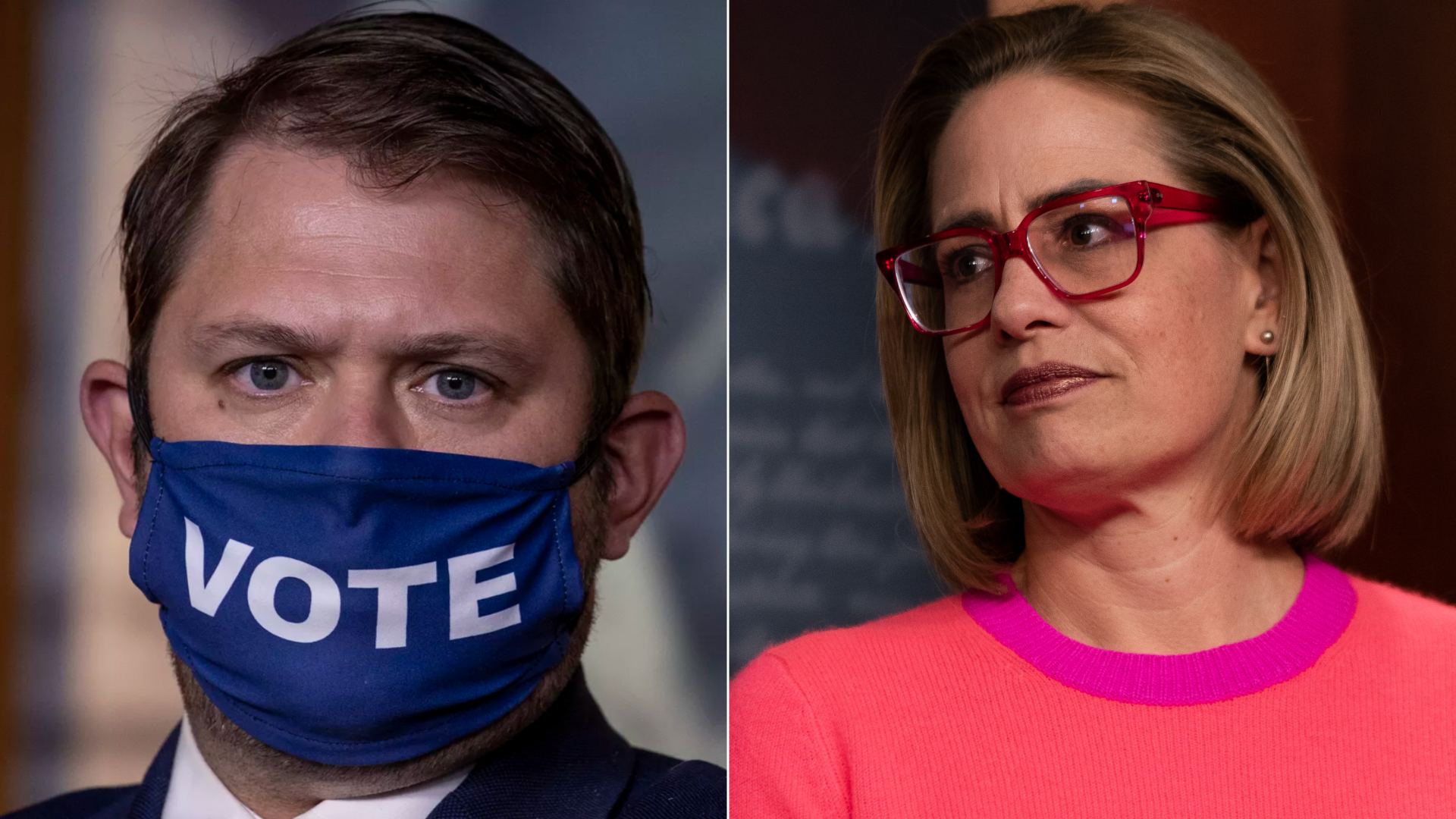 Arizona Rep. Ruben Gallego announced his 2024 bid for U.S. Senate on Monday, launching a long-expected challenge to Sen. Kyrsten Sinema for her seat.
Why it matters: The liberal Marine veteran's face-off against the newly-Independent senator has the potential to split the vote in a general election and dilute a Democratic candidate's strength in a cycle with few Senate bright spots for the party.
Sinema has yet to confirm whether she'll run for re-election.
The big picture: Last cycle's results showed that Arizona still prefers moderate candidates, as voters rejected those seen as too outside the political norm.
The state is pretty evenly split among Democratic, Republican, and Independent voters, which has rewarded someone like Sen. Sinema, who's resisted being pulled to the left by her colleagues.
Newsweek first reported Gallego's Senate announcement plans.
Zoom in: Gallego has been critical of Sinema, most recently saying that she put "her own interests ahead of getting things done for Arizonans" when she changed her party affiliation from Democrat to Independent in December.
Sinema has earned praise from Republicans and ire from Democrats as she often wielded outsized power, along with West Virginia Sen. Joe Manchin, in what was an evenly divided Senate.
The backdrop: But Gallego has also been critical of the rest of the Democratic Party, particularly for, at times, under-investing in Latino voters and ceding some ground to the GOP with this core constituency.
As chairman of the Congressional Hispanic Caucus' (CHC) campaign arm, BOLD PAC, Rep. Gallego helped elect nine new Latino House Democrats in part by spending $6M on supporting Latino incumbents and candidates — the group's largest independent expenditure in its 21 years.
What they're saying: In a phone interview with Axios earlier this month, Rep. Gallego talked about some of those intra-party concerns from the 2022 midterms.
"The danger wasn't that Latinos were going to vote for Republicans, but that you'd have a lot of these different types of PACs that normally would invest in Latino voters no longer investing in Latino voters, and that creates a system where only conservative Latinos come out and vote," he said.
"We've been able to beat that back among Democratic organizations and allies and the party, but it was not that easy to do."
What to watch: Gallego was re-elected as BOLD PAC chairman for the 2024 cycle, and while the CHC's rules don't bar him from serving in that role while also seeking a Senate seat, it's unlikely he'd be able to find time for both.
Despite speculation, Phoenix Mayor (and Gallego's ex-wife) Kate Gallego told Axios she does not intend to run for the Arizona Senate seat or for Ruben's House seat.
Go deeper