House GOP unveils law enforcement targets in budget fight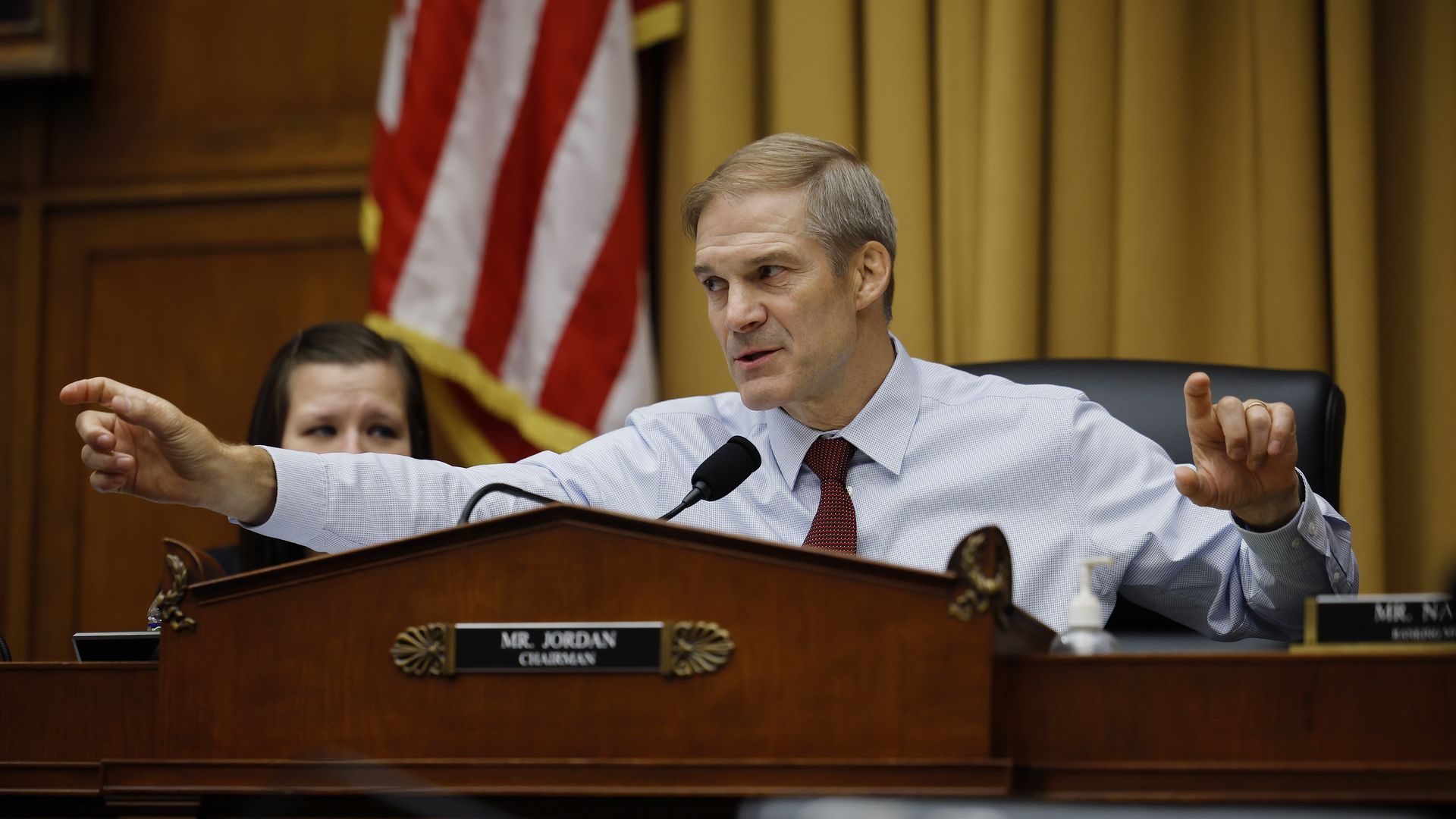 House Judiciary Committee Chair Jim Jordan (R-Ohio) on Tuesday laid out his detailed roadmap for using the federal budget to target federal law enforcement policies reviled by conservatives.
Why it matters: It's the manifestation of seven months of GOP-led investigations into the "weaponization" of the federal government.
Driving the news: In a letter to House Appropriations Committee Chair Kay Granger (R-Texas), Jordan said his probes have "generated a number of potential reforms that the House ... can advance through its 'power of the purse.'"
"We appreciate your willingness to work with us to identify ways to ... constrain out-of-control federal agencies, hold the Biden Administration accountable, and most importantly protect the fundamental civil liberties of the American people," Jordan wrote.
Jordan told Axios the two committee have been having staff-level discussions and that he's gotten "really positive feedback" from the Appropriations Committee towards his proposals.
"We feel like the vast majority of those [riders] are probably going to be in the bill," Jordan said. "We feel really good about that."
The details: Jordan laid out a laundry list of restrictions on federal funds that would:
Require career DOJ officials, rather than political appointees, to handle "politically sensitive" investigations.
Block the FBI from building a new headquarters in Virginia or Maryland.
Stop agencies from labeling communications as misinformation or disinformation, supporting organizations that do so or reestablishing DHS's suspended Disinformation Governance Board.
Block the implementation or defense of a Bureau of Alcohol Tobacco and Firearm rule classifying handguns with stabilizing braces as short-barreled rifles.
Forbid enforcement of Attorney General Merrick Garland's 2021 memorandum on responding to threats against school boards.
Prevent the State Department from operating the Global Engagement Center, an initiative to counter foreign propaganda and disinformation.
Ban the use of funds to oppose Israeli Prime Minister Benjamin Netanyahu's proposed judicial overhaul.
Ban the facilitation of abortions or gender affirming care for migrants in Immigration and Customs Enforcement (ICE) custody.
Require DHS and other agencies that deal with immigration to enforce stricter border policies across the board.
Reality check: Many of these proposals will be non-starters with Senate Democrats and President Biden.
House Republicans are aiming to give themselves a tough starting position going into inevitable negotiations with the Senate to draft a compromise bill.
What we're watching: Jordan said his 9-page dossier is only an "initial list," writing, "These proposals are just a beginning."
"As the 118th Congress progresses, the Committee and Select Subcommittee will continue to conduct oversight to inform legislative proposals that will uphold fundamental freedoms and secure American liberties."
Go deeper