Scoop: U.S. Dem lawmakers tell Bibi judicial overhaul makes defending Israel hard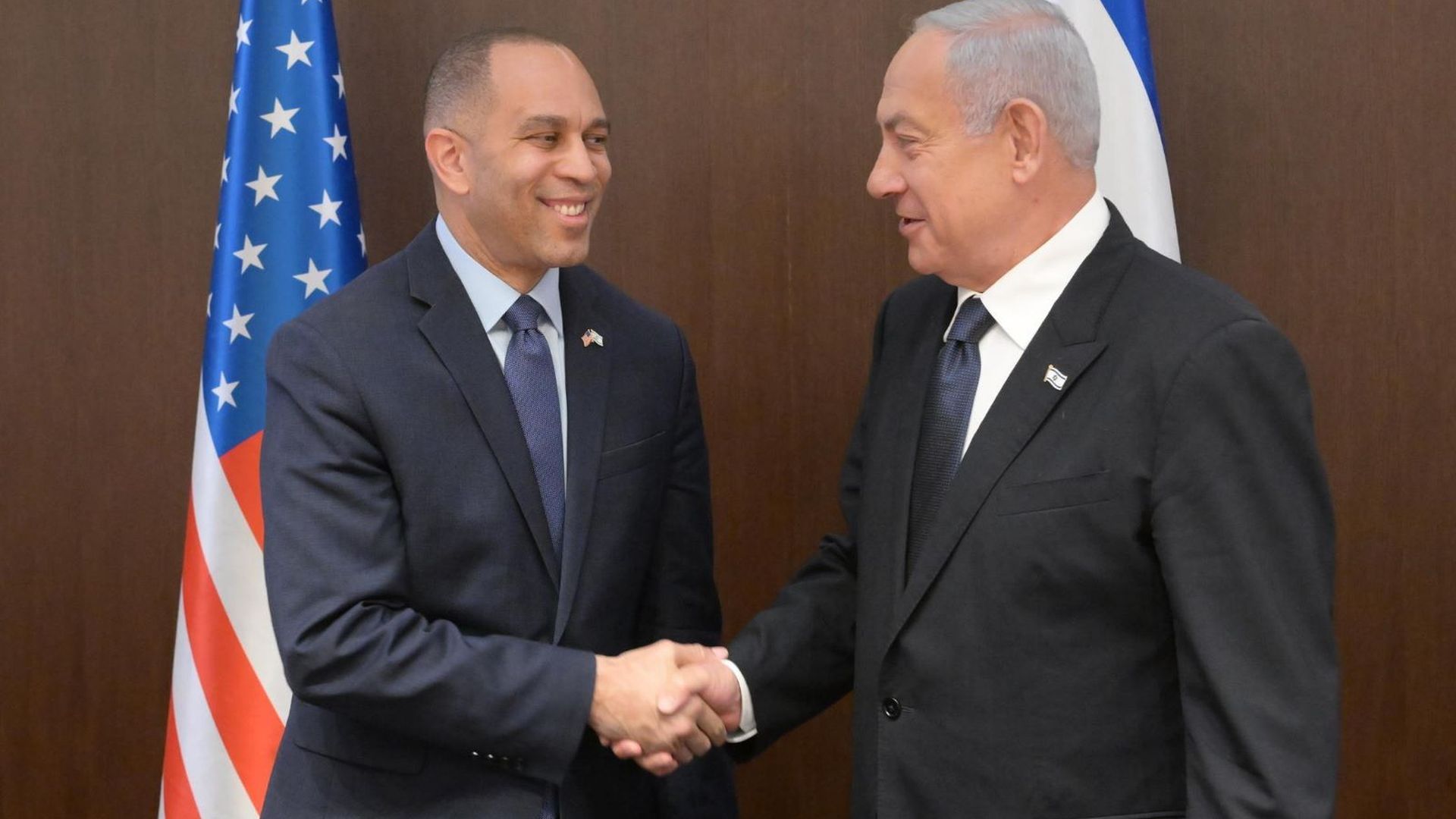 House Minority Leader Hakeem Jeffries (D-N.Y.) and other Democratic lawmakers told Israeli Prime Minister Benjamin Netanyahu last month that his government's judicial overhaul plan makes it harder for them to defend Israel in the U.S., two people, including a member of Congress, who attended the meeting tell Axios.
Why it matters: Netanyahu suspended the judicial overhaul legislation in March after mass protests and pressure from the U.S., but Jeffries' message suggests there is still concern among Democrats that the process may resume before Israel has reached a broad consensus on judicial reform.
Negotiations in Israel over the plan have been ongoing, but no major breakthrough has been announced.
Behind the scenes: Jeffries and several other members of Congress told Netanyahu in Jerusalem that the judicial overhaul created a lot of negative "noise" about Israel in the U.S. and among their constituents, according to one of the sources who attended the meeting.
"They told Netanyahu it is very difficult for them to defend Israel under such circumstances, and their message was: help us help you," the source said.
One of the members of Congress who attended the meeting confirmed the delegation did tell Netanyahu the judicial overhaul makes it harder for them to speak up for Israel.
"I can confirm that this very message was shared with Netanyahu by the delegation and, in particular, by each of the Jewish members at the table," said the lawmaker, who spoke on the condition of anonymity to offer details about a private meeting.
The member of Congress said that at the same time, the delegation shared with Netanyahu an "equally warm sentiment on the occasion of Israel's 75th anniversary and our unique and enduring friendship."
Netanyahu told the group he is ready for a compromise on the judicial overhaul and added that the legislation that will allow the Knesset to override Supreme Court rulings with a simple 61-member majority is off the table, according to one of the sources who attended the meeting.
The Israeli Prime Minister's Office and Jeffries' office declined to comment.
The big picture: Several days after Jeffries' visit, House Speaker Kevin McCarthy arrived in Jerusalem with a bipartisan delegation.
McCarthy refrained from pressing Netanyahu in public about the judicial overhaul. He told reporters that democracy must include checks and balances, but stressed: "Israel can decide what it wants to do."
Go deeper