McCarthy on Bibi's judicial overhaul: "Israel can decide what it wants to do"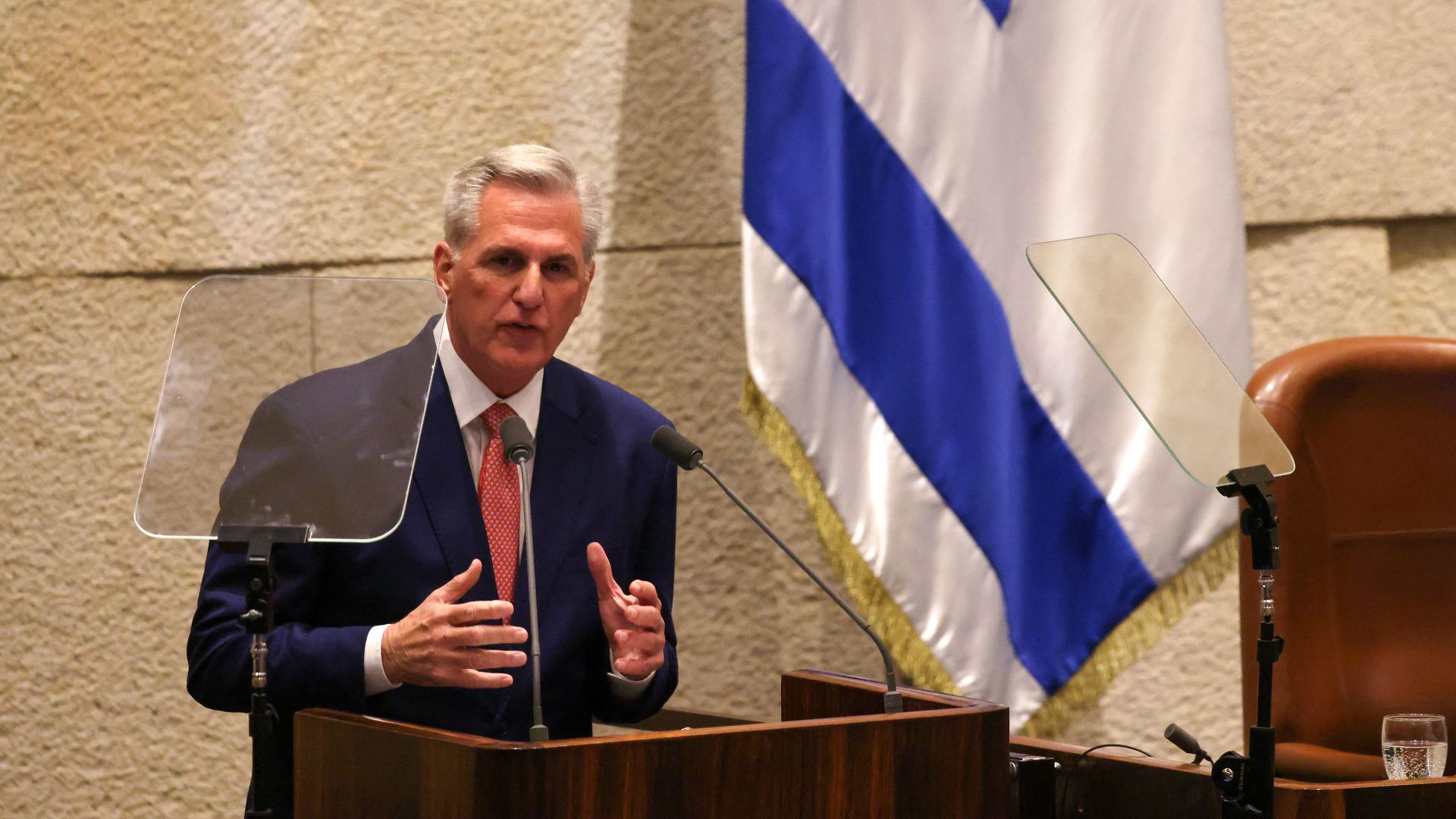 House Speaker Kevin McCarthy (R-Calif.) told reporters Monday that democracy must include checks and balances, but stressed "Israel can decide what it wants to do" when asked about the Israeli government's controversial judicial overhaul plan.
Why it matters: The comments were a subtle jab at the Biden administration, which put significant pressure on Prime Minister Benjamin Netanyahu to suspend the overhaul legislation and reach a broad consensus on judicial reform.
State of play: The Netanyahu government's plan to weaken the Supreme Court and other democratic institutions was suspended in March following mass protests, including within the Israeli military, and pressure from foreign governments like the U.S.
Negotiations over the plan have been ongoing, but no major announcements have been made.
What they're saying: McCarthy didn't mention the judicial overhaul in his speech before the Knesset but did address the plan when he was asked about it in a press conference later Monday.
McCarthy said that in all of his conversations in Israel, he heard that there needs to be some kind of judicial reform. "But we leave it up to you to figure out what. It looks like the two sides are coming together — we look forward to you solving your problems," he told reporters.
Rep. Steny Hoyer (D-Md.), who joined McCarthy's congressional delegation, said at the press conference that friends give friends advice. "I remember Netanyahu coming to Congress and gave us advice on policy," he said, referring to Netanyahu's 2015 speech to Congress against the Iran nuclear deal.
The domestic tensions over the judicial overhaul plan were on full display on Monday when Netanyahu and opposition leader Yair Lapid gave separate speeches before the Knesset ahead of McCarthy's remarks in front of the Israeli parliament.
Netanyahu said the majority of Israelis understand the need to rebalance the judicial system and stressed the demonstrations over the last 17 weeks against the government's plan and the pro-government demonstration last week show the strength of Israel's democracy.
"We are determined to reach as broad an understanding as possible about the judicial reform," Netanyahu said.
Lapid, who spoke after Netanyahu, turned to McCarthy and said: "I promise you that Israel will continue to be a democracy with freedom of religion, protection of minorities and an independent judicial system so that the U.S. could be proud to call us an ally."
The big picture: McCarthy arrived in Israel on Sunday with a bipartisan delegation of lawmakers as part of a Middle East trip.
In Jerusalem, McCarthy and the congressional delegation met with Knesset Speaker Amir Ohana, President Isaac Herzog, Netanyahu and other Israeli officials.
While in Israel, McCarthy also criticized President Biden for not already inviting Netanyahu to the White House. "It's been too long," McCarthy said in an interview with the Israel Hayom newspaper, which is owned by GOP mega-donor Miriam Adelson. "If that doesn't happen, I'll invite the prime minister to come meet with the House."
For his part, Biden in March said the Israeli government can't "continue down this road" with its judicial overhaul plan and stressed he is not going to invite Netanyahu to the White House "in the near term."
National Security Council spokesperson John Kirby said in a briefing with reporters on Monday that he thinks Netanyahu will visit the White House at some point but stressed there is nothing on the schedule at the moment.
McCarthy also made a jab at Biden over the president's refusal to negotiate a debt ceiling compromise.
"The president still hasn't talked to me about it. I am a bit like Netanyahu," McCarthy said when asked about the debt limit during Monday's press conference.
Worth noting: McCarthy's speech in the Knesset focused mainly on the bilateral relationship between the U.S. and Israel, the Abraham Accords and the threat from Iran.
But he also told Israeli lawmakers they should carefully monitor Chinese investments in the country and not allow China to steal technology.
Editor's note: This story has been updated with Kirby's comment.
Go deeper