Biden expresses concern over Israel's judicial overhaul in call with Bibi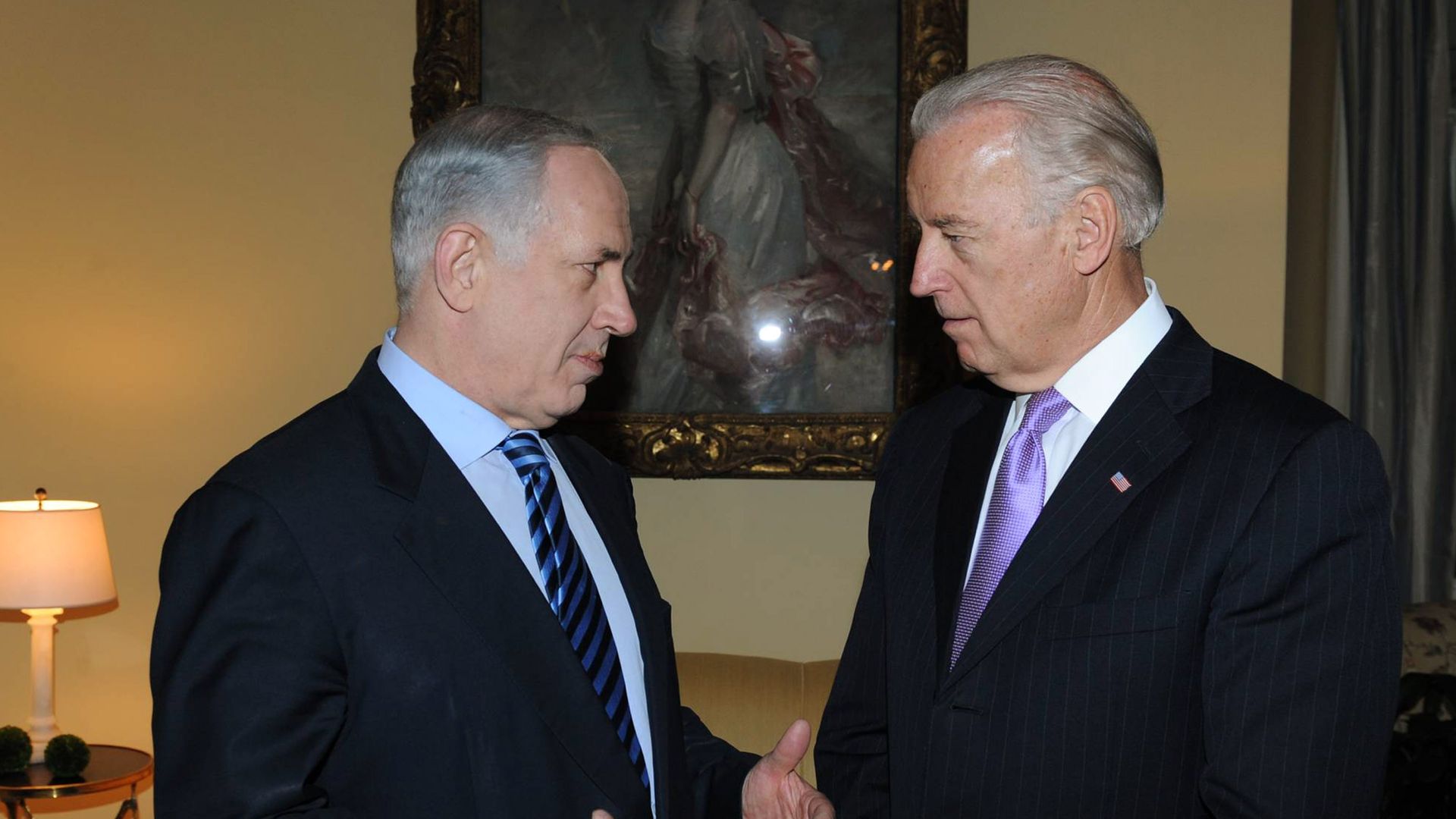 President Biden spoke on the phone with Israeli Prime Minister Benjamin Netanyahu on Sunday and expressed his concerns over the Israeli government's judicial overhaul plan, a senior U.S. official told reporters.
Why it matters: It is the first time Biden and Netanyahu have discussed the Israeli government's controversial plan to weaken the country's Supreme Court.
What they're saying: A senior U.S. official said in a briefing with reporters that during the call Biden expressed concerns "and said as a friend of Israel, that he hopes a broad consensus can be found around the judicial reform."
"The call was frank and candid … they both have a lot of experience in legislation and they exchanged ideas on this issue," the U.S. official said.
In a readout after the call, the White House said that Biden "also underscored his belief that democratic values have always been, and must remain, a hallmark of the U.S.-Israel relationship, that democratic societies are strengthened by genuine checks and balances, and that fundamental changes should be pursued with the broadest possible base of popular support."
"The president offered support for efforts underway to forge a compromise on proposed judicial reforms consistent with those core principles," the statement added.
The Israeli Prime Minister's Office said that on the judicial plan, "Netanyahu told President Biden that Israel was and will be a strong and vibrant democracy."
Catch up quick: The judicial overhaul plan, presented by the most right-wing government in Israel's history, has created an unprecedented constitutional crisis in the country, with growing fears that the confrontation between the government and the opposition will escalate into violence and chaos.
Netanyahu last week rejected Isaac Herzog's proposal for compromise on constitutional and judicial reforms that the Israeli president had hoped would replace the overhaul plan.
Biden told the New York Times earlier this year that any fundamental changes in Israel's judicial system should be based on a consensus to get legitimacy from the public and be sustainable.
"The genius of American democracy and Israeli democracy is that they are both built on strong institutions, on checks and balances, on an independent judiciary," Biden said.
The big picture: During the 30-minute call, Netanyahu also briefed Biden about the shooting attack against Israeli civilians in the occupied West Bank town of Hawara earlier on Sunday, the Prime Minister's Office said.
"Netanyahu told Biden that Israel will continue to take action in any place against terrorists and the terror architects," the Prime Minister's Office said.
The two leaders also discussed Iran and efforts to broaden the Abraham Accords, which saw Israel normalize relations with several Arab countries, the Prime Minister's Office added. Netanyahu thanked Biden for his commitment to Israel's security.
Go deeper: Blinken's civics lesson for Netanyahu
Editor's note: This story has. been updated with additional details throughout.
Go deeper