Scoop: GOP plan targets foreign dark money for 2024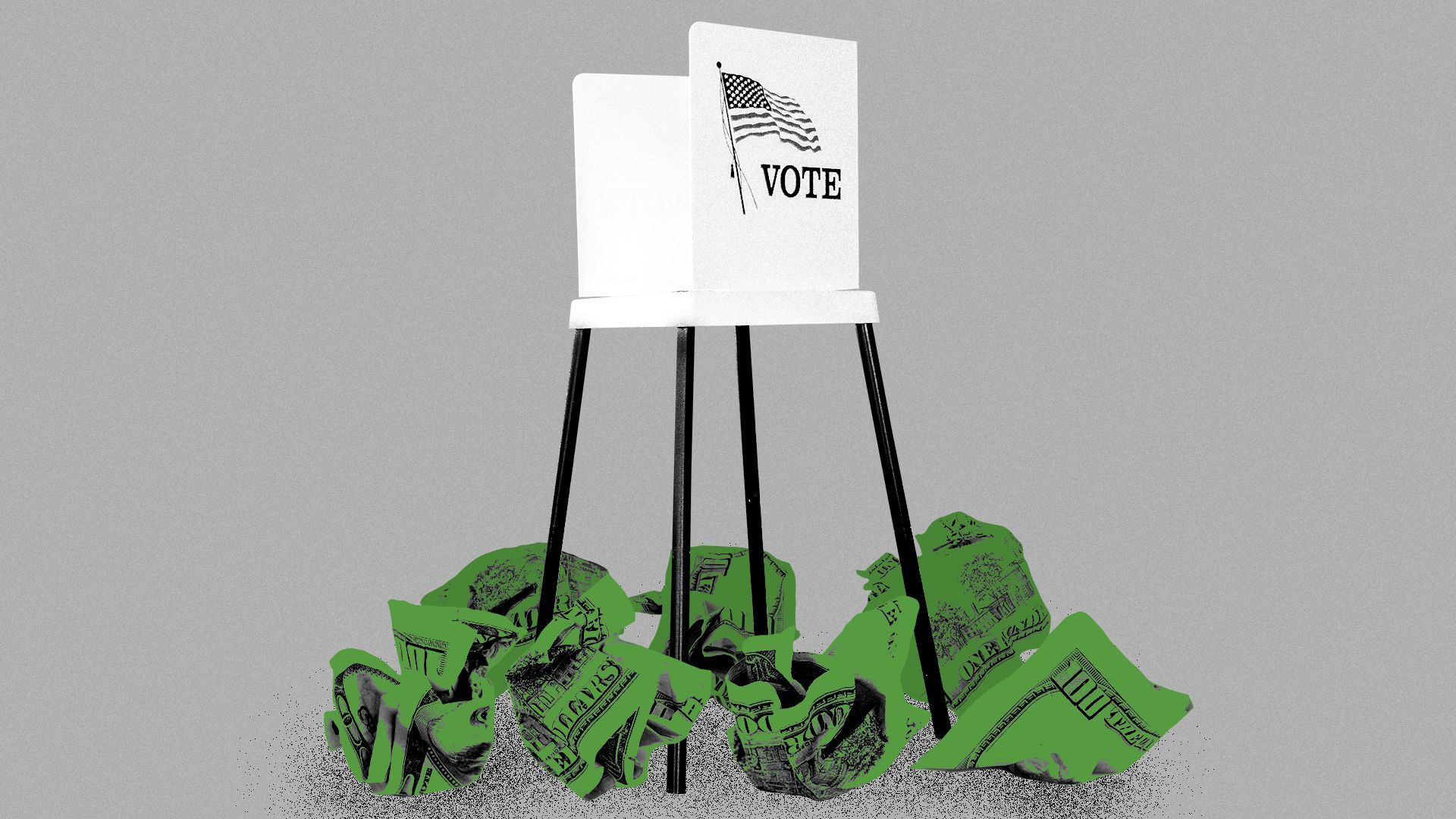 House Republicans are working on new legislation to prevent foreign nationals from influencing America's political process, Axios has learned.
Why it matters: The last two presidential elections have been colored by allegations that foreign influence helped the GOP.
Now House Republicans are trying to flip to script and draw attention to foreign donations to Democrat-aligned and progressive nonprofit organizations.
Non-U.S. citizens can't contribute to candidates, campaigns, or super PACs, but they can give to 501(c)(4) organizations, which are tax-exempt groups that can engage in general issue advocacy, and support state ballot initiatives.
Driving the news: Rep. Bryan Steil (R-Wis.) chair of the House Administration Committee, is introducing legislation to ban such groups from contributing to political committees for four years if they accept foreign donations. He also wants to bar foreign nationals from giving to state ballot initiatives.
"American elections are for American citizens," Steil told Axios, ahead of a hearing his committee is holding in Atlanta today on election integrity. "Yet foreign nationals still find ways to influence American elections."
"The American Confidence in Elections (ACE) Act will close loopholes that foreign nationals are exploiting to funnel money to super PACs or ballot initiatives," he said.
His hearing will draw on a new report from a conservative group, the Americans for Public Trust, which tries to show how Hansjörg Wyss, a Swiss billionaire, has influenced U.S. elections and policy through two nonprofits he controls: The Wyss Foundation and the Berger Action Fund.
"It's time for Congress to close the foreign influence loophole that allows foreign dark money to flood the American electoral and political system," said Caitlin Sutherland, executive director of Americans for Public Trust.
The other side: "The Berger Action Fund does not support or oppose political candidates or parties, or otherwise engage in political campaigns," said Marneé Banks, a spokesperson for the Wyss Foundation and the Berger Action fund.
"Berger complies with all rules governing its activities and has established strict policies prohibiting funding from being used for get-out-the-vote or voter registration," she said.
"We also support increasing transparency and accountability in our campaign finance system through the DISCLOSE Act."
The big picture: The combination of artificial intelligence, social media and unregulated spending will make the 2024 presidential election vulnerable to foreign interference on behalf of both parties.
Malicious foreign actors, including Russia's Yevgeny Prigozhin, head of the Wagner Group, have boasted about how they ran influence campaigns in America during the last presidential campaign — and plan to do it again.
Meanwhile, big tech companies are relaxing some of their policies designed to curb misinformation around COVID-19 and the 2020 election, making 2024 more of a free-for-all on social media.
State and local election officials can work to safeguard the voting process, but in a free and open society it's close to impossible to prevent foreign actors from trying to persuade Americans via open — or clandestine — influence campaigns.
Zoom in: Conservative groups are zeroing in on Wyss as a poster child for how wealthy foreign billionaires can influence U.S. elections, alleging that he has pumped $475 million into the U.S. political system.
In 2021 alone, his Berger Action Fund gave some $72 million to a dozen different nonprofit organizations, including the Sixteen Thirty Fund, which advocates for progressive causes, according to the Associated Press and tax filings.
Those 501(c)(4) nonprofits, like the Sixteen Thirty Fund, can give directly to superPACs that support the Democratic agenda, the New York Times has reported.
"The problem is that c4's are a bit of a black box when it comes to campaign finance laws," said Saurav Ghosh, the director of the Campaign Legal Center, a Washington-based nonpartisan watchdog group.
Flashback: Republicans and Democrats have been hit with big fines for accepting foreign money.
Editor's note: This story has bee updated with a statement from the Berger Action Fund.
Go deeper