Scoop: Hunter Biden's lawyer roasts IRS whistleblowers in message to GOP chair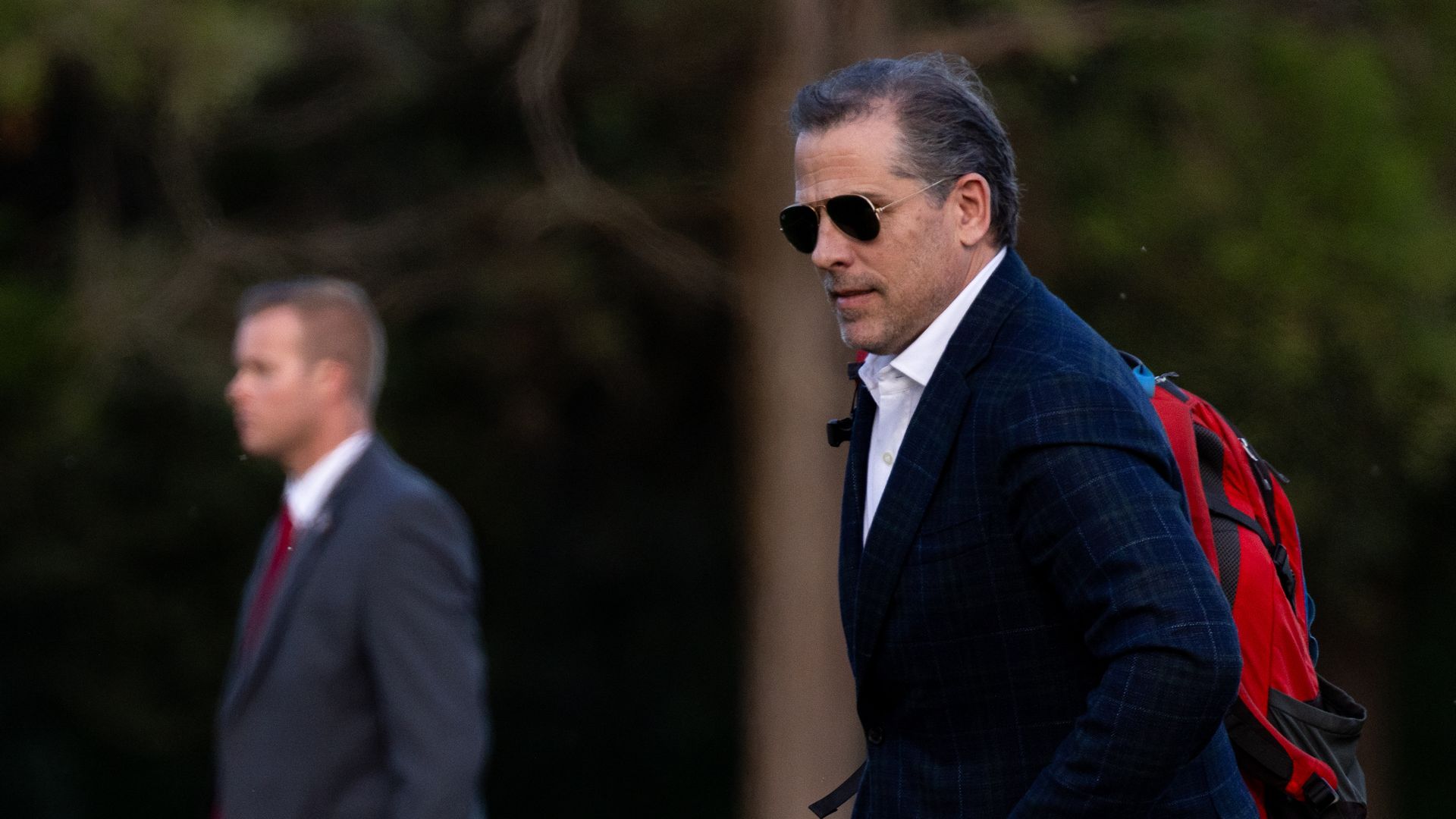 Hunter Biden's lawyer sent a blistering letter Friday to the Republican chair of the House Ways and Means Committee, accusing him of trying to undermine the law and feeding "the misinformation campaign to harm our client, Hunter Biden, as a vehicle to attack his father."
Why it matters: The White House has been struggling to answer questions about the IRS agent transcripts over the past week, but Hunter's lawyer Abbe Lowell is now taking the lead in fighting back against the Republican-led committee.
The letter comes after Chair Jason Smith last week released transcripts of interviews with two IRS agents who claimed that the investigation into Hunter Biden was improperly handled along with a purported WhatsApp message that showed Hunter leveraging his father to close a business deal.
The White House and Justice Department rebuffed the whistleblowers' claims about meddling last week.
Hunter Biden agreed to plead guilty to two counts of not filing and paying taxes. He also entered a diversionary agreement on a felony gun charge.
"It's little surprise that Hunter Biden's attorneys are attempting to chill our investigation and discredit the whistleblowers who say they have already faced retaliation from the IRS and the Department of Justice despite statutory protections established by law," said Smith in a statement.
What he's saying: Lowell suggests the IRS agents interviewed may be claiming the title of whistleblower "in an attempt to evade their own misconduct" and clams that the "timing of the agents' leaks and your subsequent decision to release their statements do not seem innocent."
He also slams Smith for posting screenshots of an alleged WhatsApp conversation, saying, "The screen-grab images you posted are not real and contain myriad of issues....In short, the images you circulated online are complete fakes."
The big picture: House Republicans were outraged by Hunter Biden's plea deal, and have pushed forward with their aggressive investigations into the president's son.
The released testimony of an IRS agent has added fuel to the fire.
Smith has now joined forces with House Oversight Chair James Comer and House Judiciary Chair Jim Jordan.
On Thursday, the trio sent letters to top officials at the DOJ, IRS and Secret Service demanding interviews.
Editor's note: A quote in this story has been corrected to attribute it to Jason Smith, not J.P. Freire.
Go deeper