Trump's shifting public defenses in classified documents case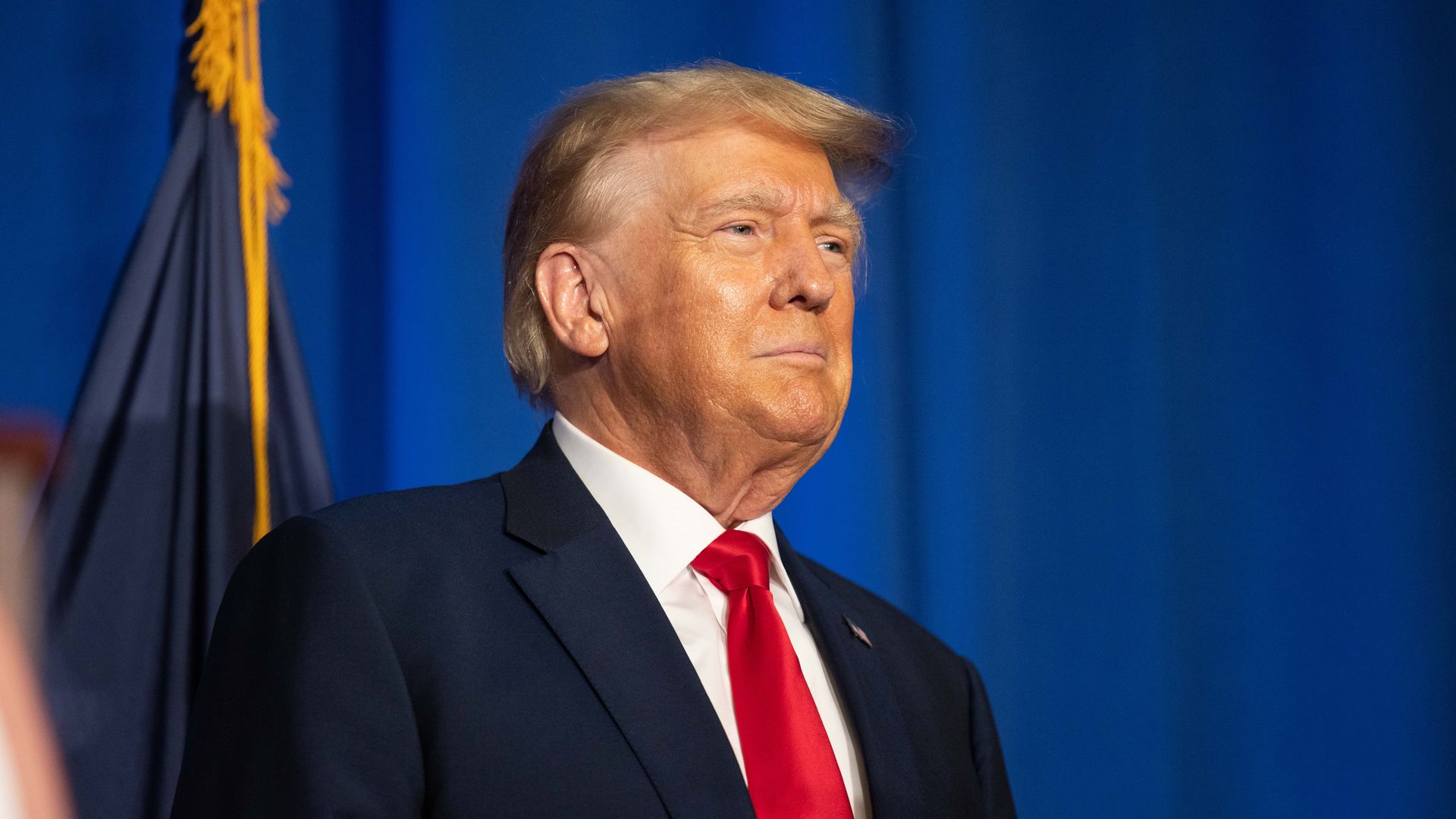 Former President Trump is throwing all sorts of defenses at the wall to see what sticks after he was indicted over his retention of classified documents.
Why it matters: Legal experts say that what Trump says now could be used against him in an eventual criminal trial. For now, he's seizing on the historic indictment as a centerpiece to his 2024 campaign.
"There is nothing juries hate more than criminal defendants who keep changing their story as to why they did something," national security attorney Bradley Moss told Axios in an email.
Driving the news: Trump on Tuesday insisted that he was not sharing classified documents in an audio recording obtained by CNN, in which he references "highly confidential" and "secret information" while shuffling papers.
"I would say it was bravado, if you want to know the truth, it was bravado," Trump said in an interview on his plane with Semafor and ABC News.
"I was talking and just holding up papers and talking about them, but I had no documents. I didn't have any documents."
A spokesperson for Trump did not immediately respond to Axios' request for comment.
Earlier in June, Trump defended not turning over the classified documents during an interview with Fox News' Bret Baier, suggesting he knew he had them when he was subpoenaed by the Justice Department.
"Before I send boxes over, I have to take all of my things out," Trump said.
"These boxes were interspersed with all sorts of things, golf shirts, clothing, pants, shoes, there were many things."
The big picture: Trump has had a scattershot legal defense strategy to the indictment, which alleges that in July of 2021 he showed classified information to a writer, publisher and two members of his staff about a plan to attack Iran.
Trump disputed the allegations after the indictment was unsealed, telling Baier that there were no documents during the July 2021 meeting and that he had "nothing to declassify."
In response to the CNN audio released this week, Trump insisted he was exaggerating. "Did I use the word plans?" Trump told ABC News and Semafor.
"What I'm referring to is magazines, newspapers, plans of buildings. I had plans of buildings. You know, building plans? I had plans of a golf course."
Zoom out: Speaking at his golf club in Bedminster, New Jersey, the night of his arraignment, Trump presented a range of other legal arguments against the charges outlined in the indictment.
He said that under the Presidential Records Act, he had "every right to have these documents."
The post-Watergate law created a distinction between "presidential records" and "personal records," but legal experts say there is no way the classified national security documents Trump retained could be interpreted as "personal."
Trump also insisted that his handling of classified documents was in line with a decades-old case involving former President Clinton.
"The crucial legal precedent is laid out in the most important case ever on this subject, known as the Clinton socks case," Trump said the night of his arraignment.
Trump is referencing a case in which Clinton was reported to have stored cassette tapes of interviews he did with a historian during his presidency in his sock drawer.
A conservative activist group sued to have access to the recordings and designate them as presidential records, but that case was ultimately dismissed.
Legal experts have refuted Trump's claims that the two cases bear any similarities.
Go deeper: Trump loyalists circle the wagons
Go deeper