Now on the 2024 ballot: Trump's freedom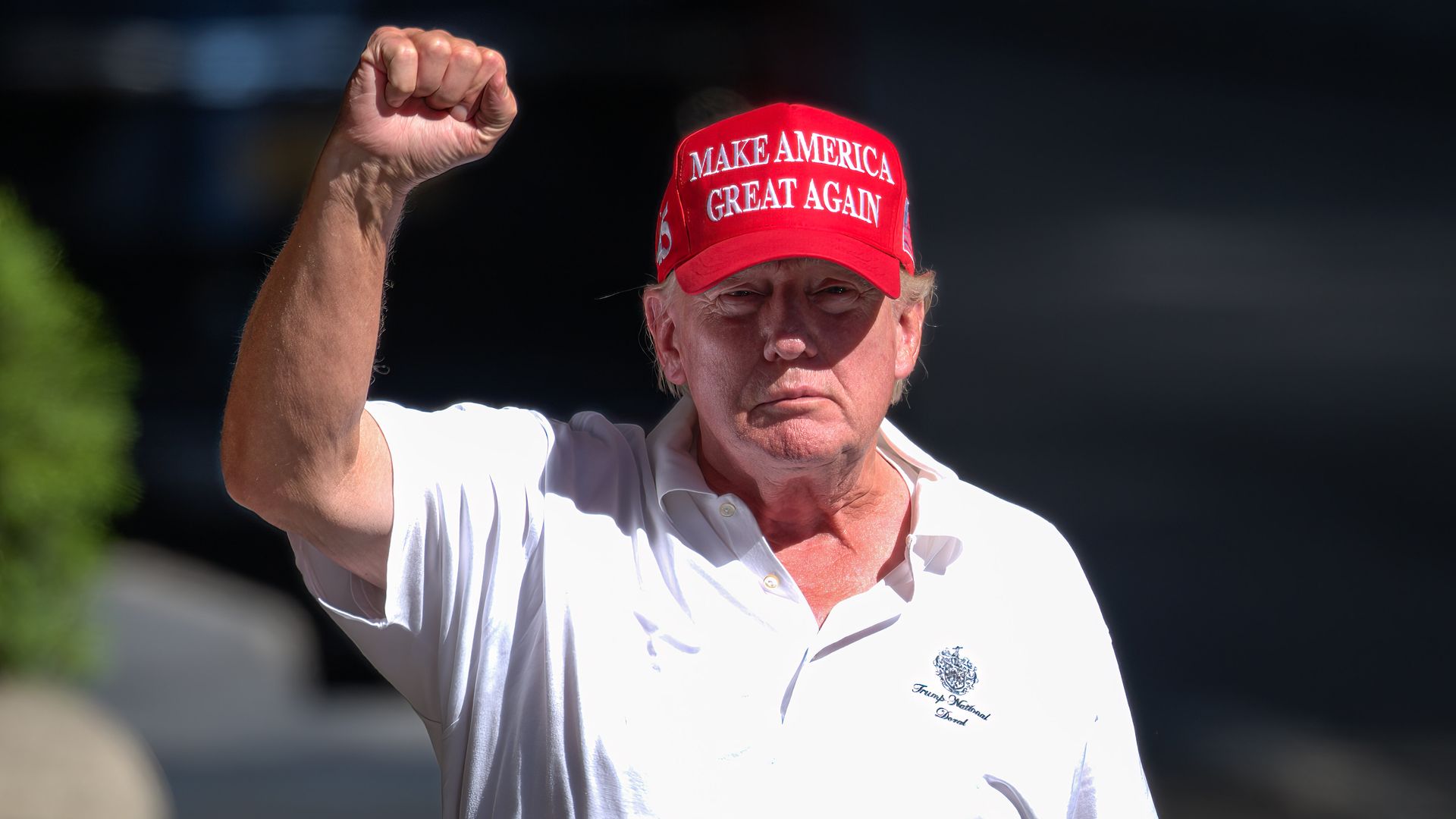 For Donald Trump, the 2024 campaign is more than a race to return to the White House — it's a fight to stay out of prison.
Legal experts say it's unlikely that Trump's criminal trial in federal court will be resolved before the November 2024 election. So whoever wins the presidency could be in position to influence Trump's case.
Why it matters: If Trump is the GOP nominee next year, he essentially could be campaigning for his freedom — an unprecedented scenario in the United States. Winning the presidency would give him a chance to install sympathetic Justice Department officials, or even try to pardon himself if he's convicted.
Such a pardon would be legally untested, but Trump, as president, was reported to have expressed interest in a self-pardon after his attempts to overturn the results of the 2020 election culminated in the riot at the Capitol.
Even if Trump isn't the Republican nominee next year, some of his GOP rivals already are pledging to either pardon him or significantly restructure the Justice Department in ways that might help him if they win.
Zoom in: Legal experts across the spectrum said the detailed, 49-page indictment unsealed Friday presents huge risks to the former president.
It lays out 37 felony counts — including 31 charges of unauthorized retention of classified information about the nation's defense, a violation under the Espionage Act. If found guilty, he could spend the rest of his life in prison.
Special counsel Jack Smith said Friday his office "will seek a speedy trial."
But many legal experts, even Trump critics, are skeptical Smith's team can complete a trial before the election — especially given Trump's long history of maneuvering to delay legal matters.
Ty Cobb, a former lawyer for Trump during his White House years who has become an outspoken critic, told Axios that "it will be very difficult to get this case tried before the general election, but not impossible."
"Trump will throw up a lot of motions and stuff, ask for delays each time and will definitely appeal" any guilty verdict, he added.
What they're saying: Some Trump allies' moods changed from confidence to concern after the indictment was revealed Friday.
Before the indictment was unsealed, conservative lawyer Jonathan Turley told Fox News late Thursday: "Trump could run on pardoning himself…They may have given him a rather unique campaign slogan."
After the indictment became public, Turley told Fox News: "It is an extremely damning indictment...This is not an indictment you can dismiss."
Tim Parlatore, a recently departed Trump attorney, told CNN on Friday that the indictment included "problematic" allegations if the government can support them. "This is some serious stuff," he added.
It's "an overwhelmingly strong indictment," Cobb said. "There isn't a fact alleged that they don't have a witness or document for."
Trump weighed in with more than two dozen Truth Social posts Friday.
He has declared that he is an "INNOCENT MAN." A Trump aide said the campaign felt prepared for the indictment and is battle-tested from his previous political and legal fights.
Trump has other legal troubles pending — an earlier indictment in New York concerning an alleged hush money payment to an adult film star; a potential indictment in Georgia over his attempts to overturn the 2020 election, and an ongoing federal probe into his role in the violent riot at the Capitol on Jan. 6.
Zoom out: Even before the indictment's details were public, several GOP presidential candidates expressed support for Trump.
Florida Gov. Ron DeSantis, South Carolina Sen. Tim Scott, former UN Ambassador Nikki Haley, and businessman Vivek Ramaswamy have rallied around their rival rather than criticize him.
DeSantis pledged to "bring accountability to the DOJ" and Ramaswamy promised to pardon Trump if he were elected.
President Biden has avoided commenting on Trump's case, other than to say he's never urged the Justice Department to charge or not charge the former president.
The Democratic National Committee has advised some Democratic members of Congress appearing on television this week to not comment on the indictment as the legal process plays out, people familiar with the conversations told Axios.
What's next: Trump is scheduled to make his first public remarks and a pair of speeches Saturday in Georgia and North Carolina.
Go deeper