Focus groups: North Carolina swing voters "concerned" by Biden's age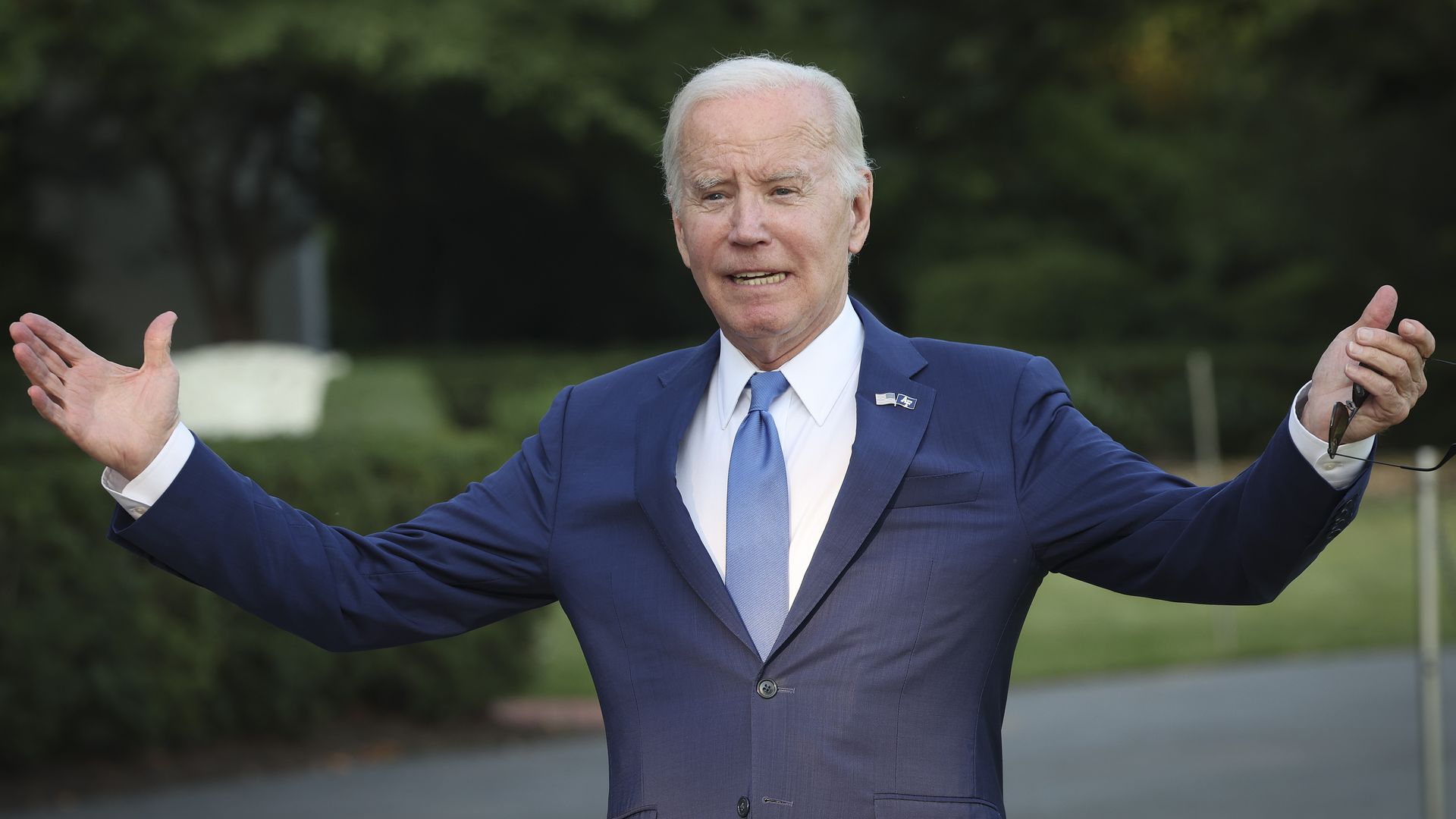 President Biden's age is a real problem for some North Carolina swing voters who backed him in 2020, and there's next to nothing he can do to assuage those concerns, according to our latest Engagious/Sago focus groups.
Why it matters: These voters, who backed Biden in 2020 after supporting former President Trump in 2016, said they feel "concerned," "exhausted," and without "confidence" whenever they watch Biden trip over his words (or a sandbag).
But although they're hyper-focused on his older age, nine of the 11 focus group participants said they'd vote for the 80-year-old Biden in a rematch against Trump, who turned 77 on Wednesday.
Driving the news: Axios observed two online focus groups on Monday with 11 North Carolinians. They were a mix of three registered Democrats, one registered Republican, and seven independents.
Although a focus group is not a statistically significant sample like a poll, the responses show how some voters are thinking and talking about current events.
Zoom in: Biden's public appearances are even more important to them than what a doctor says about his health.
When his doctors at Walter Reed have released reports after routine checkups that say "everything is fine," Kathy K., said she doesn't believe it. "They just tell you what you want to hear."
There wasn't much interest in having an outside group of Republican doctors evaluate Biden.
"I think it's more his public persona that gets him in trouble," said 59-year-old Keith B. "I'm a 'show-me-don't-tell-me' kind of guy."
Between the lines: Voters struggled to find a suitable answer to whether there is anything Biden could do to ease their fears around his age.
"The only thing he could do is maybe select a vice president that is more experienced and kind of more solid," said Tatiana D., 51.
Two others said that seeing his public speaking improve could potentially help. "He needs to look and sound more coherent. Sometimes he rambles and stumbles on his words," Scott S., 59, offered.
Eric N., 43, said: "Maybe if he held more press conferences where it seemed like he was fully understanding everything going on and not seem like he was in a cloud at points, that might help."
The big picture: These North Carolinians said that Biden's age makes him out of step with modern America.
Most experience negative emotions when they see or hear him speak, and they want Biden to debate any other Democratic primary challenger to prove his mental capacity.
"When it comes to President Biden's age, swing voters view him with a mix of concern and contempt," said Rich Thau, president of Engagious, who moderated the focus groups. "They hold Biden's evident stiffness, shuffling, and speech impediments against him, even when doctors certify he is capable to handle the job."
Yes, but: Most were concerned about Trump's age, but it's not their main issue with him. One said that Trump seems "smart" and "sharp."
Their main issue with Trump is the drama. "A big part of my hesitation with Trump is the controversial things that have come to light and how he carries himself," said Danielle R., 28.
What to watch: The 37-count federal indictment over Trump's mishandling of classified documents at Mar-a-Lago is the latest controversy making the leading Republican candidate radioactive with many of these voters.
Participants said they felt a mix of "embarrassment" for the country, "concern" for our national security, and "disgusted" and "outraged" at his alleged actions.
One voter, Laura P., 37, said the indictment isn't a big deal to her "because I'm sure he has lawyers that will handle it properly."
The bottom line: While seven of the 11 voters said there might be some political motives behind the indictment, they didn't like other 2024 GOP candidates who called it a "weaponization" of the Justice Department or shifted the blame to Biden.
When showed reactions to the indictment from six of the candidates, former Arkansas Gov. Asa Hutchinson's statement (that Trump should end his campaign) got the most support (eight of the 11).
Former New Jersey Gov. Chris Christie and former Vice President Mike Pence were also well-received, for similar reasons. One voter particularly liked that Pence's statement wasn't "inflammatory" and that he wasn't "outright saying the Justice Department is going after Trump."
Another liked that Christie plainly said Trump's "not presidential behavior" sets a "bad example for now and in the future."
The other side: The Biden re-elect team reiterated that North Carolina is a target state and pointed out that they aired TV ads there during the second week of the campaign.
Go deeper ... Focus group: Georgia swing voters want Biden to debate
Go deeper