Who is Evan Corcoran? Trump lawyer key witness in classified docs prob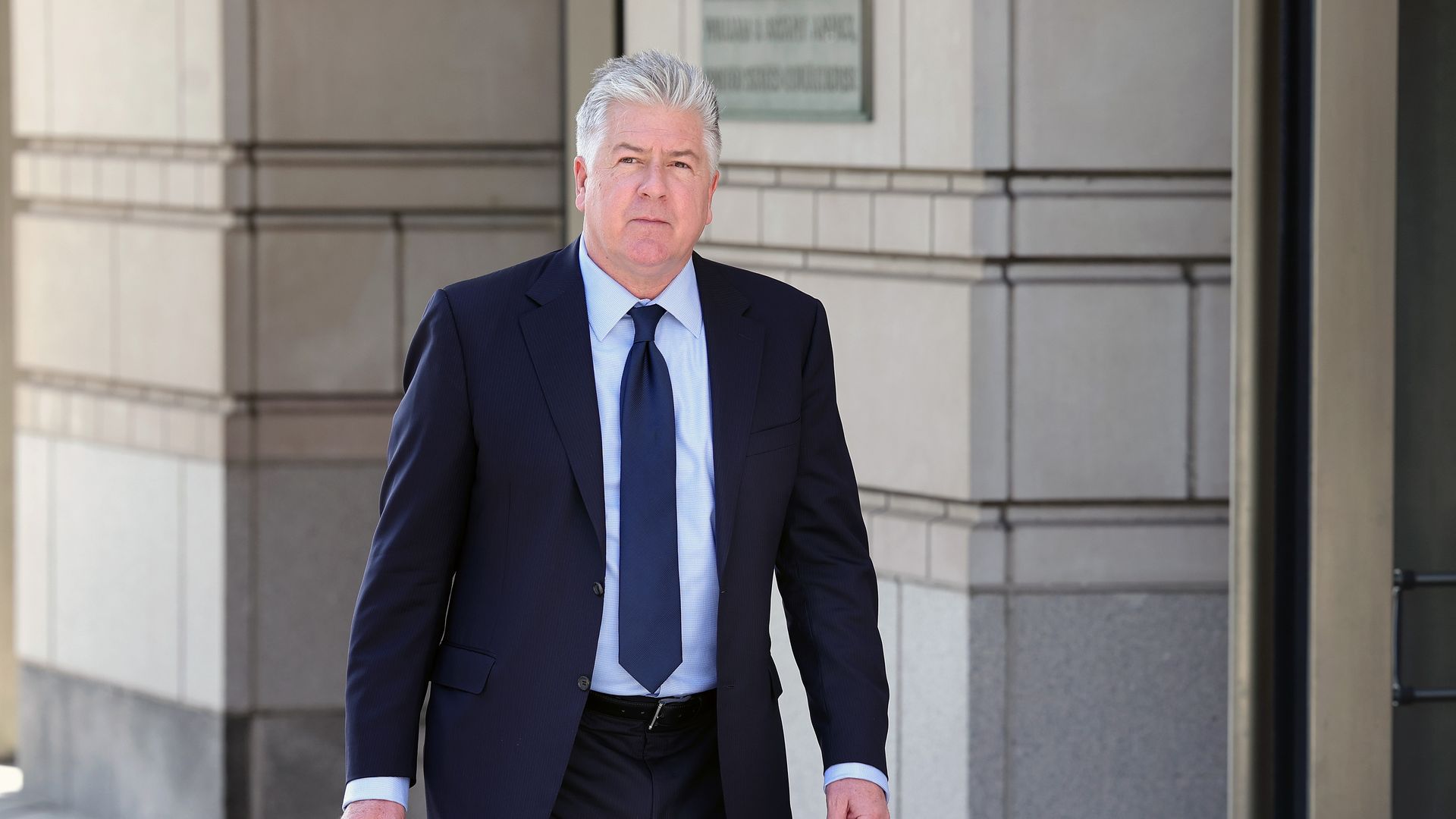 A Trump defense lawyer has been a key figure for prosecutors in the Justice Department's high-profile classified documents probe against the ex-president.
Why it matters: Evan Corcoran's notes on his interactions with the former president provided crucial evidence in the historic 37-count federal indictment against Trump unsealed on Friday.
While not identified in the indictment by name, Reuters reports that the person referred to as "Trump Attorney 1" in the indictment is Corcoran. The New York Times corroborated that reporting. Axios has reached out to Corcoran.
If the case goes to trial, Corcoran, a former federal prosecutor, could become a key witness for the prosecution.
Corcoran recused himself from representing Trump in the documents in April, though he still represents the former president in other cases, the Washington Post reported.
He was not charged in the indictment.
When did Corcoran start working for Trump?
Corcoran agreed to join Trump's legal team in April 2022, as the FBI was investigating records turned over by Trump's team to the National Archives and Records Administration, the Washington Post reported last year.
Corcoran had previously represented former Trump adviser Steve Bannon against contempt of Congress charges over defying a subpoena from the House Jan. 6 select committee.
Corcoran was instrumental in helping Trump respond to a grand jury subpoena for the return of all remaining classified documents in the former president's possession.
Corcoran met with Justice Department and FBI officials at Mar-a-Lago on June 3, 2022, during which he handed over a file of 38 classified documents in response to a subpoena, according to the indictment.
He appeared before the federal grand jury investigating Trump's handling of classified records multiple times earlier this year, and had invoked attorney-client privilege in order to not answer certain questions, AP reported.
In March, a federal appeals court ordered Corcoran to turn over documents pertaining to the investigation to federal prosecutors, a week after U.S. District Judge Beryl Howell ordered Corcoran to answer additional questions before the grand jury, AP reported.
How Corcoran collected the notes
Corcoran recorded extensive notes about his interactions with Trump in his iPhone's Voice Memo app and then transcribed them on paper, the New York Times reported.
Corcoran's notes reportedly cover nearly a monthlong period, starting with a meeting with Trump in May 2022 to discuss the Justice Department's subpoena for classified documents, per the Times earlier this month.
Corcoran's notes also cover his search of Mar-a-Lago in early June 2022 for any relevant documents "in preparation for a visit by prosecutors," the Times reported.
How did the special counsel gain access to Corcoran's notes?
Although such notes would ordinarily be protected by attorney-client privilege, special counsel Jack Smith was able to obtain them earlier this year in part by invoking the crime-fraud exception.
The crime-fraud exception allows attorney-client privilege to be circumvented if sufficient evidence suggests that a client used legal services or legal advice to further a crime.
Smith's office was able the obtain the notes after Howell ruled in the Justice Department's favor, asserting that prosecutors had met the bar for the crime-fraud exception to circumvent attorney client privilege, the New York Times reported.
What are some big revelations from Corcoran's notes?
Corcoran's notes provide an inside look at Trump's open musings about stonewalling investigators and potentially tampering with evidence, the indictment shows.
"What happens if we just don't respond at all or don't play ball with them?" Trump asked during a May 23, 2022 meeting to discuss the subpoena, Corcoran's notes recorded.
"Wouldn't it be better if we just told them we don't have anything here?" Trump asked at another point.
During the same meeting, Trump praised an unnamed lawyer for Hillary Clinton, whom he claimed had done a "great job" by taking responsibility for deleting emails from her private server, per the Times.
During the May 23 meeting, Corcoran made clear to Trump that he would conduct a search of Mar-a-Lago for documents responding to the subpoena, according to the indictment.
In another standout passage, Corcoran recounts how after searching the boxes in the storage room, he compiled a folder of 38 documents with classified markings to turn over to federal prosecutors in compliance with a subpoena.
During a conversation about the folder, Trump made a "plucking motion" with his hand, which Corcoran recounted seemed to imply that "if there's anything really bad in there, like, you know, pluck it out."
What to watch: Trump is due to appear at a federal courthouse in Miami on Tuesday afternoon.
He told Fox News late Thursday he'd plead not guilty to the charges.
Go deeper: U.S. secrets were everywhere at Trump's club
Go deeper