New CMS Alzheimer's drug coverage plan raises questions around worth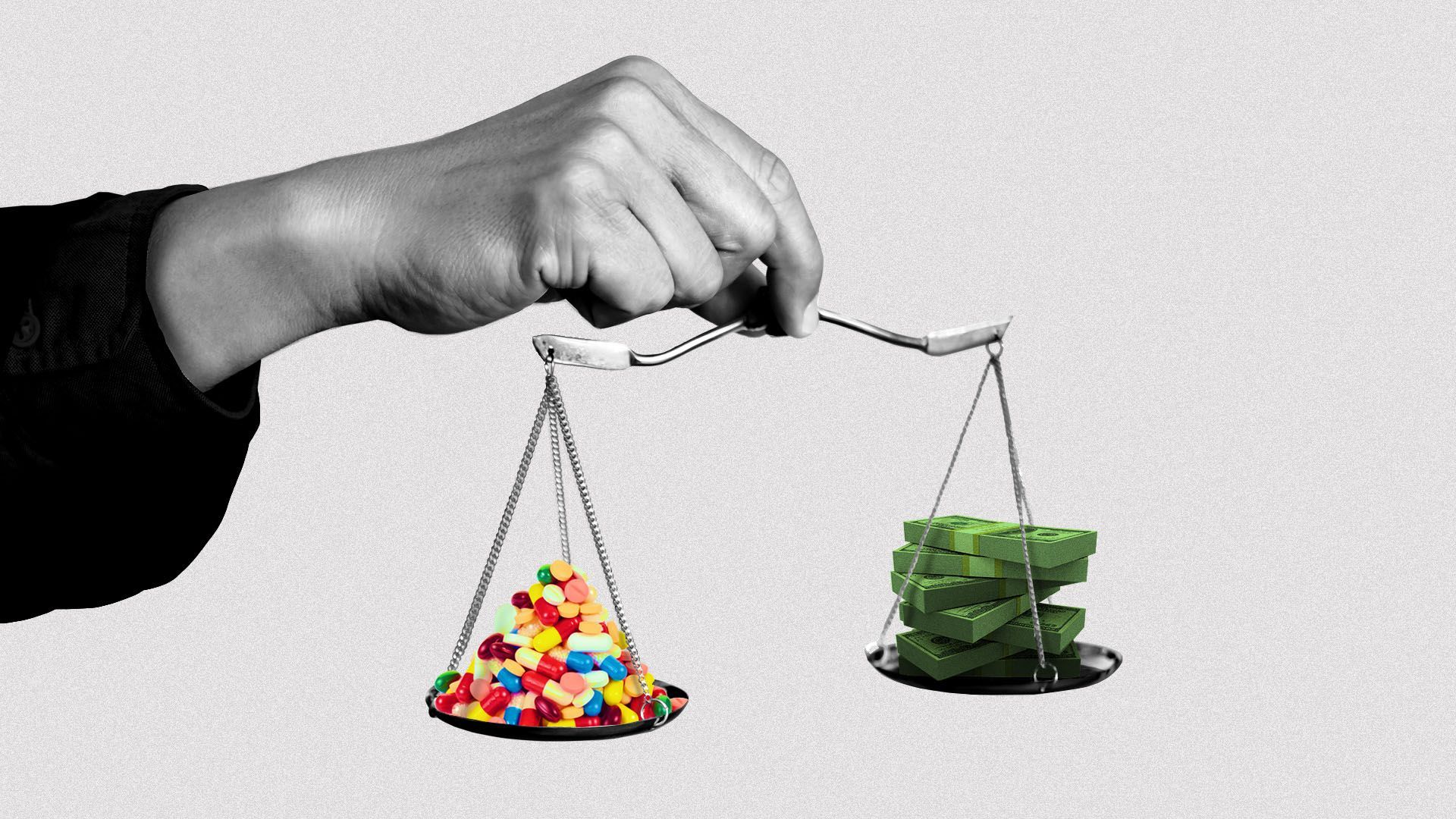 A Medicare plan for covering new Alzheimer's drugs treatments is reviving thorny questions about whether pricey treatments with modest success slowing the disease's progression are worth the cost and safety concerns.
Driving the news: The Centers for Medicare and Medicaid Services on Thursday outlined conditions under which it would expand coverage for a specific class of Alzheimer's drugs, including Eisai and Biogen's experimental Leqembi.
The plan came a week before advisers for the Food and Drug Administration are due to weigh giving the drug full approval — which could pave the way for more Medicare beneficiaries to access it.
But health experts have urged the FDA to review safety concerns around Leqembi, which was found to delay cognitive decline by 27% over 18 months but was linked to the deaths of three clinical trial patients.
Providers have questioned if the clinical benefits of the $26,500 per year treatment are clinically meaningful to an Alzheimer's patient for whom clear improvement might not be visible.
What they're saying: Leqembi is "very expensive, it doesn't hit a high rate of success and even the success that it achieves is small," said Arthur Caplan, director of the division of medical ethics at the New York University Grossman School of Medicine.
Caplan added that while Alzheimer's patients may be "desperate to get anything they can to slow the disease," there are still doubts around how beneficial it is to get "a tiny impact on a minority of people for a huge cost."
State of play: CMS now limits coverage of experimental Alzheimer's treatments to patients that are enrolled in clinical trials. Full approval would immediately expand coverage to beneficiaries in Medicare Part B if the prescribing physician agrees to collect, and share with CMS, data about the drug's performance.
Registries are "incredibly common," a CMS official told Axios, adding that doctors and other providers may already know how to work with them: "This is something that is very intentional on our part, we don't want to put a big burden on physicians."
CMS said that continued tracking of the drug's performance could provide more "knowledge of how these drugs can potentially help people."
The other side: PhRMA, the pharmaceutical industry's main lobbying group, said in a statement that it was "disappointed" by CMS' move, because use of a registry "significantly constrains access" to the drug.
The advocacy group Alzheimer's Association said requiring clinicians to register and enter data "will create unnecessary hurdles."
Between the lines: An April report from the Institute for Clinical and Economic Review found that the drug's yearly $26,500 price tag could cause "rapid growth in health care insurance costs that would threaten sustainable access to high-value care for all patients."
Overall, the institute said, the drug had a low long-term value and did not show a net health benefit over current treatment options. Researchers suggested that Leqembi should cost between $8,900 and $21,500.
The big picture: "The introduction of a drug like Leqembi at a price of $26,500 could have a fairly substantial impact on Medicare spending, and could also result in higher Part B premiums," said Tricia Neuman, senior vice president of KFF and executive director of its program of medicare policy.
"When Medicare Part B spending rises for any reason, that can result in an increase in ... premiums paid by everyone on Medicare Part B whether they take the drug or not," Neuman added.
Additionally, patients taking the drug would still be responsible for 20% co-insurance, meaning they'd be paying over $5,000 per year on out-of-pocket costs, per a recent KFF analysis.
Yes, but: CMS does not expect there to be a "huge uptake" for Leqembi if it receives FDA traditional approval, said Mark McClellan, former CMS administrator and former FDA commissioner.
Demand for the drug would rise slowly, McClellan added, because "many prescribers aren't used to managing these runs yet and there are some questions around whether the benefits may be worth the risk for some individuals."
What's next: CMS plans to create a "nationwide, CMS-facilitated portal" for health providers to submit patient data in a way that does not violate federal laws that protect people's health information.
While CMS said that it plans to release more details around how the registries will work, it is likely that the agency would look to make the patient data "de-identified so individual information is protected" but still available for researchers and potentially private insurers debating whether or not to cover these types of drugs, McClellan told Axios.
Go deeper:
Go deeper