Growing pressure for Alzheimer's drug coverage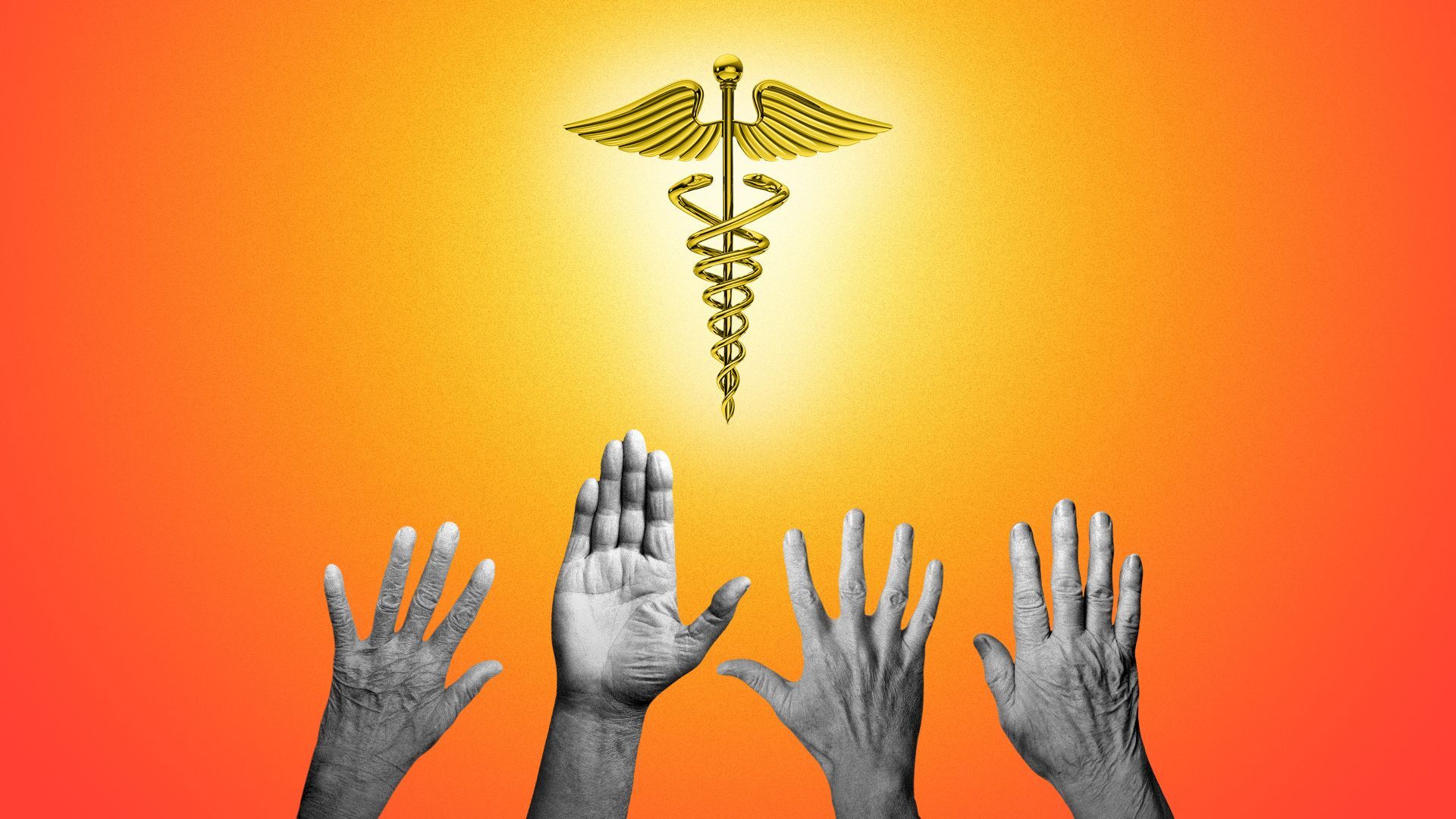 Clinical trial results for yet another Alzheimer's drug — previewed last week by Eli Lilly — have increased calls for Medicare to change its coverage rules for the class of drugs.
Why it matters: Although CMS' position seems increasingly divisive, especially as the pressure becomes more bipartisan, the new therapies could drastically increase the amount Medicare spends on drugs — and questions still linger about the drugs' real-world impact.
Driving the news: Eli Lilly announced results last week for its Phase 3 clinical trial of donanemab, another anti-amyloid therapy for Alzheimer's disease.
The trial found evidence that the drug slows cognitive and functional decline in people in the early stages of the disease.
"We believe our data meets the 'high level of evidence' the Centers for Medicare & Medicaid Services (CMS) has described as the trigger for reconsideration of its National Coverage Determination," Anne White, executive vice president of Eli Lilly, said in a statement.
The big picture: The two anti-amyloid Alzheimer's drugs already on the market received accelerated approval from the FDA. That means they were approved based on a biological outcome — the reduction of amyloid — that can be reasonably expected to predict a clinical benefit.
The first of those two drugs to receive approval, Aduhelm, was mired in controversy and sparked the CMS coverage determination last year. But the second, Leqembi, received accelerated approval after conducting a noncontroversial clinical trial.
CMS, however, decided to cover the drug only in limited circumstances after the approval of Aduhelm. Since Leqembi's accelerated approval in January, patient advocates and many lawmakers have been pushing for CMS to update its coverage policy, to no avail.
Leqembi is expected to receive full FDA approval soon, which would further expand Medicare coverage under the existing rules. But some critics say even that expanded coverage won't be enough, especially amid a mounting body of evidence for the drug class.
CMS in February said that "there is not yet evidence meeting the criteria for reconsideration" of the coverage determination.
Between the lines: Republicans have been criticizing the CMS coverage decision for months, and some Democrats have also raised concerns.
Even before Eli Lilly announced its clinical trial results, a bipartisan group of attorneys general joined the discussion with a letter to HHS Secretary Xavier Becerra and CMS Administrator Chiquita Brooks-LaSure.
"We ask that CMS provide full and unrestricted Medicare coverage for FDA-approved Alzheimer's treatments, consistent with its decades-long practice of covering FDA-approved prescription drugs for Medicare beneficiaries," the attorneys general wrote.
What they're saying: "These are the strongest phase 3 data for an Alzheimer's treatment to date. This further underscores the inflection point we are at for the Alzheimer's field," said Maria C. Carrillo, the Alzheimer's Association's chief science officer, in a statement on the trial results.
"Yet, Medicare stubbornly continues to block access for the people who could benefit."
What we're watching: A press release is extremely unlikely to warrant a policy change from CMS, but full study results will be presented at the Alzheimer's Association International Conference in July, per Eli Lilly.
An FDA advisory committee will meet next month to discuss full approval of Leqembi.
Go deeper