Health experts want FDA safety review of fast-tracked Alzheimer's drug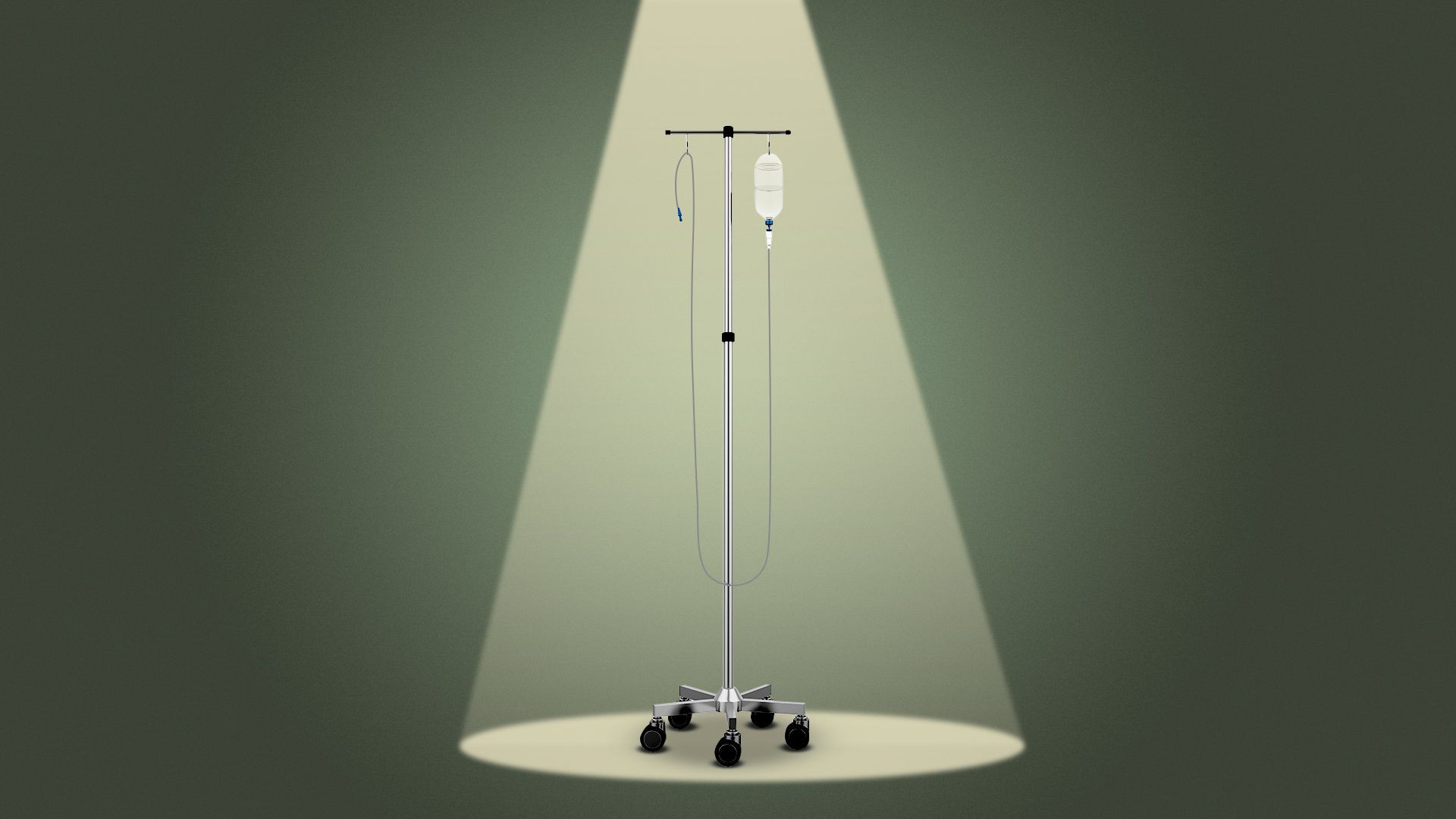 Doctors and scientists are urging the Food and Drug Administration to convene an expert panel to review safety concerns around an Alzheimer's drug that won fast-track approval in January.
The big picture: It's the latest concern over whether the FDA is cutting corners evaluating Alzheimer's drugs, prompted by its controversial 2021 approval of Biogen's Aduhelm, which came over the objections of an advisory panel and without evidence the drug actually slowed the decline of memory and brain function.
Some health experts now say that the agency isn't doing enough to address questions about Eisai's lecanemab — including three patient deaths during clinical trials that scientists connected to the drug.
The FDA didn't follow its customary process and convene an advisory panel before green-lighting the accelerated approval last month.
Accelerated approvals are based on variables that suggest a drug probably works, instead of real-world clinical results.
Congress late last year gave the FDA more authority over confirmatory trials that are supposed to prove the drugs work.
At a recent National Academies of Sciences, Engineering, and Medicine workshop, FDA officials were told they should more transparent about the rationale for using the fast-track process in new areas beyond cancer drugs and infectious diseases, per a Cowen policy note.
What's happening: Some health experts believe the agency should next convene a public discussion on Eisai's drug, which would cost $26,500 per year for the average patient, before deciding whether it should get a full approval based on its actual clinical benefit.
As we wrote during the Aduhelm controversy, the underlying concern is the FDA's decisions could undermine medical standards and give millions of patients false hope, because greenlighting more drugs just because they might work could unleash perverse incentives.
Catch up quick: The FDA in early January granted accelerated approval to Eisai's lecanemab — marketed at Leqembi — which has shown in large clinical trial results published in the New England Journal of Medicine that it can slow the progression of the disease by 27%, as well as slow the rate of cognitive decline over 18 months.
The study showed that patients who took lecanemab presented more adverse effects than those given a placebo.
Eisai reported 13 deaths out of the nearly 1,800 participants in the trial. However, the company has not released any details on the deaths, so scientists have been unable to independently determine whether lecanemab had anything to do with them, Science reports.
What they're saying: "[C]ritical questions remain as to whether the benefits outweigh the risks reported of brain swelling, brain bleeding and death among patients who received this drug," the independent advocacy group Doctors for America said in a statement.
"As physicians, we vow to 'do no harm' in treating our patients and look to the FDA to provide unbiased, independent guidance to signal through their approval decisions that the authorized treatment's benefits truly outweigh its risks," they added.
Between the lines: Eisai researchers have suggested that Alzheimer's patients are willing to take a drug with health risks if it could slow the progression of the condition: "They are willing to risk a brain hemorrhage," Sharon Cohen, one of the principal investigators, said in November.
"I don't really see this as much different than cancer drugs," said Howard Fillit, co-founder and chief science officer of the Alzheimer's Drug Discovery Foundation, adding that those drugs are approved even if they have side effects that can reduce quality of life, because "they might extend life by six months or a year or 18 months."
"We are seeing an extension of cognitive life expectancy, the ability of people to be able to think and drive and do other things ... and for elderly people, I think this is critical," Fillit added.
State of play: A report in Nature Reviews Neurology found that while the lecanemab trial represents "an important milestone," there's still a need for "a thorough appraisal of the data" to indicate whether the results are clinically meaningful.
Alzheimer's disease "is a very slowly progressive condition without treatment. And so, you add a treatment that slows it a little bit more," but "it's really not perceptible day-to-day to the patients and the families," said Constantine Lyketsos, an Alzheimer's researcher at Johns Hopkins School of Medicine.
Details: Lecanemab targets amyloid plaques, proteins in the brain that are believed to contribute to the development of Alzheimer's.
The accelerated approval was not based on the NEJM study but on a Phase II trial that looked at patients' cognitive scores as the primary clinical endpoint. The drug actually failed to meet the required scores on the primary endpoint and the approval was granted instead based on a surrogate endpoint, or variable, that indicated the reduction of amyloid plaques.
Zoom in: The presence of amyloids is measured through PET scans. However, there is no conclusive evidence that PET amyloid-beta scans are "reasonable and necessary" for the diagnosis or treatment of Alzheimer's, per the Centers for Medicare and Medicaid Services.
An independent panel needs to meet to discuss the use of beta amyloid PET scans to support a drug's accelerated approval, which is of "tremendous public health urgency," said Jason Karlawish, a professor at the University of Pennsylvania Perelman School of Medicine.
Lecanemab is the third drug that FDA has used beta amyloid PET scans "to decide whether they're going to grant accelerated approval, and yet we've never had a public discussion of the data to support the use of that endpoint," Karlawish added.
Of note: In the FDA's summary for accelerated approval, the agency says that while "not yet submitted to the agency for review," the NEJM study appears to support the drug's clinical benefit.
"Kind of jumping the gun a little bit by talking about the clinical trial data that they have yet to review was alarming to see," said Reshma Ramachandran, an assistant professor at the Yale School of Medicine.
Don't forget: The FDA has so far evaluated three Alzheimer's drugs that are based on the amyloid hypothesis and are measured by the beta amyloid PET scans: Aduhelm, lecanemab and Eli Lily's donanemab — the last of which did not receive FDA accelerated approval.
What we're watching: Some FDA advisers believe that an expert panel meeting is not necessary.
"I think this data doesn't require it," said Liana Apostolova, a neurologist at the Indiana University School of Medicine and member of the FDA's Peripheral and Central Nervous System Drugs Advisory Committee.
"Very positive results in the trial on multiple outcomes and biomarkers don't historically go to an advisory committee," she added.
Apostolova told Axios that she has worked as a consultant for Eisai on lecanemab, and said that if an advisory meeting is called, she would not participate as a result.
Go deeper