New Alzheimer's drug may be a catastrophe in the making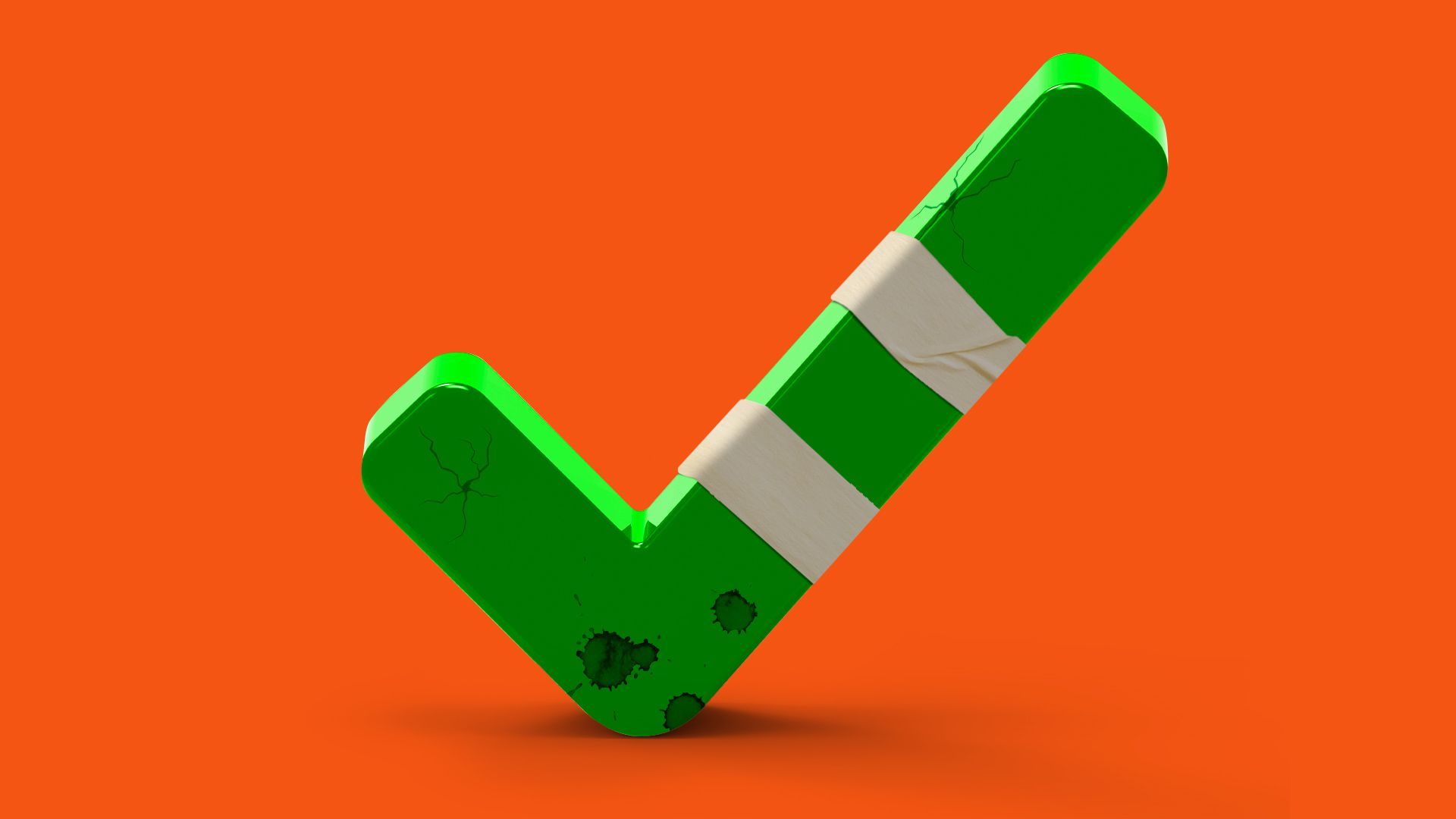 The FDA's approval of a new Alzheimer's treatment — the first one in almost two decades — should have been a cause for celebration. Instead, it has become a scientific and financial mess.
Why it matters: Experts from all corners of the health care world fear the FDA's decision will undermine medical standards, explode the federal budget and fill millions of desperate people with false hope.
And, worst of all, they worry it could cement a perverse set of incentives that will cause all of those problems to keep happening.
The backstory: The FDA's decision to approve Aduhelm, a medication developed by Biogen, was controversial at the time, and the criticism has only gotten louder.
The evidence that the drug works is extremely thin. The FDA's own statisticians said it didn't meet the agency's usual standards.
An outside advisory panel — whose advice the agency usually follows — recommended against approving the drug. Three members quit in protest after the FDA disregarded their recommendation; one of them called this "probably the worst drug approval decision in recent U.S. history."
What they're saying: "How would we feel if the advisory committee had recommended against approval of the COVID vaccine but then FDA went ahead and approved it?" Matt Eyles, CEO of America's Health Insurance Plans, told Axios. "I think we'd be having another very different conversation."
Between the lines: Millions of Alzheimer's patients and families are desperate for any signs of a promising treatment. Empathy for that pain may have motivated the FDA to ease up on Aduhelm, some critics say.
But an ineffective drug may be worse than no drug at all — especially when that unproven drug costs $56,000 per year.
Medicare will likely spend tens of billions of dollars per year just on Aduhelm. Patients who receive it will also need additional care, like imaging scans. By some estimates, Aduhelm and related care together could easily cost the U.S. over $100 billion per year.
Aduhelm is not just another expensive drug.
The U.S. has seen plenty of expensive drugs before. And as the industry has fought attempts to regulate its pricing, its most persuasive argument has been straightforward: Breakthroughs are expensive.
Some critics were up in arms when hepatitis C drug Sovaldi launched in 2013 with a price tag of $84,000 for a full course of treatment. Sovaldi and its successor drugs, however, have been a cure for most patients. Even their high price tags have been cheaper than a lifetime of treatment.
Aduhelm is different because Aduhelm hasn't been proven to work, and will not have been proven to work before millions of people start taking it.
Patients will likely take it for several years, and if it doesn't provide any clinical benefit, it will simply add billions more to the financial and emotional costs that Alzheimer's already extracts.
Beyond the cost, many also fear Aduhelm's approval will only make the long and painful search for a treatment longer and more painful.
There is a risk of false hope: Many Americans simply won't know, when a doctor prescribes this new Alzheimer's drug they've been hearing about, that there's actually very little reason to believe it will slow their loved ones' cognitive decline.
"There might be unrealistic expectations in people's minds that this is a cure for Alzheimer's when it's clearly not," said Marc Gordon, a neurologist and Alzheimer's researcher at Northwell Health in New York.
Scientists still don't know for sure what causes Alzheimer's. Aduhelm is based on one prominent but unproven theory. With that drug on the market, it'll get harder to meaningfully explore other possibilities, some experts warn.
What's next: Medicare could save some money by putting limits on its coverage of the drug, or it could reject coverage completely. If ongoing trials don't yield any more evidence that Aduhelm works, the FDA can pull it from the market — although Biogen has up to nine years to submit confirmatory trial data.
The bottom line: If the FDA is going to start greenlighting more drugs simply because they might work, that could unleash a flood of expensive and unproven products.
One possible early sign: Eli Lilly announced Friday it will seek FDA approval for its own Alzheimer's drug — which has not been proven to work.
Go deeper: Read our interview with Biogen executives
Go deeper