FDA grants fast-track approval to experimental Alzheimer's drug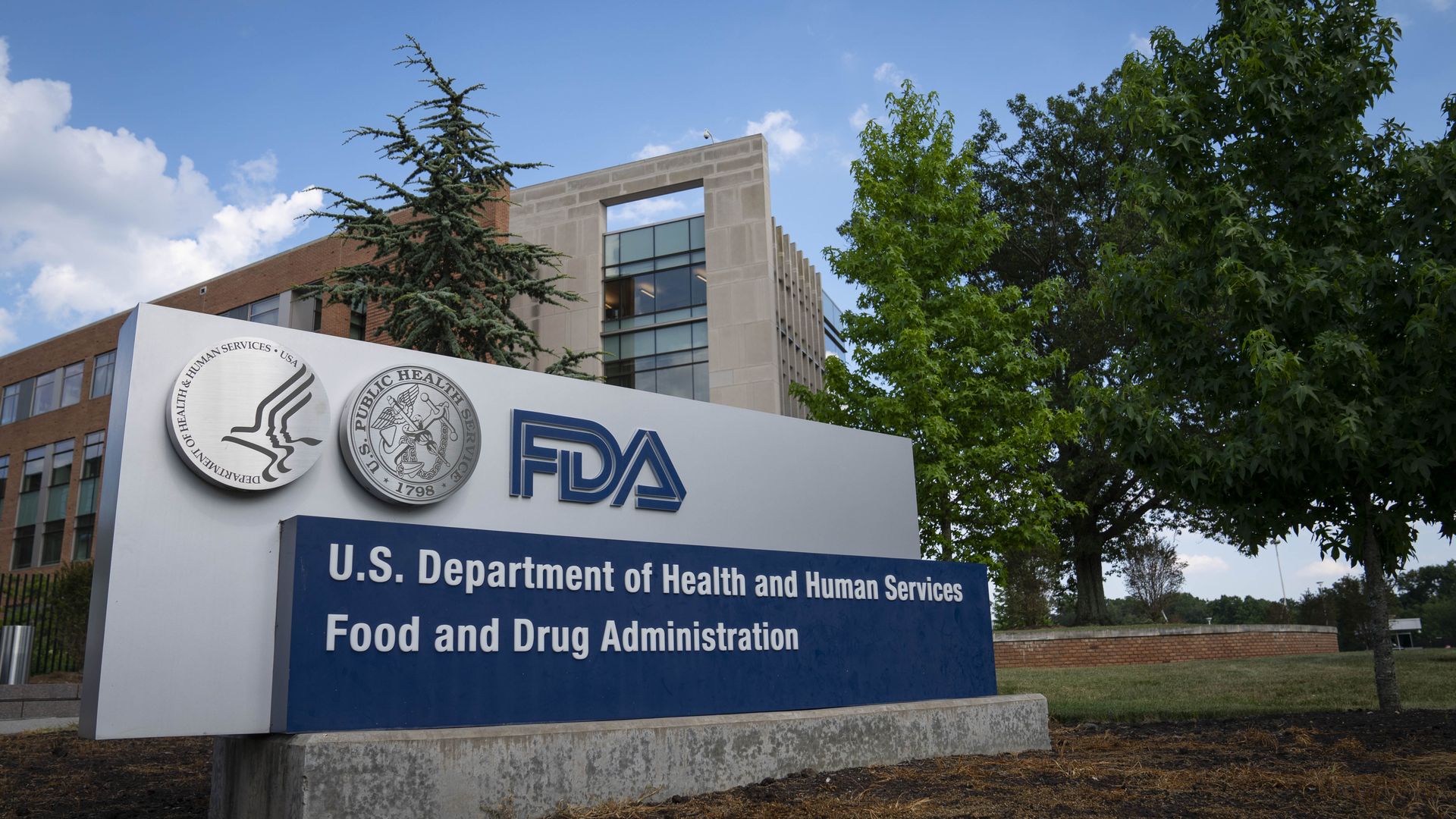 The Food and Drug Administration on Friday granted fast-track approval to a new Alzheimer's drug that clinical trials showed can slow the progression of the disease.
Why it matters: Lecanemab, developed by Japanese drugmaker Eisai and Biogen, is the first treatment shown to delay cognitive decline from Alzheimer's — which affects over six million people in the U.S.
Eisai published its clinical trial results in November, confirming that lecanemab — which will be marketed as Leqembi — managed to moderately slow onset of the disease. But there were safety concerns, with some patients experiencing "serious adverse events," prompting investigators to say further studies may be needed.
The drugmaker said that it plans to submit an application for full FDA approval by the end of March.
State of play: The agency reiterated the drug's label recommendations, saying that the treatment should be "initiated in patients with mild cognitive impairment or mild dementia stage of disease."
The big picture: A new Alzheimer's drug could cost the U.S. health system billions every year.
Eisai said that lecanemab's annual price will be $26,500. A cost-effective price would be between $8,500 and $20,600 a year, the Institute for Clinical and Economic Review said last month.

The company noted that it is looking into lessening the drug's dosing frequency potentially from biweekly to monthly, which could lower the annual cost by half.

Data for another promising Alzheimer's treatment by Eli Lilly that is similar to lecanemab is expected midyear.
What we're watching: Patient advocates are calling on CMS to cover the new drug and revise its current policy, which limits coverage of the class of drugs lecanemab is part of to patients enrolled in clinical trials or CMS-approved comparative studies.
The Alzheimer's Association "filed a formal request asking CMS to provide full and unrestricted coverage for FDA-approved Alzheimer's treatments," said Maria Carrillo, the organization's chief science officer.
What they're saying: "Peer-reviewed, published results show lecanemab will provide patients in the earliest stages of Alzheimer's more time to participate in daily life and live independently. It could mean many months more of recognizing their spouse, children and grandchildren," Carrillo said in a statement. 
Don't forget: Health experts have said that while lecanemab's approval is a step in the right direction when looking at Alzheimer's treatments, it is not a cure for the disease.
"This is encouraging news, but the approval of lecanemab is just the first step," said Howard Fillit, co-founder and chief science officer of the Alzheimer's Drug Discovery Foundation.
"Alzheimer's therapies will only be beneficial to patients if the right drug is given to the right patient at the right time based on their unique disease pathology, and for that we need new and novel diagnostic biomarkers," Fillit added.
Between the lines: A report published Wednesday detailed new information about a trial patient who passed away days after receiving treatment for a stroke and four days after receiving at least their third lecanemab infusion.
The report authors said that the patient experienced brain bleeds that are "unusual" when receiving stroke treatment on its own, but could not pinpoint lecanemab as the primary cause of death.
Catch up fast: Biogen's Aduhelm became the first Alzheimer's to receive FDA approval, in 2021, despite strong objections from the agency's own advisory panel. Scientists said the drug lacked evidence that it even worked.
CMS limited coverage of the drug, which was initially priced at $56,000, effectively making it a commercial failure.
A House investigation found that the FDA did not follow its own protocol when approving Aduhelm and inappropriately engaged with Biogen prior to releasing its decision.
Zoom out: The Aduhelm controversy put the FDA's accelerated approval process used for lecanemab under intense scrutiny.
The pathway allows patients to access new drugs approved based on results that suggest they are likely to work, instead of real-world clinical results.
The recently enacted government funding bill has a provision to tighten the FDA's oversight of accelerated approvals, giving the agency the power to require post-approval clinical trials to confirm a drug's effectiveness to be underway at the time of approval.

The omnibus also clarifies the FDA's authority to withdraw approvals when a drugmaker fails to conduct such studies.
Editor's note: This story was updated with additional details and context throughout.
Go deeper