After debt ceiling vote, McCarthy takes a victory lap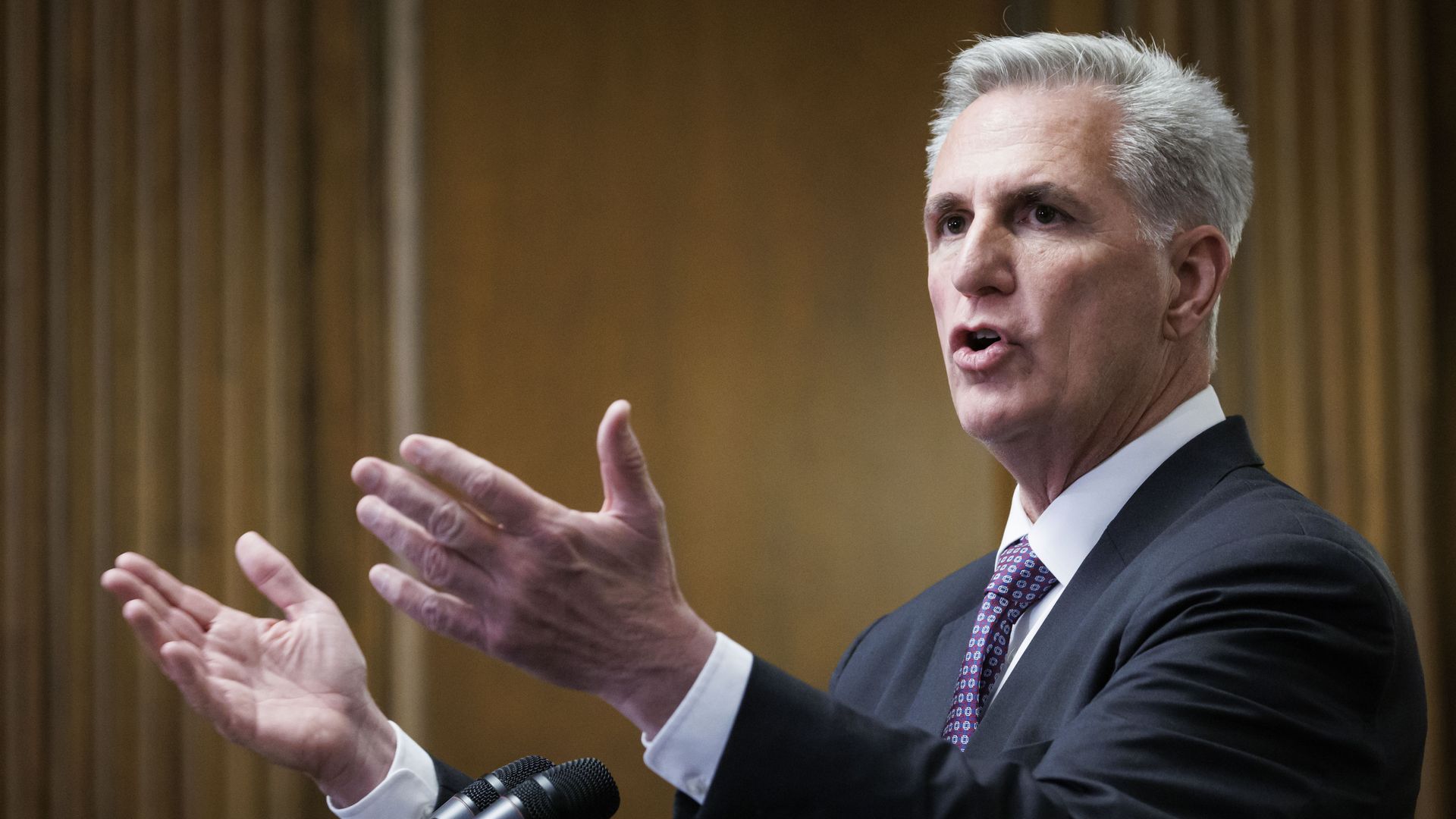 With a 314-117 House vote to lift the debt ceiling until 2025, Speaker Kevin McCarthy (R-Calif.) proved he could harness his narrow majority to force President Biden to make policy concessions on issues that are deeply important to both parties.
Why it matters: Now Biden and McCarthy will have to decide whether their debt deal will be the first of their political compromises — or their last.
Both leaders demonstrated a willingness to forsake their party's base to find common ground.
But neither treated the debt ceiling showdown as a trial run for legislating during divided government.
McCarthy started his post-vote victory lap by thanking his negotiating team and then touting his accomplishment.
"Tonight we all made history because this is the biggest cut in savings this Congress has ever voted for," he said, adding that he'll be seeking more budget cuts moving forward.
The other side: In his statement, Biden stayed focused on the importance of bipartisan compromise. "This agreement is good news for the American people and the American economy," he said.
Biden also was careful to publicly praise McCarthy. The president called him and the other congressional leaders after the vote, which the president watched from a hotel room in Colorado Springs.
"I want to thank Speaker McCarthy and his team for negotiating in good faith," he said.
Driving the news: The bill now moves to the Senate, and it seems likely to land on Biden's desk before Monday. That's Treasury Secretary Janet Yellen's latest deadline for when the U.S. government needs to raise the debt ceiling to avoid a disastrous default.
Biden urged the "Senate to pass it as quickly as possible so that I can sign it into law."
A vote in the Democrat-led Senate could come as early as today, Senate Minority Leader Mitch McConnell (R-Ky.) hinted. But Friday is a more likely scenario.
Senate leaders are still working out a time agreement to give senators a chance to vote on symbolic amendments that will not alter the shape of the deal.
Zoom out: In the two-weeks of shuttle diplomacy between the White House compound and the Capitol, there were fits and starts between the president's and the speaker's negotiating teams.
But there were no made-for-TV moments when the economy appeared in imminent danger.
The markets never revolted. And McCarthy's conservatives, long a thorn in his side, never really bolted. Only when the outcome was assured did a faction of 71 House Republicans vote against final passage of the bill.
Zoom in: The final vote on the bill was more intriguing than it was dramatic.
For all the strength that McCarthy gathered during the negotiating by keeping his members — and Senate Republicans — united, the floor action on the last day showed the challenges McCarthy will continue to face with his caucus.
In the final vote, Democrats gave the bill more support than Republicans: Democrats voted 165-46 in favor, compared to 149-71 for Republicans.
The bottom line: The debt ceiling was suspended in the House with more than 300 votes, a win for McCarthy. His hold on power has been reinforced, not reduced — even though he will have to deal with angry far-right conservatives, a few of whom now are openly discussing a move to oust him.
By a more than 2-to-1 ratio, GOP lawmakers backed McCarthy on the final vote.
Any of McCarthy's allies would have taken those results a month ago, when Biden called congressional leaders to the White House to jump-start negotiations and the prospect of a government default seemed quite real.
Go deeper: Listen to the Axios Today podcast, where host Niala Boodhoo and Hans Nichols share what the debt ceiling deal says about future fights in Washington.
Go deeper