House Democrats fracture on debt ceiling vote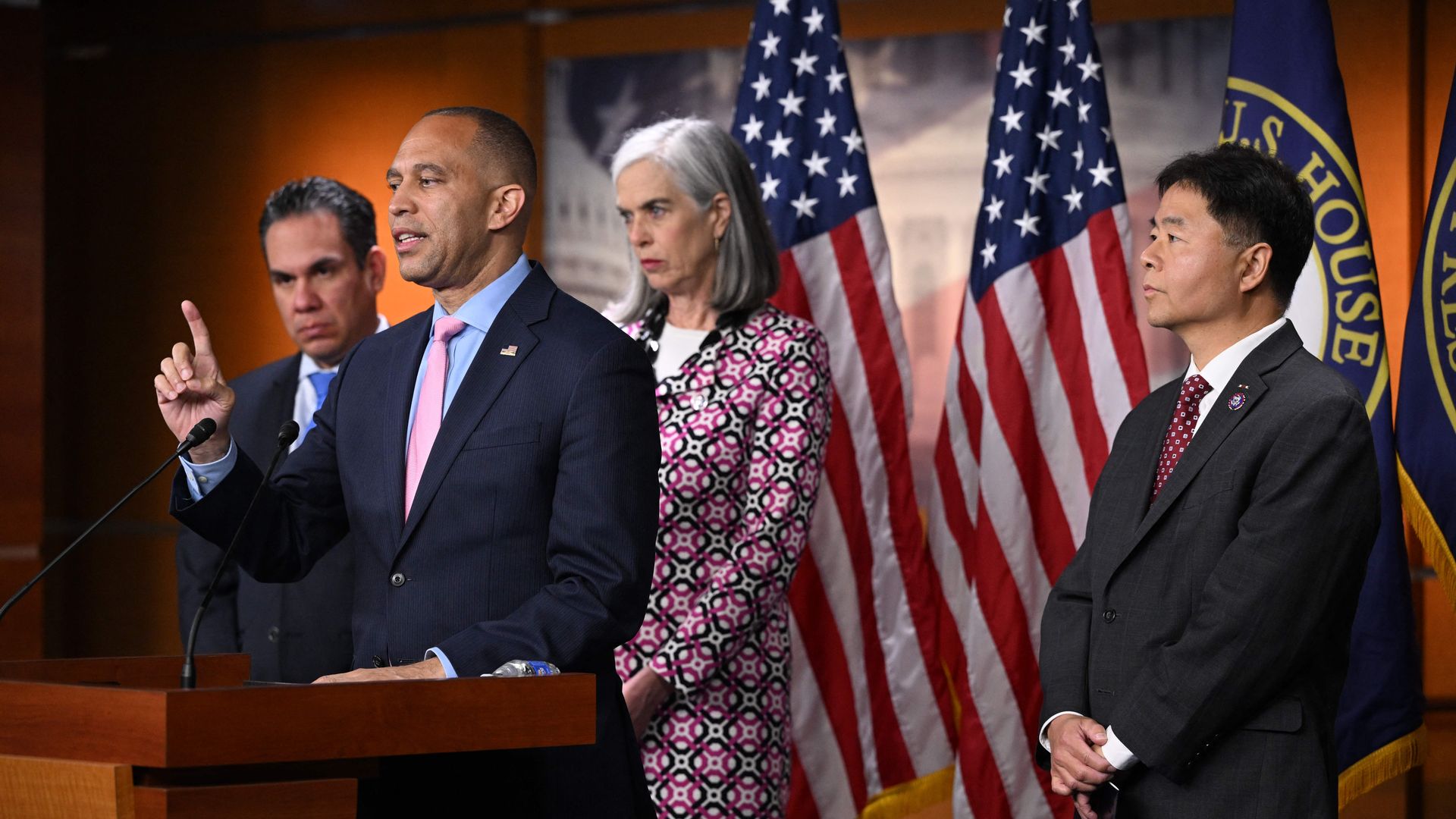 House Democrats were divided Wednesday on how they plan to vote on a bill to raise the debt ceiling as the U.S. stares down a potentially historic default.
Why it matters: Their votes will be necessary for the passage of the bipartisan agreement between President Biden and House Speaker Kevin McCarthy (R-Calif.), given dozens of Republicans have vowed to vote against it.
State of play: A senior House Democrat told Axios they expect the bill to pass with roughly 300 votes from an equal number of Democrats and Republicans.
But, the lawmaker added, Democrats are not thrilled: "Fair to say that [Republican Rep.] Chip Roy also spoke for most Democrats when he called the deal a 'turd sandwich.'"
What they're saying: House Minority Leader Hakeem Jeffries (D-N.Y.) said Wednesday he told colleagues at a closed-door caucus meeting that he is supporting the bill "without hesitation or reservation or trepidation."
"Not because it's perfect," he said. "In divided government, we of course cannot allow the perfect to be the enemy of the good."
Rep. Steny Hoyer (D-Md.), the former House majority leader, told Axios the message to lawmakers in the caucus meeting was: "Do what you think is right."
The other side: Progressives are divided on the legislation, however, with Congressional Progressive Caucus Chair Pramila Jayapal (D-Wash.) and Whip Greg Casar (D-Texas) planning to vote against it.
Japayal told Axios an internal whip count of the CPC's 100 members found that "a majority" oppose the bill, adding that "it could be" enough for the group to actively whip against it.
"I don't think a 'no' vote or a 'yes' vote should be seen as against the president," Jayapal said. "But I do think it's important that we put up a very strong 'no' vote and that we don't give them one vote more than what they need."
Progressives raised concerns in the caucus meeting about the bill's welfare work requirements, environmental provisions and increase in defense spending, according to Jayapal and Rep. Ro Khanna (D-Calif.).
Yes, but: Progressives aren't completely unified in their opposition.
Rep. Debbie Dingell (D-Mich.) told Axios she is "not happy" but will ultimately vote for the bill, adding, "I guess, you know, if neither side is happy, sometimes people say you're at the right place."
Others, like Rep. Jan Schakowsky (D-Ill.), said their vote will depend on whether it's necessary to pass the bill and avoid a default. "If it's not, then I'm likely [voting] no," she said.
What we're watching: A procedural vote to advance the bill, on which members traditionally vote with their parties, could be a problem for McCarthy as some Republicans threaten to vote "no."
But top Democrats said the Speaker hadn't asked for their votes to rescue the legislation, and expressed little urgency to lend him an unsolicited helping hand.
"It's their responsibility to bring legislation to the floor," Rules Committee ranking member Jim McGovern (D-Mass.) said Wednesday. "I think if they were having a problem they'd reach out to us, but nobody has talked to me."
"We're not going to let the country default, but it's up to the majority to pass the rule," said Rep. Dan Kildee (D-Mich.). "If the speaker can't do it with his caucus, he needs to have a conversation with Hakeem."
The senior House Democrat told Axios advancing the bill "will likely require McCarthy to solicit [Democrats'] support and offer a sweetener to get them."
Go deeper