Virginia congressman says staff attacked by assailant who was looking for him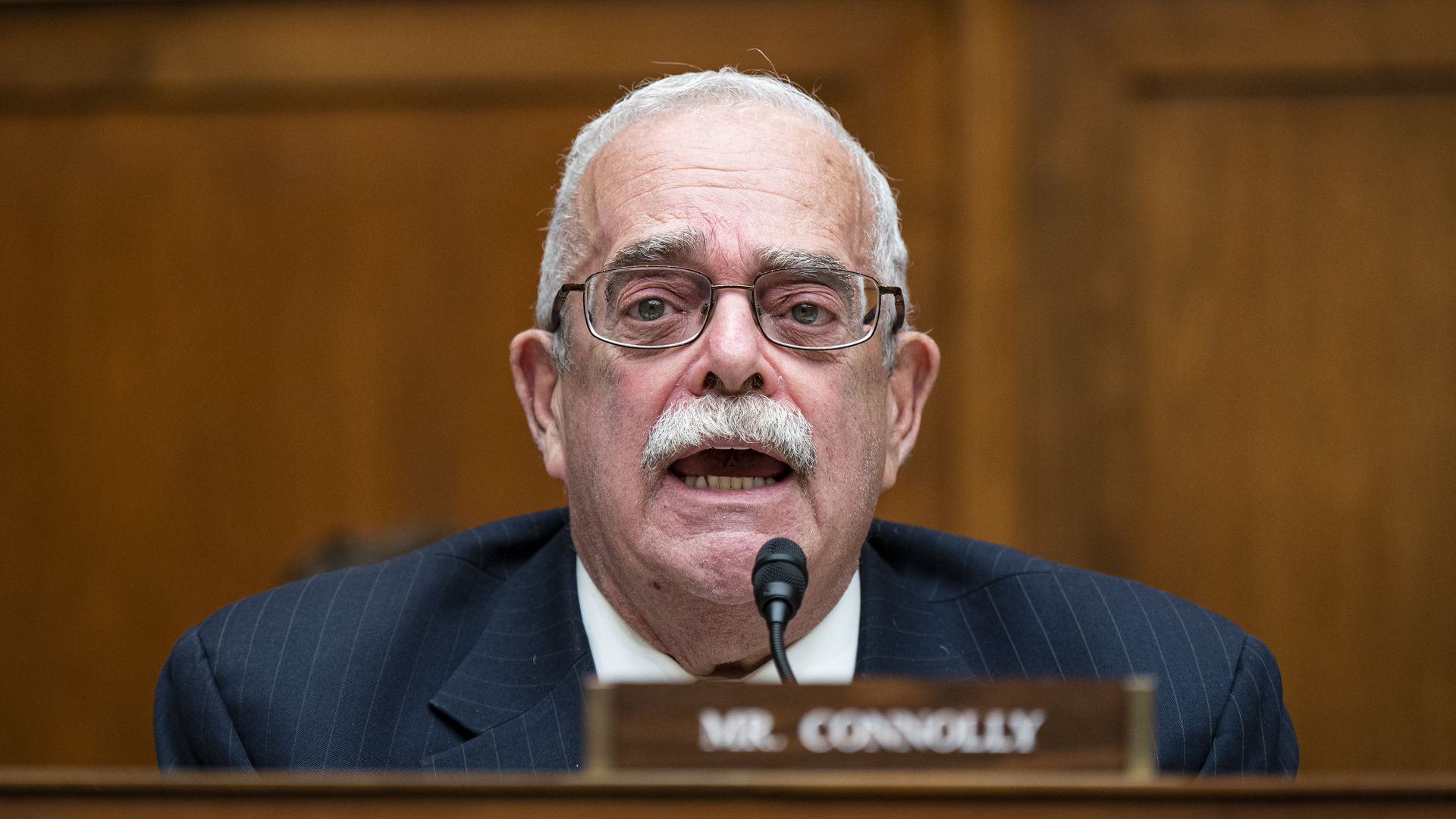 Two members of Rep. Gerry Connolly's (D-Va.) staff were hospitalized on Monday morning after an assailant attacked them with a metal baseball bat, according to the Virginia congressman and law enforcement.
Driving the news: Connolly said the attacker entered his Fairfax, Virginia, office and "asked for me before committing an act of violence against two members of my staff."
The latest: The suspect was identified by Capitol Police as 49-year-old Xuan Kha Tran Pham, a Fairfax resident, whom they said was not known to the department beforehand. Their investigation is ongoing.
Pham was arraigned on four charges on Tuesday, two of which stemmed from the attack at Connolly's district office and two more from an incident less than an hour before the office attack, according to AP.
He was charged with one count of aggravated malicious wounding and another count of malicious wounding over the office attack. He received additional counts of felony destroying property and a misdemeanor hate crime over allegedly smashing a car windshield with the bat and chasing a woman after asking if she was white.
Pham's father, Hy Pham, told the Washington Post his son was diagnosed with schizophrenia and he has been seeking treatment for his son's illness.
Details: "Both members of my team were transferred to the hospital with non-life threatening injuries," Connolly said. "Right now, our focus is on ensuring they are receiving the care they need."
Connolly commended his staff who "make themselves available to constituents and members of the public every day," calling the attack "unconscionable and devastating."
The congressman was not in the office at the time of the assaults, per the Capitol Police.
A police officer "also sustained a minor injury" for which they received medical treatment, according to the Fairfax City Police.
The big picture: The attack comes on the heels of a series of security threats against members of Congress and their families, including the Jan. 6 riot, the Good Friday attack and the assault on Paul Pelosi, the husband of former House Speaker Nancy Pelosi (D-Calif.).
What they're saying: "The safety of our Members and of our staff remains of paramount importance, particularly given the increased instances of political violence in our country," House Minority Leader Hakeem Jeffries (D-N.Y.) said in a statement.
Jeffries said he has asked the House Sergeant-at-Arms and Capitol Police to "continue their focus on collaborating with our Members."
"We must collectively take every available precaution to protect Members and our staff," Jeffries said.
"Over the course of the last year, the world has continuously changed, becoming more violent and uncertain," said Capitol Police Chief Thomas Manger, citing a 400% increase in threats to lawmakers over the last 6 years.
Go deeper: Congressional threat investigations finally fell in 2022
Editor note: This story was updated with additional details throughout.
Go deeper