GOP label Jeffries "racist" for college op-ed on Black conservatives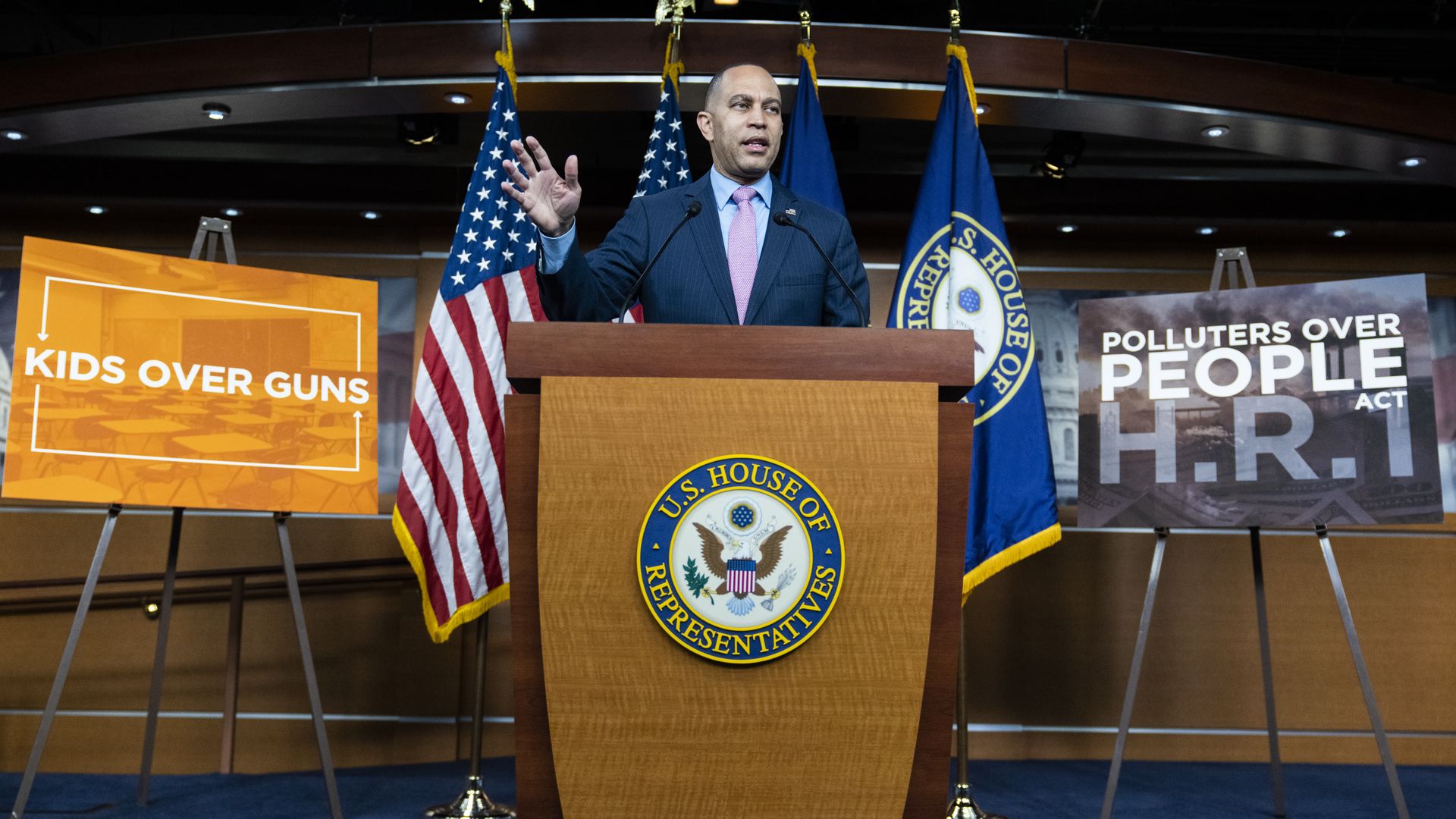 Republicans are blasting decades-old comments from House Minority Leader Hakeem Jeffries (D-N.Y.) as "racist" and "indefensible."
Why it matters: Jeffries, the first Black lawmaker to lead a party in Congress, is attempting to squash the first crisis about his past politics since taking leadership.
Driving the news: Republicans are accusing Jeffries of viewing current Black Republicans in Congress as "nothing more than House negroes" based on an op-ed the Democrat wrote in undergrad, as reported by CNN.
"Jeffries still refuses to apologize for or recognize the gravity of his indefensible words and that makes this matter even more concerning," NRCC press secretary Will Reinert said.
In college, Jeffries referred to Black conservatives as "token Blacks" and "right-wing opportunists" ignorantly buying into "the idea of the American dream."
Republicans claim Jeffries currently holds these views about Black conservatives in Congress like Sen. Tim Scott (R-S.C.), who is exploring a presidential run.
Between the lines: Jeffries, a frequent critic of the GOP's politics on race, is leading House Democrats at a time where the behavior and politics of Black conservatives are under increased scrutiny.
Jeffries recently accused SCOTUS Justice Clarence Thomas of "hypocrisy" following reports that the judge failed to disclose extravagant gifts from a Republican donor.
"The extreme right-wing Supreme Court Justices have zero credibility at this point," he tweeted.
In college, Jeffries wrote that Thomas' politics "threatens to sustain the oppression of the Black masses."
The background: The comments resurfaced in a recent report by CNN highlighting Jeffries' racial politics as a leader of the Black Student Union at Binghamton University.
Jeffries defended his uncle, Leonard Jeffries, from accusations of antisemitism after the Black studies professor was invited to speak on campus.
The professor made headlines after claiming that Jews participated in "a conspiracy, planned and plotted and programmed out of Hollywood" to negatively portray Black people in films.
Jeffries spokesperson Christiana Stephenson told CNN that the lawmaker "has consistently been clear that he does not share the controversial views espoused by his uncle over thirty years ago."
What they're saying: Negatively defining Jeffries, arguably the least known of the "Big 4" in Congressional leadership, is one of the main focuses of Republicans heading into 2024.
GOP strategists hope to portray Jeffries, a moderate who has sometimes found himself at odds with progressives in his party, as a radical to their base.
An aide for the Democratic leader accused Republicans of focusing on a 30-year-old op-ed to distract voters from the GOP's current politics.
A Jeffries spokesperson did not respond to questions about his comments about Black conservatives.
Go deeper