Exclusive: Kari Lake meets with 6 GOP senators amid 2024 speculation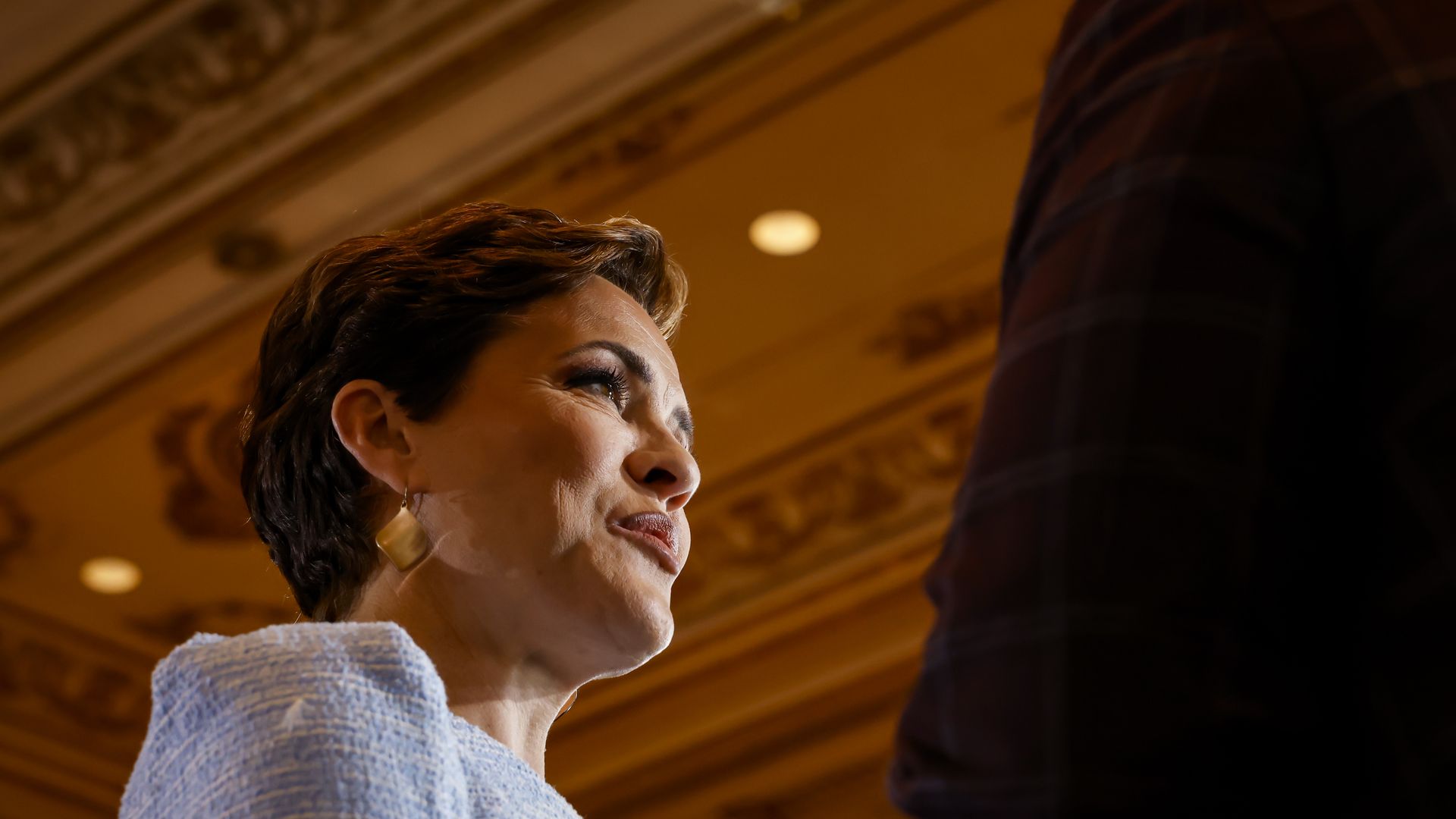 Former GOP Arizona gubernatorial candidate Kari Lake met with multiple Republican senators on Thursday amid speculation she is seriously weighing a 2024 Senate bid, Axios has learned.
Why it matters: Lake narrowly lost her gubernatorial race in 2022, but is seen as a top GOP contender to win the seat held by moderate former Democratic Sen. Kyrsten Sinema (I-Ariz.).
Lake — who has refused to concede the Arizona gubernatorial election — has built nationwide name recognition among Trump supporters, with conservative and populist lawmakers encouraging her to run.
She met with Sens. Tommy Tuberville (R-Ala.), J.D. Vance (R-Ohio), Bill Hagerty (R-Tenn.), Joni Ernst (R-Iowa), Lindsay Graham (R-S.C.) and Steve Daines (R-Montana).
Lake's meeting with Daines — the head of the Senate GOP's campaign arm — lasted two hours, a source familiar told Axios.
What to watch: While Lake hasn't officially announced a bid, she didn't rule out the possibility of hopping into the Arizona Senate race.
Lake said given the situation at the border, she expects a Republican to win the Senate race in 2024.
"She's [Sinema] said a couple of things that were bold and I admire any time that you see a politician do something bold, but in my opinion, that shouldn't be one or two things over the course of six years, you should be doing bold things for your constituents every single day," Lake told Axios.
The bottom line: Arizona is a key swing state for the Senate majority in 2024.
Sinema's decision to become independent and Democratic Rep. Ruben Gallego entering the race have created unpredictable dynamics for the campaign.
Democrats have said that they'll benefit in 2024 from conservative denials of the 2020 election results, arguing that the party has shifted in a direction of extremism.
But Republicans see Lake's national presence as a plus, particularly if Democrats split their vote between two candidates.
Go deeper