Arizona high court fines Kari Lake lawyers for "unequivocally false" claim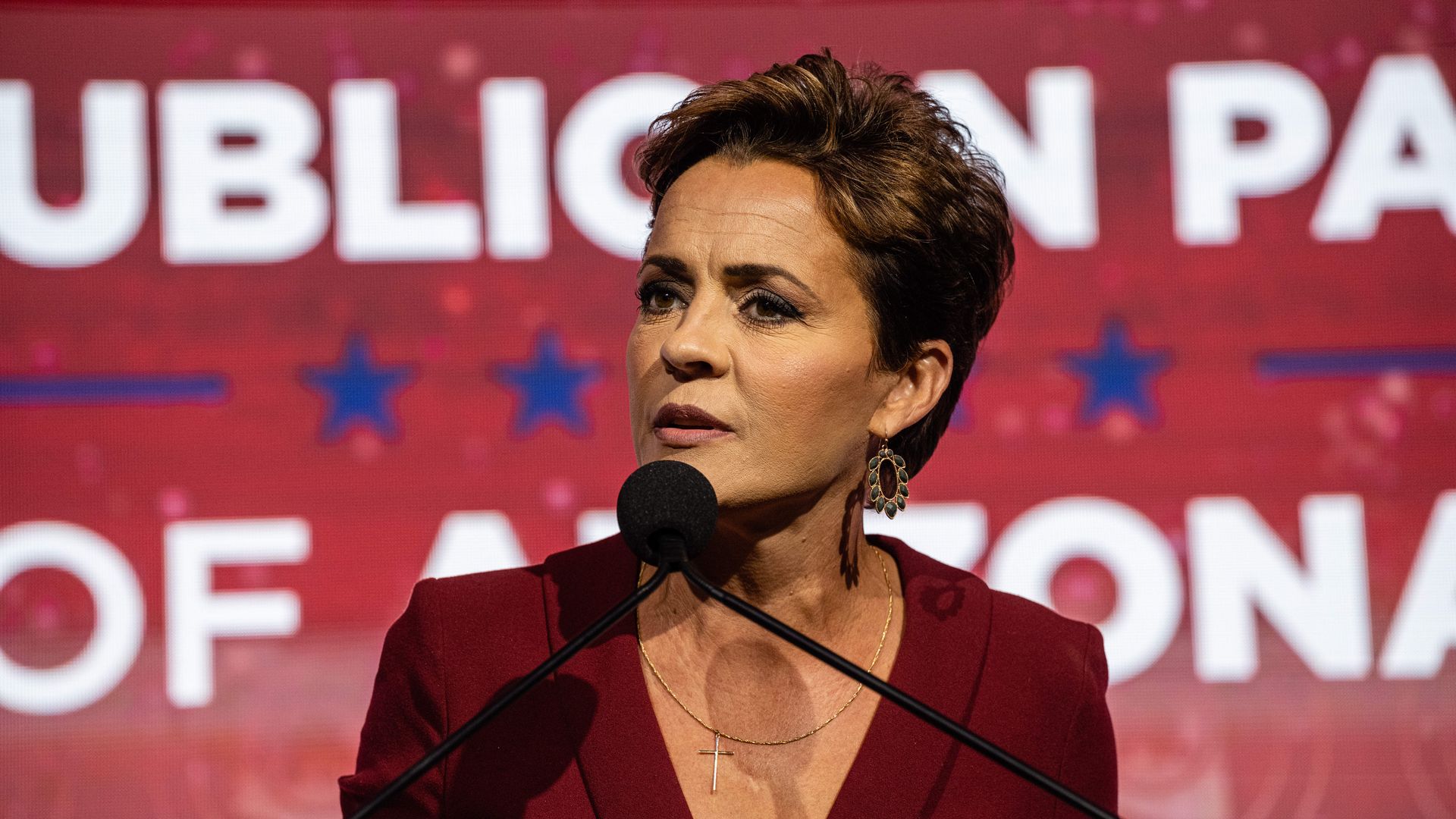 The Arizona Supreme Court ordered defeated GOP gubernatorial candidate Kari Lake's attorneys pay $2,000 in sanctions for making an "unequivocally false" claim that more than 35,000 ballots were "injected" into Maricopa County's total after the election.
Catch up quick: In her challenge of the Arizona Court of Appeals' rejection of her case in March, Lake's attorneys said it's an "undisputed fact" that 35,563 "unaccounted for ballots" were added to the county's total at a third-party processing facility run by Runbeck Election Services.
The claim was based on a discrepancy between the estimated number of ballots received by Runbeck and a subsequent count.
Estimates come from the number of trays of ballots delivered to Runbeck and "estimated weight count," as attorneys for Arizona Gov. Katie Hobbs noted in a legal filing.
The state Supreme Court in March dismissed six of seven claims Lake made challenging her loss to Democrat Hobbs last November, and ruled the trial court must hear arguments in a seventh claim that was improperly dismissed.
Driving the news: Chief Justice Robert Brutinel said Lake's claim was not only "strongly disputed" but also unsupported by the case record.
Yes, but: The court denied requests by Hobbs and Arizona Secretary of State Adrian Fontes that Lake be ordered to pay attorney fees.
What they're saying: Brutinel acknowledged that "attendant hyperbole" from campaigns sometimes spills into election-related legal challenges, "But once a contest enters the judicial arena, rules of attorney ethics apply."
Under judicial rules and state law, attorneys are barred from making false statements, and a claim is subject to sanctions if it's made "without substantial justification" or "groundless and is not made in good faith."
The other side: "We respectfully disagree with the Court's holding but look forward to presenting our case at trial," Kurt Olsen, one of Lake's two attorneys on the case, told Axios Phoenix, referring to an upcoming trial over the campaign's claims about signature verification procedures for early ballots.
Lake attorney Bryan Blehm could not immediately be reached for comment, and the campaign did not have a statement on the court's order.
What's next: A trial court will hear arguments in Lake's previously dismissed claim that Maricopa County did not follow procedure in its verification of signatures used to verify voters' identities before their early ballots are counted.
A superior court judge dismissed the claim on the grounds that a challenge to signature verification procedures should have been brought before the 2022 election.
The Supreme Court overturned that decision, ruling that Lake challenged the county's adherence to signature verification procedures, not the procedures themselves.
The justices did not opine on the merits of Lake's arguments.
Flashback: Hobbs defeats Lake by about 17,000 votes
Go deeper