Texas mall shooter among growing number of Hispanic white supremacists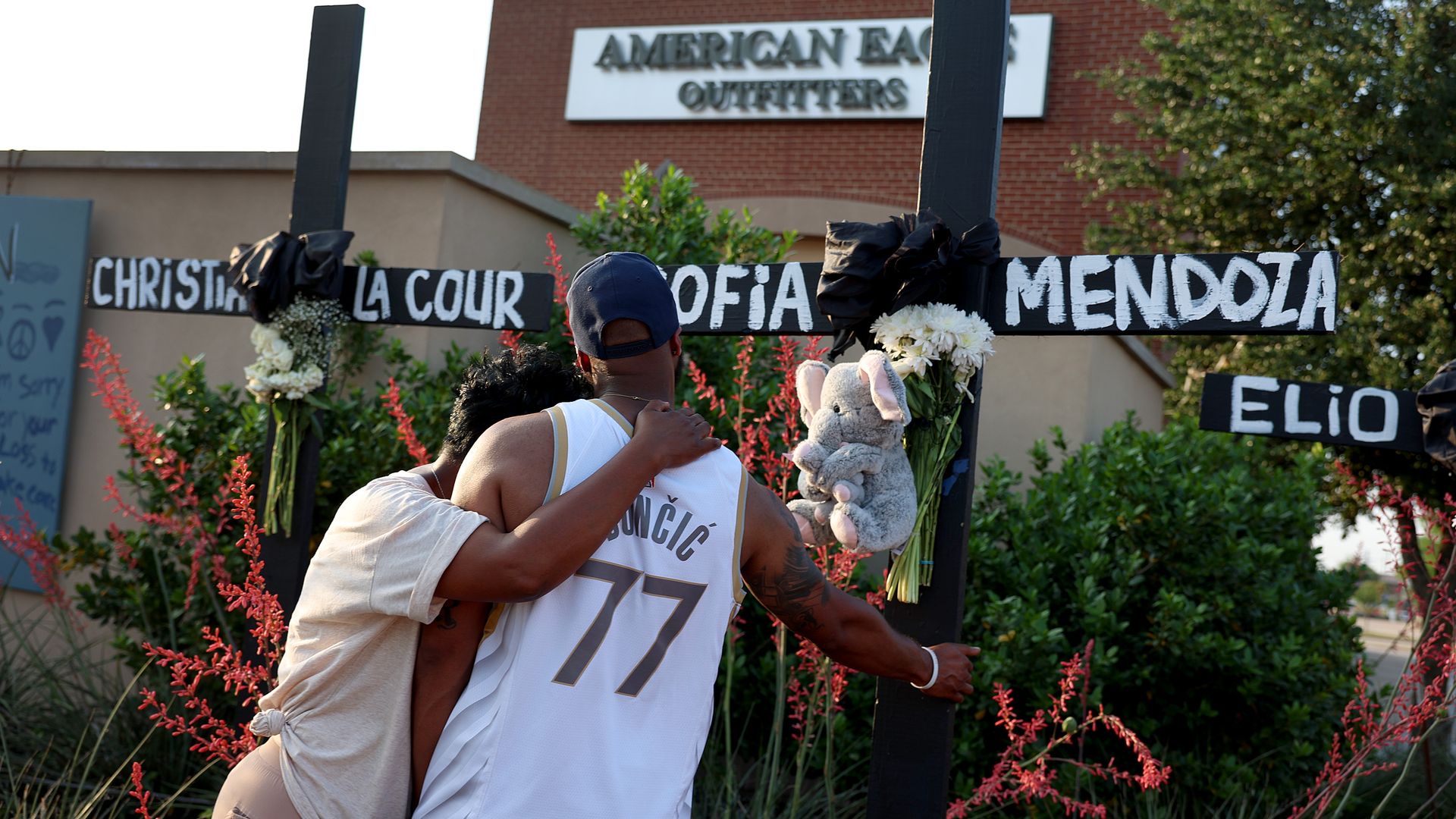 A mass shooter at a mall in Allen, Texas, with purported neo-Nazi views is the latest in what experts say is a growing number of Hispanics pushing the doctrine of white supremacy.
The big picture: Advocates warn that racist organizations and websites are evolving to pull in more recruits, including Hispanics.
Catch up quick: Texas authorities on Tuesday said that 33-year-old Mauricio Garcia, who was killed by police, held "neo-Nazi ideation," had patches and tattoos linked to white supremacy and appeared to have scouted the mall before the shooting but chose victims at random.
Reality check: Dismissing the influence of white supremacy among some Hispanics ignores how racist groups are changing to appeal to more people, Brian Levin, director of the Center for the Study of Hate and Extremism at Cal State University, San Bernardino, tells Axios.
For example, the Daily Stormer, the neo-Nazi website known for building internet harassment campaigns, launched a Spanish-language version of its site in 2017.
Some far-right militias have recruited Latino members.
"There are people within nearly every community who can respond to misogynistic, aggressive, conspiratorial rhetoric, and then become radicalized fairly quickly," Levin says.
Zoom in: Experts tell Axios that far-right extremism within the Latino community stems from three sources: Hispanic Americans who identify as white; the spread of online misinformation; and lingering anti-Black, antisemitic views among U.S. Latinos that are rarely openly discussed.
"To deny that racism and prejudice exist in our Hispanic community would be like denying the history of all of the countries that form this continent," Maribel Hastings and David Torres write in a column published in English on Wednesday on the website for America's Voice, an immigrant rights group
"It's neither surprising nor strange that Latinos, like other groups in this society, have their own prejudices and such hatred against their peers that it drives them to commit barbaric acts."
Other Hispanic provocateurs include Nick Fuentes, identified as a "white supremacist" in Justice Department filings. Fuentes has questioned whether the Holocaust happened and is one of the nation's most well-known Hispanic far-right figures.
Cuban American Enrique Tarrio, the former leader of the Proud Boys, was found guilty this month of seditious conspiracy for his role in the deadly Jan. 6 Capitol insurrection. The Anti-Defamation League calls the Proud Boys an extremist group with a violent agenda.
In August, Jose Gomez III, of Midland, Texas, was sentenced to 25 years on hate crime charges for attacking an Asian family he believed was Chinese and responsible for the COVID-19 pandemic.
What they're saying: "The ongoing normalization and amplification of white supremacy and far-right extremism poses a growing threat to communities of all stripes across the nation," Stop AAPI Hate said after the Allen shooting.
Levin said the normalization included messages repeated by former Fox News host Tucker Carlson about "white replacement theory" — a once-fringe racist theory that Carlson and some Republican officials have helped go mainstream.
Subscribe to Axios Latino to get vital news about Latinos and Latin America, delivered to your inbox on Tuesdays and Thursdays.
Go deeper