House to vote on GOP immigration bill as border restrictions end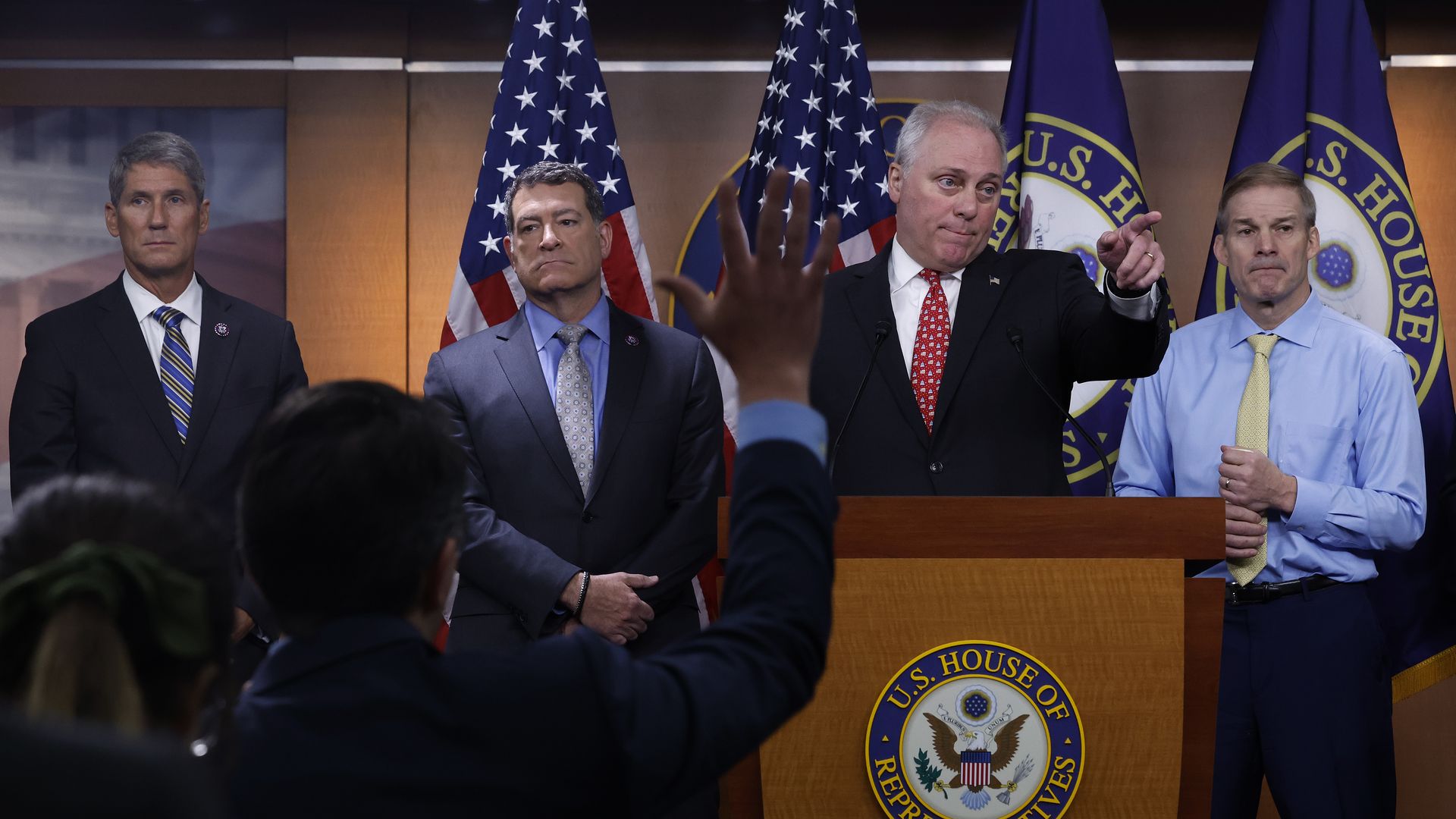 The House will vote on a sweeping, hardline border security package Thursday — just as a pandemic-related policy that has allowed the rapid expulsion of migrants will end, Majority Leader Steve Scalise (R-La.) tells Axios.
Why it matters: House Republicans will seek to codify some of former President Trump's strictest border actions, as local officials, humanitarian groups and federal law enforcement grapple with another surge of migrants and asylum seekers at the U.S.-Mexico border.
"Months of work" on the GOP package have resulted in "the strongest border security package that Congress has ever taken up," Scalise said in a phone interview.
The bill, known as H.R. 2, will come to the House floor the same day that the Trump-era policy known as Title 42 — which has been continued under President Biden — will expire.
For more than three years, Title 42 has allowed U.S. authorities to quickly expel hundreds of thousands of migrants without first giving them a chance to attain asylum.
Zoom in: The sweeping GOP package would codify a host of stringent Trump-era policies — including the "Remain in Mexico" program, which requires migrants seeking asylum to stay in Mexico until their U.S. immigration court date.
It would resume construction of a border wall, require more minors who cross the border without their parents to be deported and allow migrant families to be held in detention centers for longer periods of time.
The bill would restrict federal funds from being given to nongovernmental organizations (NGOs) that assist migrants who do not have legal status. The U.S. has long relied on a network of nonprofit and religious groups to provide initial care to migrants and asylum seekers.
The bill also includes money to improve technology for border security and additional border personnel.
State of play: The House's Republican leadership seems confident the bill will pass in the 435-member House, where the GOP has a nine-member majority. The bill is unlikely to win any votes from Democrats, who have cast some provisions as overly harsh measures that in some cases put migrants' safety at risk.
In the past few weeks, at least three committees have spent long hours debating — sometimes past midnight— various parts of the plan.
Republicans have synched support from several key players, such as Reps. Chip Roy (R-Texas) and Tony Gonzalez (R-Texas). Scalise said he and Majority Whip Tom Emmer (R-Minn.) continue talking through concerns with a few Republican members.
"With any major piece of legislation, you're having conversations with members all the way until the day of the vote because it's a very complex issue," he said.
The big picture: Border security and immigration are among the most divisive policy issues in U.S. politics. Bipartisanship is rare, and Republicans have pounced on the border issue as weakness for President Biden.
Both parties have also grappled with intra-party division over what to do with undocumented populations, a backlogged immigration system and historic levels of illegal border crossings.
All make it unlikely that any significant piece of immigration or border legislation will become law in the divided 118th Congress, in which Democrats control the Senate.
Even so, the end of Title 42 and the ongoing strain on border resources have brought a sense of urgency — and spurred recent attempts at bipartisanship.
Sens. Kyrsten Sinema (I-Ariz.) and Tom Tillis (R-N.C.) introduced a bill on Thursday that would allow border officials to continue expelling migrants and asylum seekers, as has been done under Title 42, for an additional two years.
Rep. Veronica Escobar (D-Texas) told El Paso-area reporters last week that she also is working on a bipartisan border package, which she said would aim for "some very common sense solutions," according to a recording of the briefing provided to Axios.
What we're watching: As House Republicans appear poised to pass their plan, the Biden administration is rolling out a plan to send 1,500 troops, use new limits on asylum and a new agreement with Mexico to respond to the expected jump in border crossings after Title 42 ends.
Under that agreement, the U.S. will be able to deport thousands of migrants from Cuba, Haiti, Nicaragua and Venezuela to Mexico on "humanitarian grounds."
Go deeper