Mexico agrees to accept non-Mexican migrants rejected by U.S.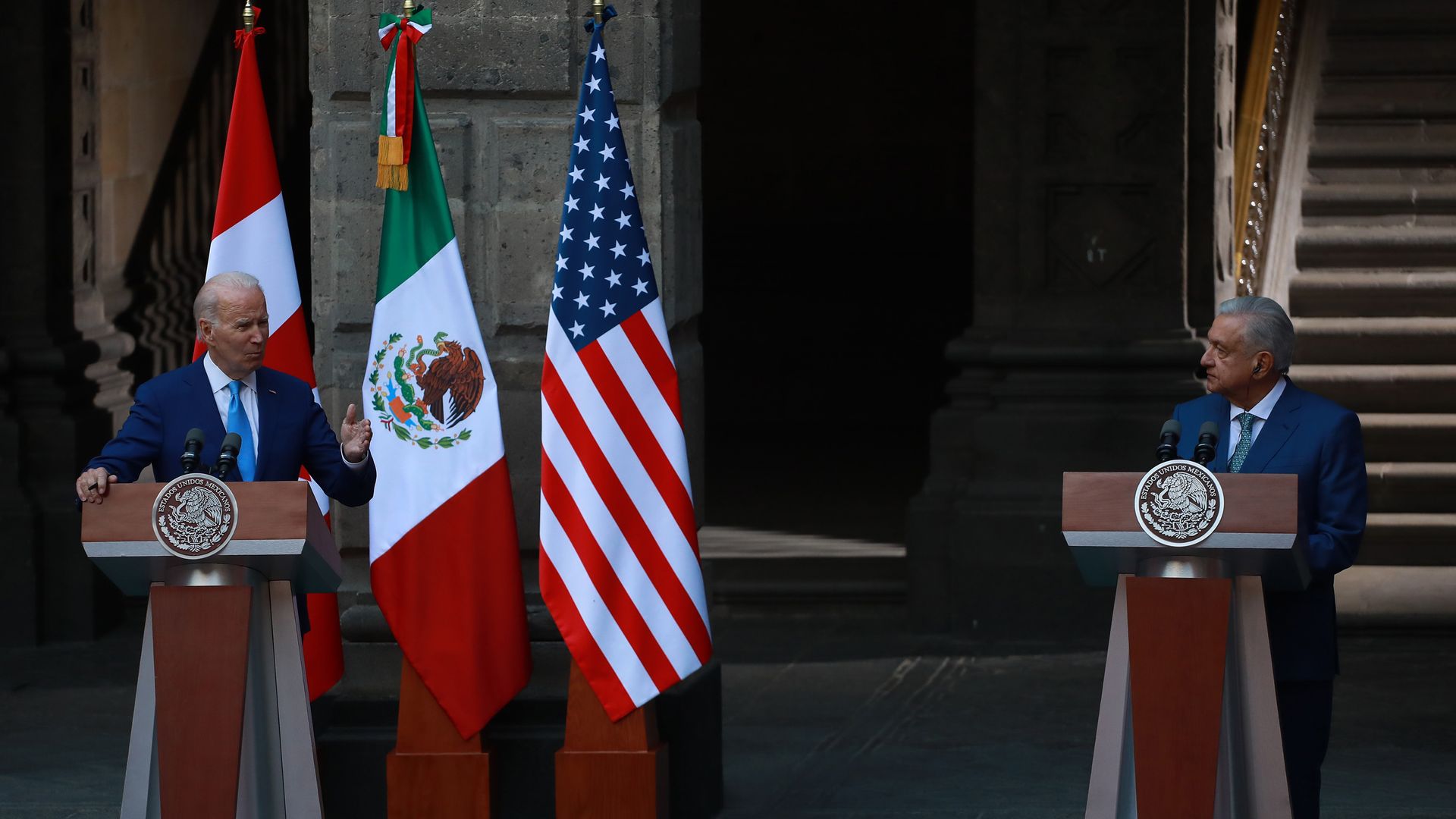 Mexico will continue taking Venezuelans, Nicaraguans, Cubans and Haitians removed by the U.S. after the pandemic border policy Title 42 ends next week, according to announcements on Tuesday night.
Why it matters: Reaching an agreement with Mexico has been viewed as a critical piece of the Biden administration's preparation for a post-Title 42 migration surge.
Complicated diplomatic relations between the U.S. and nations such as Venezuela, Nicaragua and Cuba make it difficult for officials to deport migrants who illegally cross the border back to those countries.
Now, the U.S. can continue sending some to Mexico if they do not pursue legal pathways — such as scheduling an appointment via an app or applying for a new humanitarian parole option.
For more than three years, Title 42 has cited concerns about the spread of COVID-19 to allow border officials to rapidly expel hundreds of thousands of migrants without a chance at asylum.
The Tuesday night announcement came after Mexican President Andrés Manuel López Obrador met with White House Homeland Security Advisor Elizabeth Sherwood-Randall in Mexico City.
The move builds on broader U.S. efforts to involve more countries in the region to help address the unprecedented levels of migration in the hemisphere — such as launching migrant processing sites in Colombia and Guatemala.
The details: The agreement between the U.S. and Mexico includes increased actions against human smugglers and traffickers and to address issues that lead people to leave their home countries in the first place, according to releases by the White House and the government of Mexico.
The U.S. has also committed to bringing in up to 100,000 people from Honduras, Guatemala, and El Salvador through a newly-announced family reunification parole process.
The big picture: There have been more than 1.2 million border crossings this fiscal year, which began October 1. Some border towns are struggling to respond to an uptick in arrivals by migrants and asylum seekers.
The administration has announced a series of new border policies this year to expedite border processes and crack down on illegal crossings in an effort to limit chaos after Title 42.
One rule would dramatically restrict access to asylum for those who illegally cross the border without first seeking refuge in a country they passed through. It has been met with ire from some Democrats and immigration advocates.
Go deeper