Abortion bans fail to pass in 2 conservative states
Two bills severely restricting abortion in South Carolina and Nebraska's Republican-dominated legislatures both failed to pass on Thursday.
Driving the news: A near-total abortion ban failed to pass in South Carolina's Senate by 22 votes to 21 — marking the third time such a measure hasn't passed in a GOP-led chamber since the Supreme Court overturned Roe v. Wade last year, AP notes.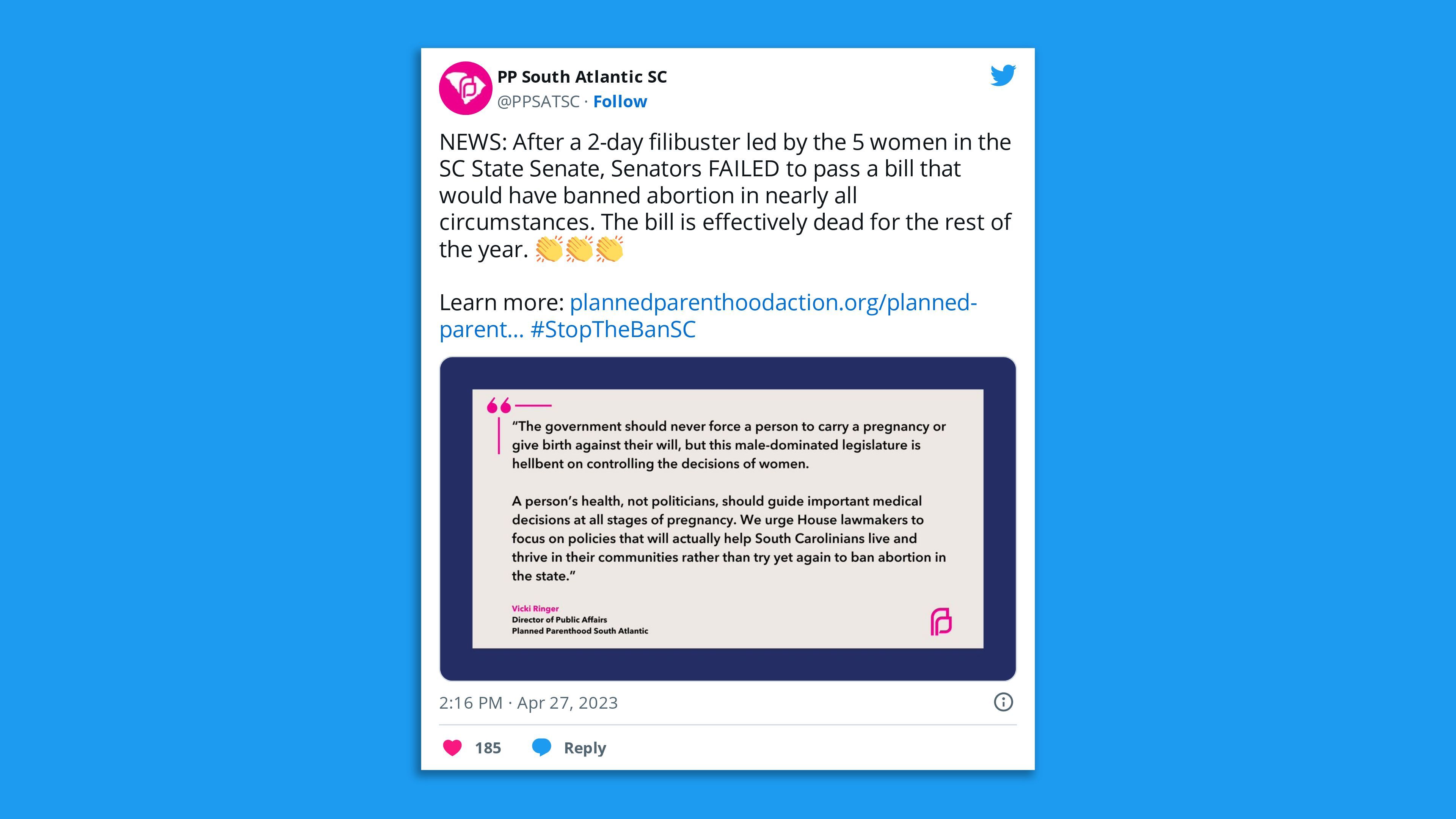 Meanwile, in the Nebraska Legislature, a bill proposing to ban abortions at six weeks of pregnancy fell one vote short of the required 33 votes to break a filibuster.
The results mean abortions remain legal in the two states until 22 weeks of pregnancy.
Zoom in: In South Carolina, the Republican-led state Senate's five women gave impassioned speeches as they filibustered the bill that had passed in the House.
State Sen. Penry Gustafson said she was "pro-life," but AP reports that she added there was "no room for empathy, reality or graciousness" in the bill.
Fellow Republican state Sen. Sandy Senn compared the measure to the dystopian book "The Handmaid's Tale" as she said abortion laws "have always been, each and every one of them, about control — plain and simple," according to the Washington Post. "And in the Senate, the males have all the control," she added.
Of note: Nebraska's anti-abortion bill failed to pass because of the abstention of state Sen. Merv Riepe, who co-signed the measure, due to concerns that women may not know they're pregnant at six weeks, per AP.
He introduced an amendment to ban abortions at 12 weeks, but this was rejected in the chamber due to concerns it had not been given enough debate time, according to the Omaha World-Herald.
Why it matters: The defeat of bills in the South Carolina and Nebraska legislatures underscores that "even in red states winning is still possible," Planned Parenthood Action Fund's Ianthe Metzger told the Washington Post. "We do know that banning abortion is unpopular," he added.
After his amendment was rejected, "Riepe took to the mic to warn his conservative colleagues that they should heed signs that abortion will galvanize women to vote them out of office," AP reports.
The big picture: The GOP faced backlash after several conservative states swiftly imposed restrictions following the Supreme Court's overturning of Roe v. Wade last year — notably in the Midterm Elections, when Democrats won key seats on abortion rights platforms and voters in three states approved protections for the procedure.
Kentucky voters in November rejected a proposed amendment that said a constitutional right to an abortion didn't exist in the state, months after an anti-abortion measure failed at the ballot box in fellow conservative state Kansas.
Go deeper