South Carolina's near-total abortion ban fails in Senate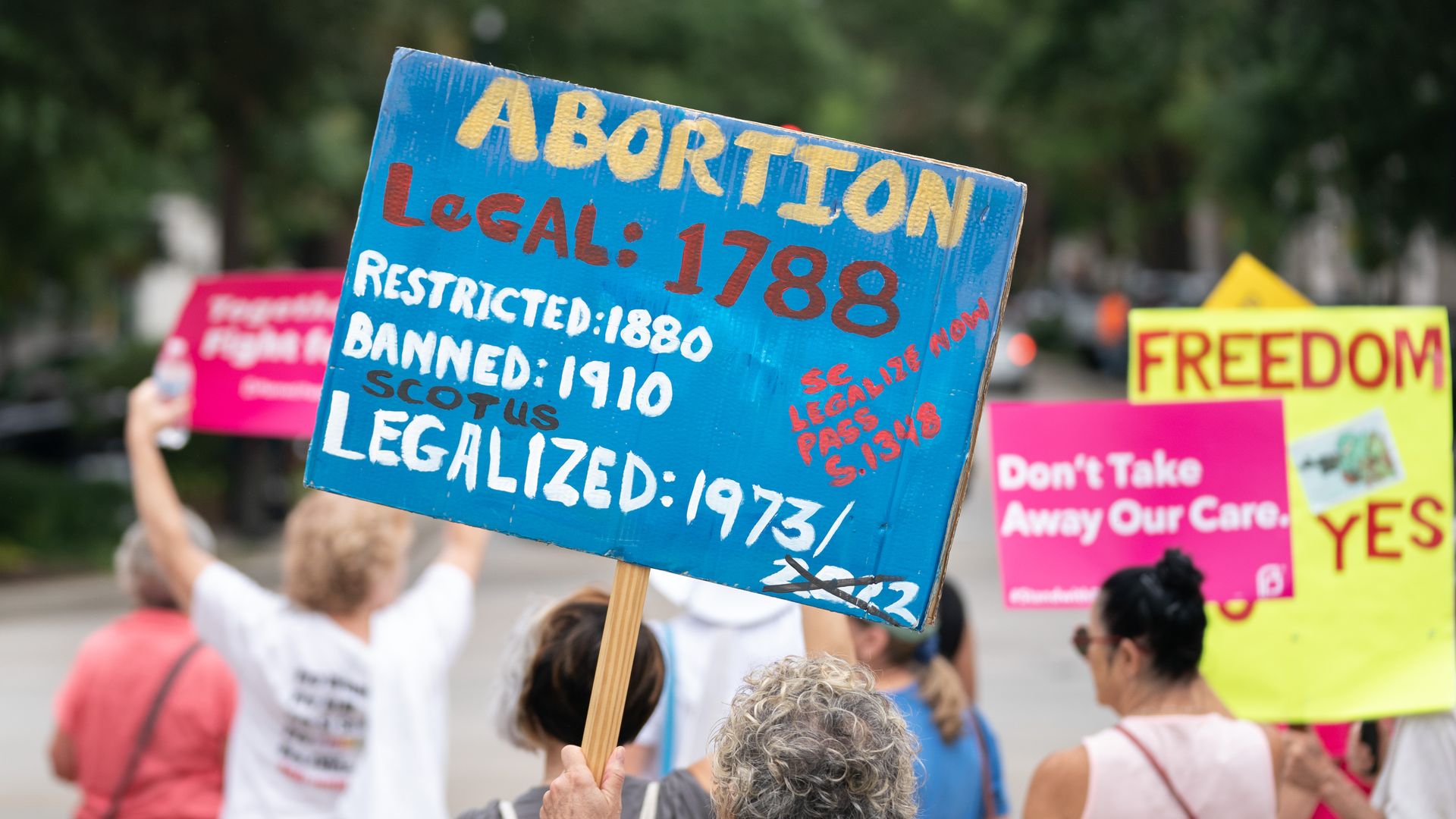 A near-total abortion ban in South Carolina failed on Thursday after a Republican state senator threatened a filibuster during a special session that was called in the aftermath of the U.S. Supreme Court decision overturning Roe v. Wade.
Yes, but: The South Carolina state Senate did pass a six-week abortion ban, similar to the one that is currently blocked by the state Supreme Court, which is considering whether it violates privacy rights.
South Carolina currently has in place a ban on abortions 22 weeks after a patient's last menstrual period.
Details: The state Senate amended H.B. 5399, which was previously a total abortion ban without rape or incest exceptions, to ban the procedure after an embryo's cardiac activity is detected, which is at about six weeks of pregnancy.
Victims of rape or incest can obtain an abortion up to 12 weeks of pregnancy, as long as 24 hours before the procedure is done and the physician reports it to law enforcement.
Additionally, the bill also has exceptions in cases of fetal anomaly or when the pregnant person's life is at risk.
What's next: The state House previously passed H.B. 5399 as a near-total ban with rape and incest exceptions. Since the state Senate has amended the bill, it now will head back to the first chamber for final passage.
The bill would take effect immediately after being signed by the governor.
State of play: Republicans had the majority needed to pass the total ban, but were two votes shy of breaking a filibuster, AP writes.
State Sen. Tom Davis, who threatened the filibuster, joined the three Republican women in the Senate, a fifth GOP senator and Democrats in opposing the ban.
The big picture: A total of 17 states have moved to ban or restrict abortion following the Supreme Court's June ruling that ended all federal protections for abortion.
What they're saying: Davis, who is against a blanket ban on abortions, said he opposed the total ban as a promise to his daughters.
"The moment we become pregnant we lost all control over what goes on with our bodies," Davis said, on what his daughters told him, per AP.
"I'm here to tell you I'm not going to let it happen," he added
Go deeper