California's "Big Melt" set to accelerate amid heat wave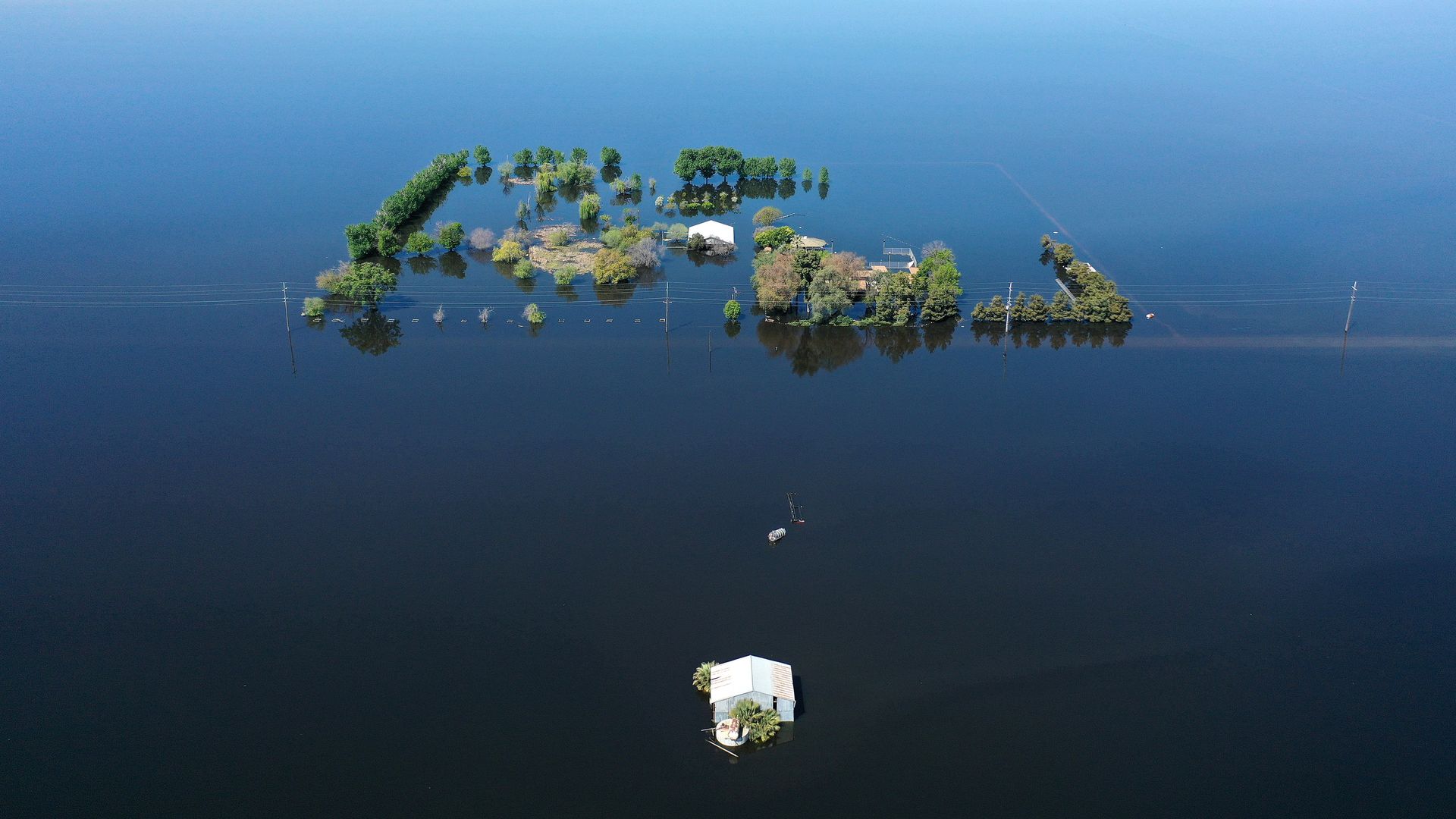 California's "Big Melt" from its historic snowpack is set to accelerate when temperatures reach as much as 20 degrees above average this week, forecasters warn.
By the numbers: The statewide snowpack contained a snow water equivalent (SWE) on Monday that was 256% of average for the date, and temperatures are forecast to break 80°F in parts of the Sierra Nevada for the first time this year by Thursday.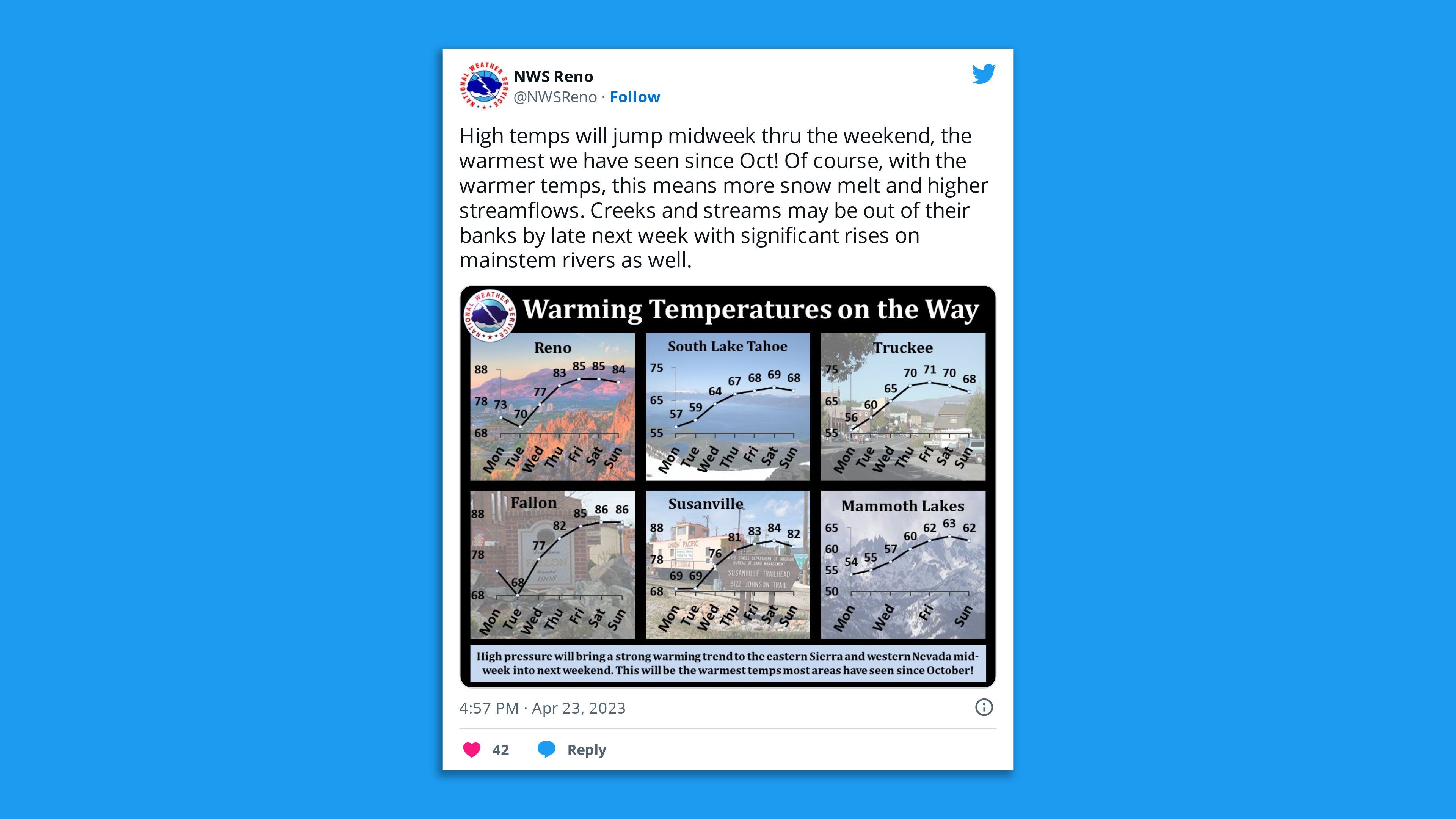 State of play: By far, the thickest snowpack compared to normal is in the southern Sierra Nevada mountains, where the average snow water equivalent was 322% of average as of Monday, with a SWE of 57.6 inches.
SWE indicates the amount of water contained in the snow cover, and is used for forecasting spring runoff.
Snowmelt from here will flow into the San Joaquin River and other waterways, testing the levees, dams and other structures in the agriculturally rich valley.
Water management here is more diffuse and prone to conflict than in many other parts of the state.
Threat level: "This week is really going to be our first substantial increase in that snowmelt throughout the state and especially in that San Joaquin southern part of the Central California Central Valley," said Benjamin Hatchett, a meteorologist at the Desert Research Institute in Reno, Nevada, in a phone interview Sunday night.
Brett Whitin, a hydrologist at NOAA's California Nevada River Forecast Center, in an email Monday also expressed concern about rivers in the Sierra above major reservoirs, like the Merced River at Pohono Bridge in Yosemite National Park, which was inundated by floodwaters during the state's blockbuster wet winter.
Yosemite announced Tuesday that much of the park would close from this Friday through May 3 due to "due to a forecast of flooding."
"It will most likely hit flood stage late this week, or over the weekend," Whitin said. "The east fork of the Carson River on the eastern side of the Sierra may also hit flood stage over the weekend."
Yes, but: Nicholas Pinter, a professor of applied geosciences at U.C. Davis, said in an email Sunday night that while this week's warmer temperatures "will accelerate that melt and the resulting runoff down rivers draining the Sierra Nevada," increasing the potential for flooding, "predictions of severe and imminent flooding are premature."
"If all goes well, the Sierra snowmelt will do what it's supposed to do — act as California's water tower, metering out much-needed water throughout the dry summer," he said.
Of note: Tulare Lake, which was once the largest freshwater lake west of the Mississippi River before it was drained in 1920, re-emerged last month in the San Joaquin Valley following weeks of back-to-back atmospheric rivers.
Residents in this agricultural area, which grows nuts, fruit and vegetables, have expressed concern about ailing flood infrastructure as temperatures continue to heat up.
Zoom in: Whitin did not expect any immediate threat from the larger San Joaquin River, which is managed via reservoirs that officials have been releasing water from in recent weeks in anticipation of the big snow melt.
Hatchett said the San Joaquin River "is already pretty high right now" and there was the "potential to flood."
But the bigger issue would be if there were any infrastructure problems, such as if levees broke. Flood threats to the region would likely remain through summer, per Hatchett.
University of California, Los Angeles, climate scientist Daniel Swain, noted in a briefing Monday: "The San Joaquin system is gonna do a lot of the heavy lifting in the next month or so."
Zoom out: Studies show that climate change is making California's bouts of weather whiplash more extreme, with sharper and more frequent shifts.
The bottom line: "The big melt is now here," Swain said.
Editor's note: This article has been updated with comment from Yosemite National Park.
Go deeper