California's looming snowmelt to resurrect lost Tulare Lake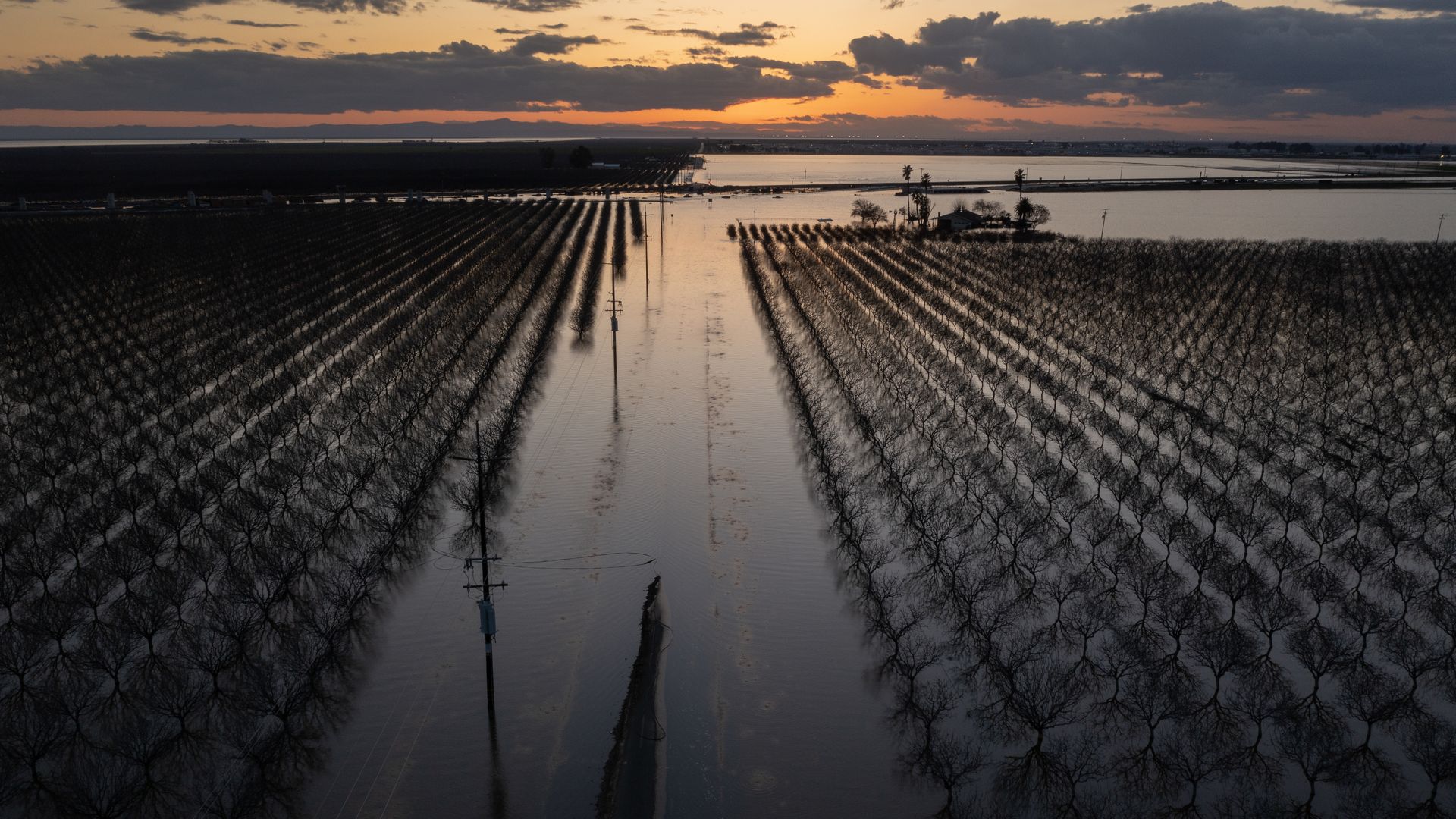 California's blockbuster wet season, with another powerful bomb cyclone currently swirling off the coast, has built up a near-record-large Sierra Nevada mountain snowpack.
Why it matters: While this snow has many benefits, including replenishing depleted reservoirs, it is creating damaging floods that are sure to worsen.
An area of significant concern for the melt season is associated with the southern Sierra snowpack, which drains into the San Joaquin Valley.
It is there that county officials and landowners are already being forced to make agonizing decisions about which lands to flood and which to keep dry — and disputes are breaking out between landowners.
The big picture: When the state's formal snow survey takes place on April 1, typically the peak for the season, California is likely to set an all-time record for the largest snowpack. This is measured by how much water it contains, known as snow water equivalent.
As of Monday, the state's snowpack had an average snow water equivalent of 58.2 inches, official data shows. This was 227% of the April 1 average.
The departure from average is highest throughout the Southern Sierra, which had an average snow water equivalent of 60.5 inches. That was 283% of the April 1 average.
This is a red flag: farmers, ranchers and residents living downstream are at serious risk of flooding once snowmelt begins in earnest.
This is especially the case if there is a rapid melt due to a mild storm that brings more rain than snow, or a heat wave occurs that speeds up melt rates.
Zoom in: Already, Mother Nature has moved to reclaim what once was hers: Tulare Lake. At one time, this was the largest body of freshwater west of the Mississippi River.
Human intervention in the form of levees and dams diverted its source waters, including the Kings, St. John's and Tule Rivers.
The last time the lake re-established itself was in 1982-83, which is also the previous snowpack record-holder.
The lake covered 82,000 acres that year, per the L.A. Times.
Threat level: Already this year, thousands of acres have flooded — inundating farmlands producing tomatoes, cotton, alfalfa, pistachios and more — and threatening livelihoods.
Depending on how extensive they are, the floods could affect food prices given California's role as the country's top agricultural-producing state.
How rapidly the snow melts will be a key determinant of how severe the flooding gets.
Regardless of the rate of snowmelt, this region is likely to see a long-lasting battle with water, completing the area's dizzying lurch from drought to flood.
Towns including Tulare, Alpaugh, Allensworth and Corcoran, are among those most at risk.
What they're saying: Daniel Swain, a UCLA climate scientist, said in a YouTube storm briefing Monday that the nature of landownership in the Joaquin River Basin makes the area more vulnerable to flooding.
"There's some very powerful agricultural interests who essentially because of the nature of the land ownership, have a certain amount of power in terms of engaging in unilateral actions that might actually harm adjacent communities," he said, noting that some are trying to influence who floods first.
"Unfortunately, the reality is all of these areas are likely going to flood eventually this spring as the flooding continues to worsen."
Swain said it is the low-income and farm-worker communities that are most at risk from floods, though floodwaters could eventually spread into larger population centers.
"There is more and more water pouring into the Tulare Lake Basin and that water is not going to be leaving the basin for the foreseeable future."
Context: Studies, including work that Swain has been involved in, show that climate change raises the odds of California weather whiplash events, from drought to flooding and back again.
Go deeper