The (unofficial) 2024 election: Why some presidential hopefuls wait to announce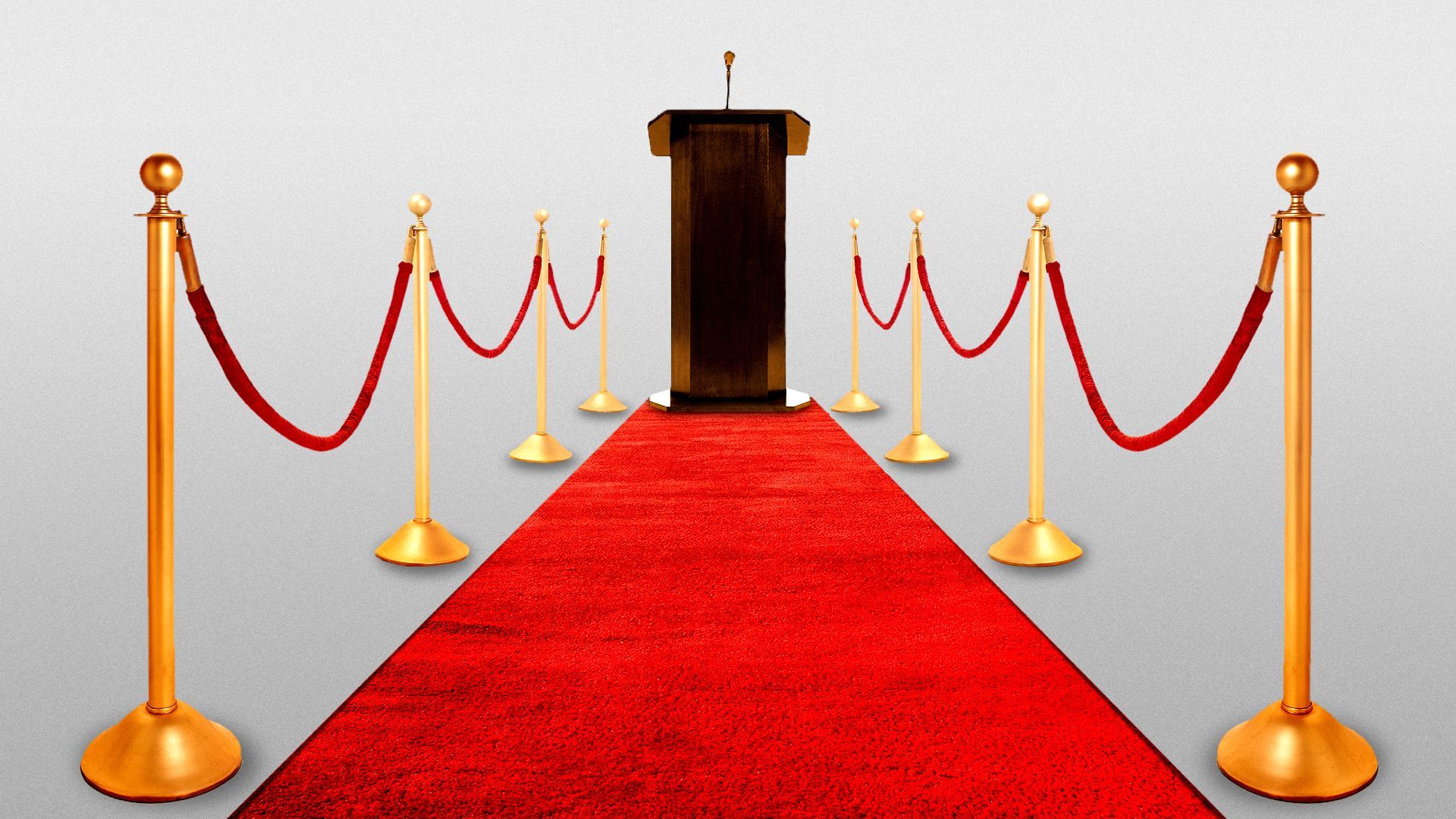 Some big-name Republicans are in 2024 campaign mode with attacks on rivals, TV ads and events in early primary states — all before they announce a formal bid.
The big picture: Waiting to officially announce a campaign is common at this stage and could be strategic for some candidates, experts say.
"For some candidates, when you cross that threshold and officially announce ... that in some ways changes the conversation," Seth Masket, director of the Center on American Politics at the University of Denver, told Axios.
By the numbers: Going back to 1972, the average candidate enters the race about 526 days out from the general election, which is about late May, Eric Ostermeier, a research fellow at the University of Minnesota Humphrey School of Public Affairs, said.
Waiting to officially jump in the race can allow candidates to generate support and boost name recognition, without the pressure of having to boast strong fundraising or horserace polling numbers early in the cycle.
"You're able to go to these key states, try to line up loose support, meeting with key officials and office holders, but you don't have the early pressure of producing numbers," Ostermeier said.
State of play: Republicans who've given strong indications they plan to run but have not yet announced include Florida Gov. DeSantis, Former Vice President Mike Pence and Sen. Tim Scott (S.C.), who launched an exploratory committee last week.
On the Democratic side, the White House and the Democratic National Committee were preparing to launch President Biden's re-election bid with a video message next week, Axios' Alex Thompson reports.
Biden's openly stated multiple times that he plans to run for re-election but has given no clear public answer on the timing of a campaign launch.
Candidates who already have some national name recognition, like DeSantis, can benefit from prolonging an announcement to delay the heightened scrutiny that comes with formally entering the race.
When a candidate announces, "there is more time for attacks, criticism, and negative attention, and those attacks ... are more newsworthy because you are an official candidate," Meredith Conroy, an associate professor of political science at California State University, San Bernardino, wrote in an email to Axios.
For DeSantis, pushing an announcement also allows him to focus on his day jobs, which can be leveraged on the campaign trail.
Between the lines: Presidential hopefuls with less national name recognition may actually benefit from announcing earlier or teasing an official bid, such as by launching a presidential exploratory committee.
"When [Scott] formally launches his campaign, he'll get another bite at the apple to try to lead the news for like a day or two," Ostermeier said.
What to watch: DeSantis, who is widely considered to be a top potential Republican candidate, is trailing Trump significantly in early 2o24 polls.
The timing of his announcement, Masket said, is unlikely to be the factor that sways voters one way or another.
"He's still the only non-Trump candidate with double-digit numbers and if there are people who want to back someone who's not Trump, he's still viable for that."
The other side: Some Republicans are skeptical of putting off an official announcement.
"Even the candidates with respectable name ID are relatively undefined in the eyes of the primary electorate," Ken Spain, a GOP consultant and former communications director for National Republican Congressional Committee, wrote in an email to Axios.
At the end of the day, Spain said: "You can't run a Rose Garden strategy without a Rose Garden."
Go deeper... Trump cements transformation of GOP primary lanes
Go deeper