Updated Apr 18, 2023 -

World
Fighting rocks Sudan despite rival generals agreeing to cease-fire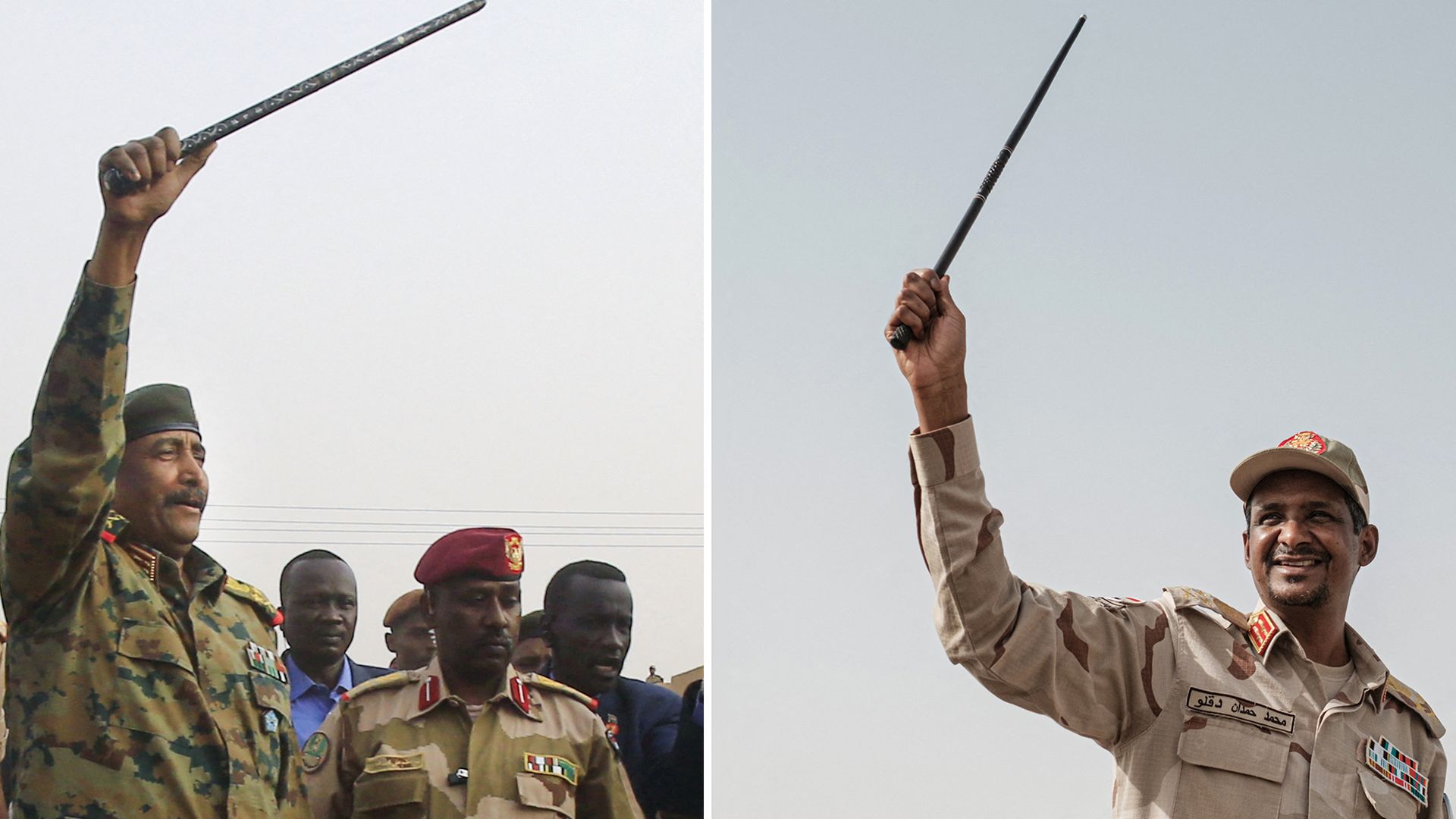 Explosions could still be heard in the Sudanese capital Khartoum on Tuesday in the first hour after a temporary cease-fire was due to begin.
Why it matters: The proposed 24-hour cease-fire was intended to allow Sudanese civilians trapped by the fighting to obtain necessities like food and water. It appeared to have the endorsement of leaders from the Sudanese military and the rival Rapid Support Forces (RSF).
The fighting has left an estimated 270 people dead over four days, according to the World Health Organization, citing Sudan's Health Ministry.
Driving the news: Secretary of State Tony Blinken spoke separately to Army chief Gen. Abdel Fattah al-Burhan and RSF leader Gen. Mohamed Hamdan Dagalo, who is known as Hemedti, after a U.S. diplomatic convoy was attacked on Monday.
Blinken proposed a 24-hour truce to allow "the Sudanese to be safely reunited with families and to obtain desperately needed relief supplies."
While the RSF endorsed that proposal, the army initially released a statement claiming the RSF wanted to use a cease-fire "to cover up the crushing defeat it will receive within hours." Still, local and regional media outlets later reported that the army had accepted the temporary truce, and a senior general Al Arabiya TV the military would abide by it.
UN spokesperson Stéphane Dujarric said shortly after the truce was due to begin that "we have not had any confirmation [or] indication that this is holding." A shorter humanitarian truce on Sunday was not fully observed.
The big picture: The UN and other aid groups suspended many of their humanitarian programs after aid workers and their offices came under attack during the fighting. Three World Food Program workers were killed in the fighting in North Darfur.
"We cannot deliver when our staff is attacked, is thrown out of their offices, when their offices are destroyed, their vehicles looted, and sometimes even their residencies being under fire or destroyed," UN special envoy for Sudan Volker Perthes told reporters on Monday
The World Health Organization, citing Sudan's Ministry of Health, said on Tuesday that at least 270 people had been killed and 2,600 others injured in the fighting. Hospitals have also come under attack and are facing supply shortages, according to the UN and the Central Committee for Sudanese Doctors.
Catch up quick: The recent fighting erupted on Saturday in the capital Khartoum and in other cities across the country as growing tensions between al-Burhan and Hemedti boiled over.
The pair led a military coup in October 2021, derailing the transition to democracy that began after the ouster of long-time ruler Omar al-Bashir in a popular uprising four years ago.
But disagreements between two the generals began to rapidly escalate, particularly after the military, RSF and a coalition of civilian parties last December signed a preliminary political deal in which the military agreed to hand over power.
The recent fighting threatens to plunge Sudan into a wider conflict and make the country's shift to civilian rule even more difficult.
Go deeper: Humanitarian situation in Sudan is "now catastrophic," UN says
Go deeper