Humanitarian situation in Sudan is "now catastrophic," UN says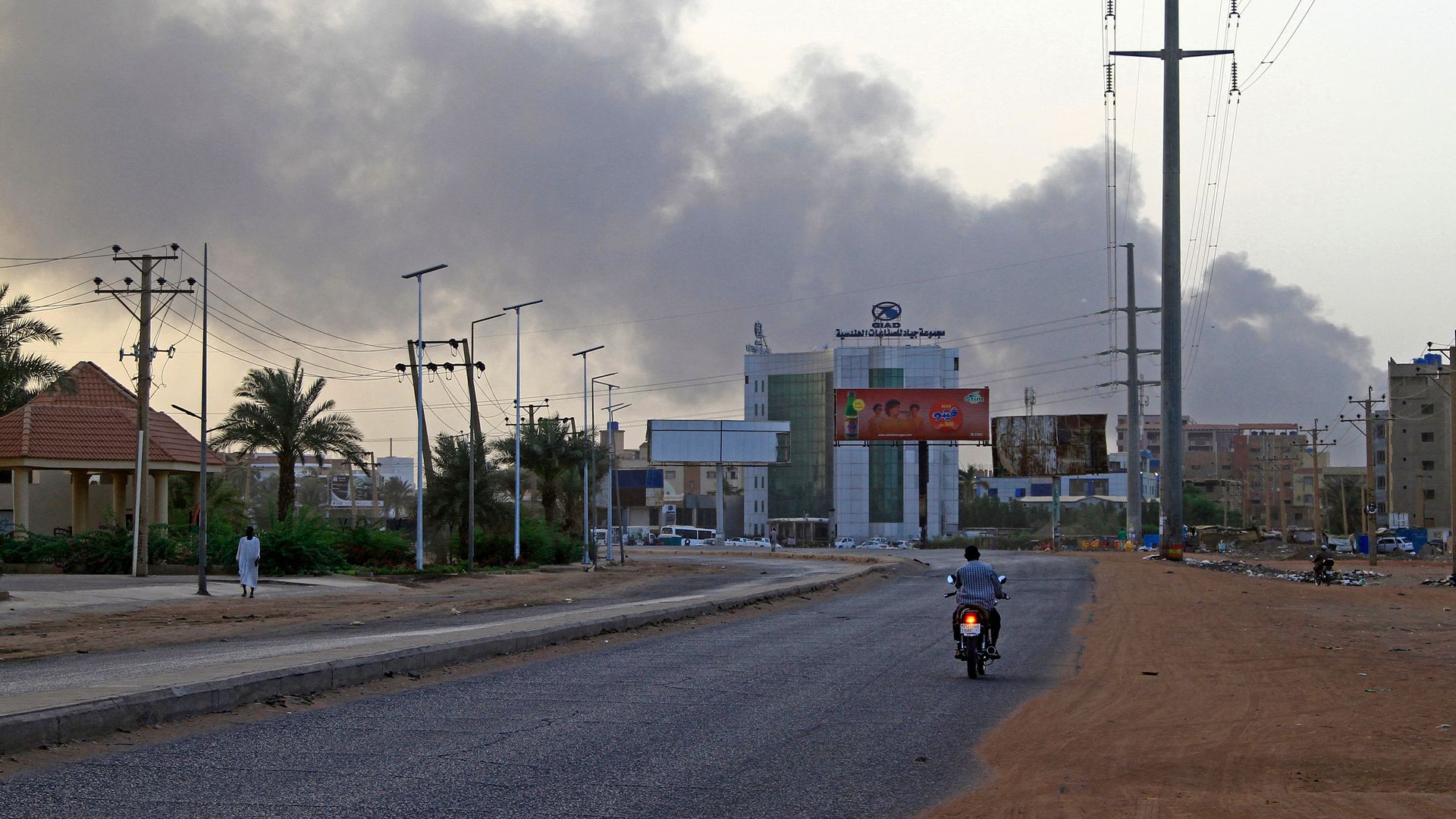 The humanitarian situation in Sudan "was already precarious," but after several days of fighting between the military and a rival paramilitary group, it "is now catastrophic," UN Secretary-General António Guterres warned.
State of play: The UN and other aid groups suspended many of their humanitarian programs after aid workers and their offices came under attack in the four days of unrest.
The military headed by Gen. Abdel Fattah al-Burhan and the Rapid Support Forces, led by Gen. Mohamed Hamdan Dagalo — known as Hemedti — agreed on Tuesday to a 24-hour cease-fire beginning at 6pm local time, Army Gen. Shams el-Din Kabbashi told Al Arabiya TV.
U.S. Secretary of State Tony Blinken said he spoke separately to the rival generals and called for a 24-hour humanitarian cease-fire after a U.S. diplomatic convoy came under attack. All U.S. personnel were safe, Blinken said.
The big picture: The World Health Organization, citing Sudan's Ministry of Health, said on Tuesday that at least 270 people had been killed and 2,600 others injured in the fighting.
Three World Food Program workers were killed in North Darfur.
Offices belonging to the UN and its partners have also been caught in the crossfire or looted in Khartoum and other places, UN special envoy for Sudan Volker Perthes told reporters on Monday.
"We cannot deliver when our staff is attacked, is thrown out of their offices, when their offices are destroyed, their vehicles looted, and sometimes even their residencies being under fire or destroyed," he said.
Hospitals have also come under attack, according to the UN and the Central Committee for Sudanese Doctors.
What they're saying: "The situation has already led to horrendous loss of life, including many civilians," Guterres said prior to his opening remarks at the Economic and Social Council Forum on Financing for Development on Monday.
"Any further escalation could be devastating for the country and the region," he added.
"I urge all those with influence over the situation to use it in the cause of peace, to support efforts to end the violence, restore order and return to the path of transition."
Zoom out: Humanitarian needs across Sudan were already at all-time highs before the recent fighting began.
The UN estimated that 15.8 million people — a third of the country's population — would need humanitarian assistance this year due to conflict, climate change, disease outbreaks and a worsening economic crisis.
The country has about 3.7 million internally displaced people and hosts at least 926,000 refugees, mainly from South Sudan, according to the UN Office for the Coordination of Humanitarian Affairs.
Editor's note: This story has been updated with WHO's update on the death toll.
Go deeper