How a rivalry between generals sparked a battle to control Sudan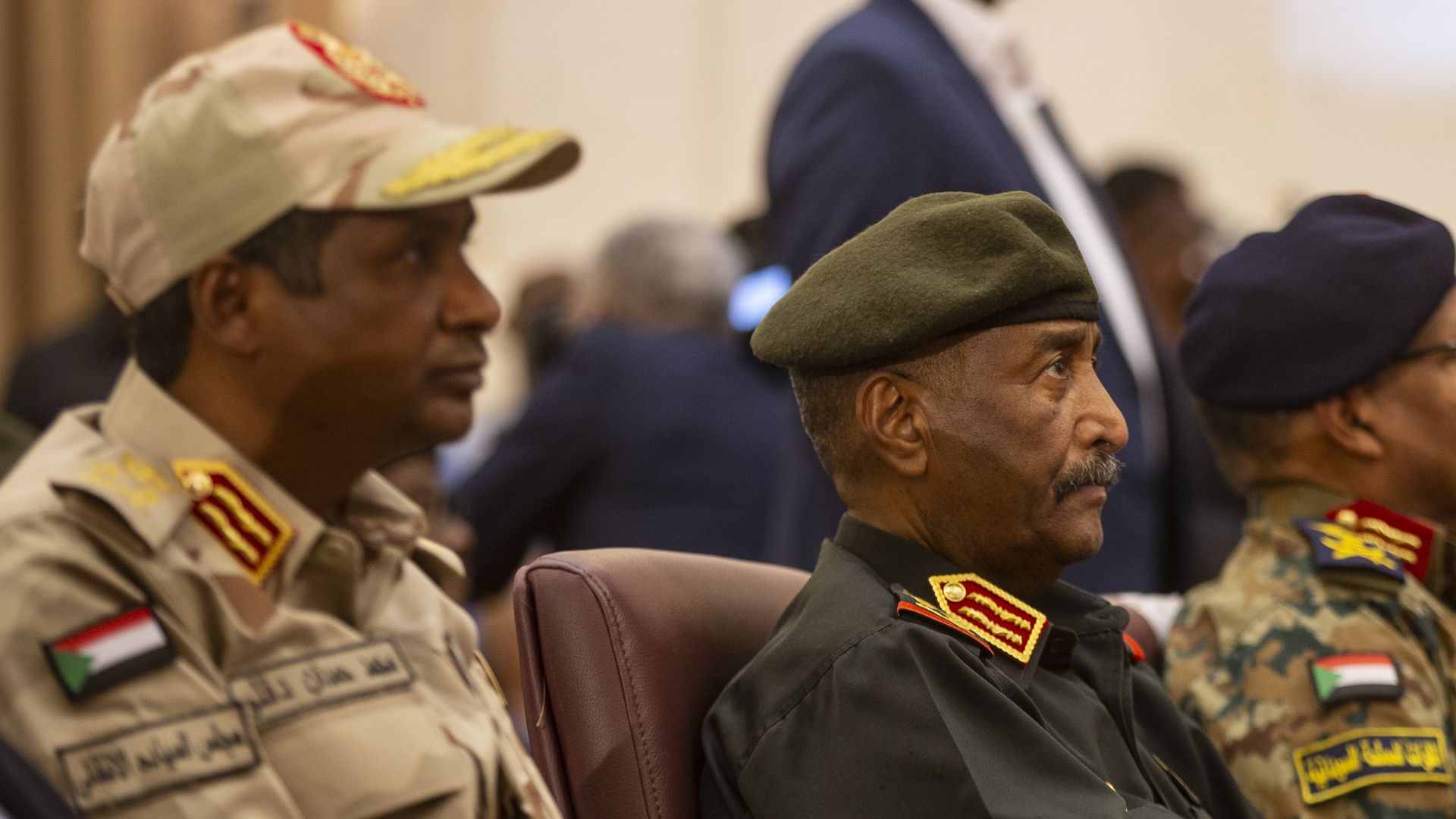 A power struggle between rival generals has exploded into three days of urban warfare in the Sudanese capital Khartoum, with around 180 civilians dead and growing fears the fighting may plunge Sudan into civil war.
The big picture: Army chief Gen. Abdel Fattah al-Burhan joined forces with Gen. Mohamed Hamdan Dagalo, known as Hemedti, the head of the powerful Rapid Support Forces (RSF) paramilitary group, to mount a coup in October 2021. Now their pact has broken down, and they're waging what analysts believe both see as an "existential" fight.
Why al-Burhan and Hemedti are rivals
The fighting comes four years after longtime dictator Omar al-Bashir was forced out in a massive popular uprising, and soon thereafter replaced by a transitional council led by al-Burhan that included both generals and civilians.
Instead of turning control of the council over to a civilian as scheduled, al-Burhan took power outright in the 2021 coup, with Hemedti as his deputy.
Facing pressure from countries, including the U.S., the generals signed a framework agreement in December 2022 promising to make way for a civilian government. That left both scrambling to secure their own positions.
While Bashir oversaw both the conventional military and the RSF — which was formed from a coalition of militias who helped to brutally suppress an uprising in Darfur — the two forces diverged after he fell, says Kholood Khair, founding director of Confluence Advisory, a think tank in Khartoum.
"They started to develop different income streams, different foreign policies, different domestic policies," Khair says, adding that the army controlled many state-owned enterprises, the RSF controlled much of the gold trade, and both had their own allies in the political and judicial establishment. "You have effectively two states in one."
The main factors keeping them together were their shared desires to stave off security sector reform and "avoid accountability" for war crimes in Darfur and the 2019 massacre of protesters in Khartoum, according to Khair.
The framework agreement changed the equation, she says, because it called for the army and RSF to be consolidated under the control of a civilian government. "This is what makes both generals feel like this is now an existential conflict for them: If they don't get rid of the other, then the other can supersede them."
When did the current fighting begin?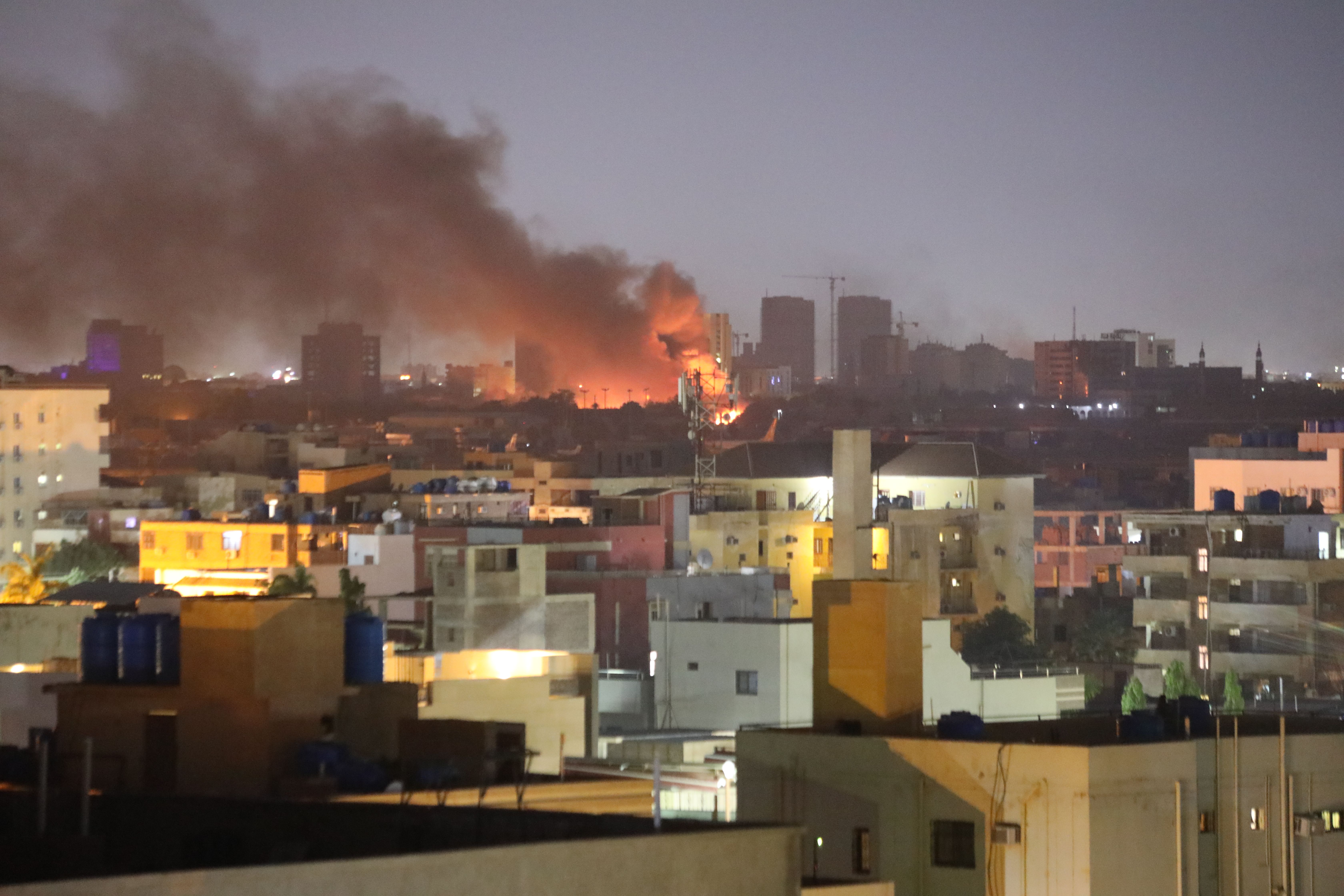 While tensions between al-Burhan and Hemedti were heating up in the background, life in Khartoum continued as normal until Saturday morning, when it came to an "immediate halt," Khair says.
Gunshots and explosions began suddenly and continued ceaselessly. Some of the heaviest fighting has been around the airport in the capital. Khair had been sheltering in that area, but after two "very near-misses" this morning decided to flee to a safer part of the city.
The fighting came on so fast that Khartoum's 5 million residents had no time to stock up on essentials, and many have now lost running water and electricity. "People will get desperate very quickly," Khair says.
On Monday, the EU ambassador to Sudan was "assaulted in his own residency," Brussels' foreign affairs chief Josep Borrell tweeted.
What is it like on the ground?
The UN envoy to Sudan put the civilian death toll at 180 as of Monday evening. Hospitals have been overwhelmed by the climbing casualties, and some have been struck in the shelling.
The violence has reached far beyond Khartoum. Three World Food Program workers were killed in Darfur, and the UN said some of its facilities there had been "struck by projectiles and looted."
WFP has suspended its operations in Sudan, as have some other humanitarian groups, Axios' Laurin-Whitney Gottbrath reports.
Even before the recent fighting, humanitarian needs across Sudan were at all-time highs.
Where things stand
Both sides are well-armed, but the military dominates the skies. Helicopters and jets have been conducting reconnaissance and airstrikes on RSF bases.
National Security Council spokesperson John Kirby called for an "immediate ceasefire" and warned that the violence threatened regional stability. The presidents of Djibouti, Kenya and South Sudan are heading to Khartoum to try to mediate.
Both al-Burhan and Hemedti have conducted media interviews, apparently seeking to rally domestic and international support. Both have claimed to be the defenders of democracy, despite all evidence to the contrary, Khair says.
The bottom line: Having already hijacked Sudan's transition through a coup, al-Burhan and Hemedti are now risking civil war to protect their interests in whatever system comes next.
"I think that in their quest to vanquish the other, both fail to recognize to what extent they are not wanted by the public, particularly in Khartoum," Khair says.
Go deeper