What's next for the Tennessee House lawmakers who were expelled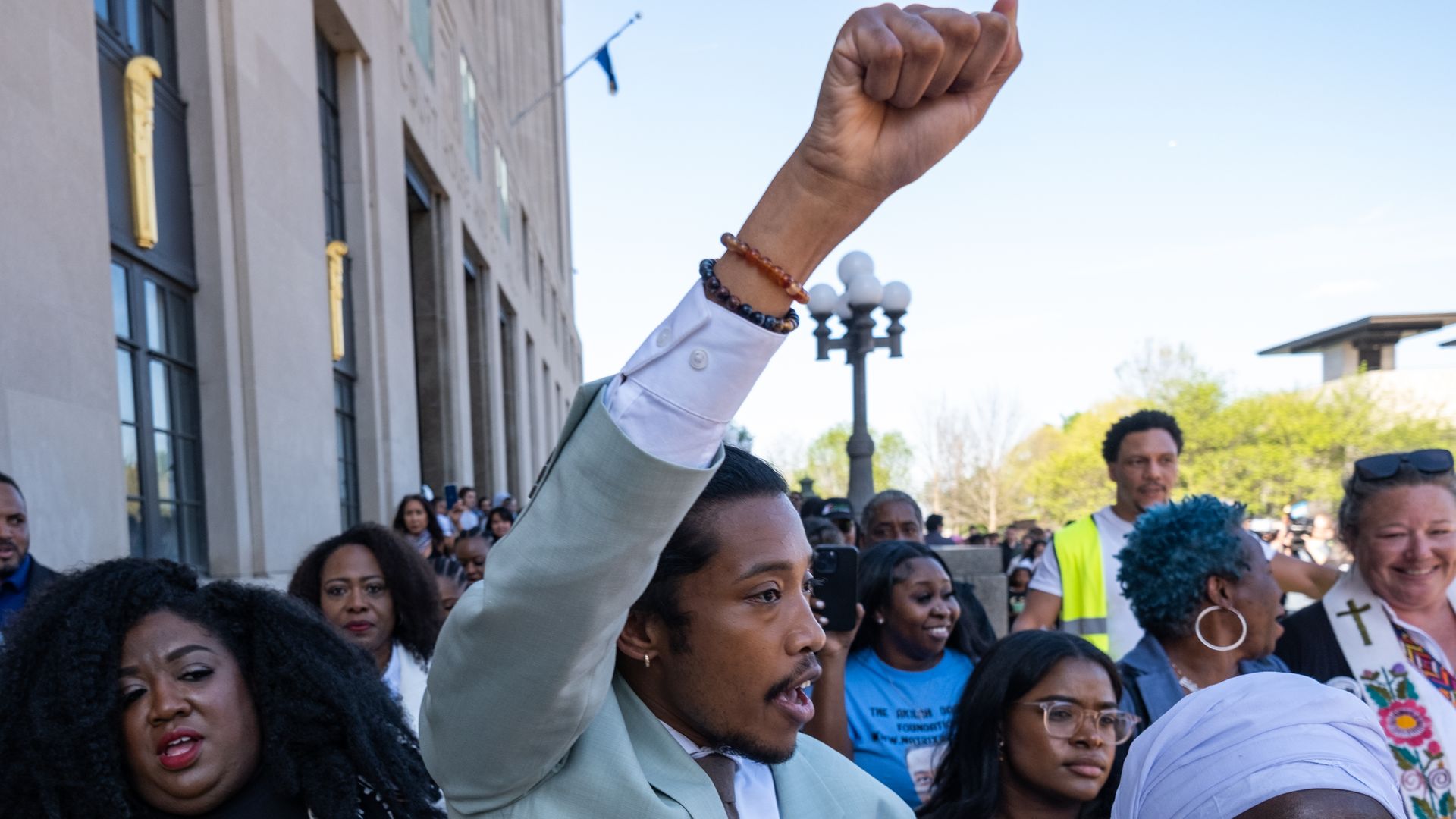 Two Tennessee House Democrats have been returned to their seats on an interim basis in respective local government meetings shortly after their expulsions.
Why it matters: The expulsions of Reps. Justin Jones (D-Nashville) and Justin Pearson (D-Memphis) over a gun reform protest have attracted national attention — from the White House to civil rights groups — as the country continues to grapple with an unending stream of mass shootings.
Catch up quick: Reps. Justin Jones (D-Nashville) and Justin Pearson (D-Memphis) were expelled by the GOP-led Tennessee House on April 6.
An effort to expel Rep. Gloria Johnson (D-Knoxville), who is white and participated in the protest alongside them, failed by one vote, fueling allegations of racism.
Republicans argued the so-called "Tennessee Three" had violated House rules and engaged in disorderly behavior by participating in the protest for stricter gun laws.
The demonstration took place in the wake of the Nashville school shooting that left six people dead — including three children.
What happens next
Jones and Pearson's expulsions will trigger special elections to select permanent replacements, but a date has not yet been set.
The expelled lawmakers are eligible to run in the special election and, if successful, cannot be expelled again for the same reason.
For now, local authorities in each district can choose who will represent them at the statehouse temporarily.
Both Jones and Pearson are expected to run in the subsequent special elections.
Both seats are in heavily Democrat-voting areas.
How the seats are filled in the meantime
Nashville's Metro Council voted unanimously to return Jones to his seat on April 10.
"I want to welcome the people back to the people's house," Jones said Monday upon his return to the House floor. "I want to welcome democracy back to the people's house."
Meanwhile, the Shelby County Commission on April 12 voted unanimously to return Pearson to his seat.
"To anyone who voted to expel us: the time for silence is over. The time for inaction is over," Pearson said after the vote. "We need action to end gun violence. We need real solutions, not false solutions."
Worth noting: Doug Kufner, a spokesperson for Republican House Speaker Cameron Sexton, confirmed on April 10 that whoever is selected as interim representatives by the county governing bodies will be "seated as representatives as the constitution requires," the Tennessean reported.
Tennessee House Republicans said in a statement after the lawmakers' expulsions that if Jones and Pearson returned to the House they hoped they would "act as the thousands who have come before them — with respect for our institution, their fellow colleagues and the seat they hold."
Go deeper: How Tennessee GOP expelling 2 Democrats could have ripple effect in other states
Editor's note: This story has been updated to reflect the Shelby County Commission's vote to return Justin Pearson to the Tennessee House.
Go deeper