How Tennessee GOP expelling 2 Democrats could have ripple effect in other states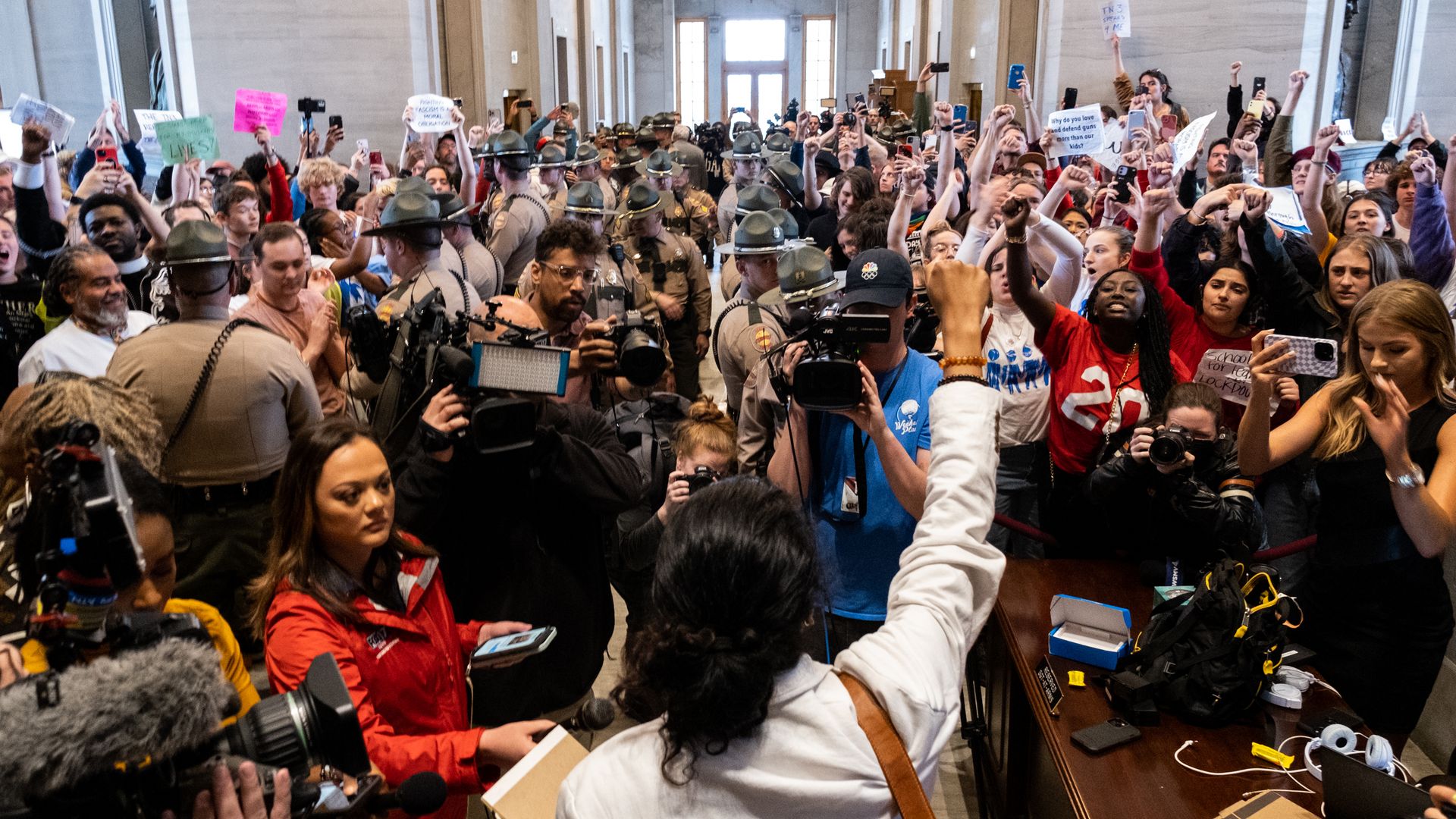 The Tennessee GOP-led state House's expulsion of two Democrats could have a rippling impact in state legislatures across the country, where political parties are entrenched on issues like gun control and abortion.
Why it matters: Experts warn that majority party lawmakers punishing minority party members with divergent political positions are becoming increasingly common, especially if those members buck up against legislative rules.
The Tennessee case could give parties nationwide more of a "green light" to use chamber rules to "deprive citizens of their representation in the statehouse," Ken Paulson, director of the Free Speech Center at Middle Tennessee State University, told Axios ahead of the vote.
Driving the news: In the first such partisan expulsion in Tennessee's modern history, state Reps. Justin Jones and Justin Pearson were booted from office in a GOP-led vote Thursday, as protesters crowded the state Capitol and other members delivered fiery objections in defense of democracy on the House floor.
An attempt to expel Rep. Gloria Johnson failed by one vote.
The trio — who some supporters have referred to as "the Tennessee Three" — interrupted a House floor session last week to protest for stricter gun laws, in the wake of the recent Nashville school shooting that left six people, including three children, dead.
Republicans, who hold a supermajority in the state House, have said the group had violated the chamber's rules and engaged in disorderly behavior.
Between the lines: The votes Thursday spurred allegations of racism. Pearson and Jones are both Black. Johnson is white.
The House "expelled the two black men and kept the the white woman! The racism that is on display today! Wow!" state Democratic Sen. London Lamar tweeted.
The effort to oust the three Democrats represents a "dramatic lowering of the threshold for expelling members" and "appears to be retaliation by the legislature for being criticized," Paulson said. "Imagine if that happens in legislatures across the country."
With courts unlikely to intervene in matters explicitly political in nature, such a move could become more common, Paulson said.
"This really is about using the power of the legislature to expel people who have strongly held, strongly differing opinions and happen to be in the minority," he added.
Worth noting: The expelled members can run again for their old offices.
The Tennessee Democratic Party has already begun fundraising to support them in special elections, and they can't be expelled a second time for the same reason per the state Constitution, the Tennessean reported.
The big picture: While Republicans have derided former President Trump's historic indictment, they've also reprimanded Democratic colleagues in statehouses over political actions, AP reports.
Republican lawmakers in March censured Oklahoma Democratic state Rep. Mauree Turner, the first openly nonbinary lawmaker in the U.S., alleging they impeded a law enforcement investigation when they allowed a protester to take refuge in their office.
In Wisconsin, the state Senate's new supermajority has already started talking about impeaching Judge Janet Protasiewicz, whose election this week gave liberals the state Supreme Court majority for the first time in more than a decade.
Meanwhile in the U.S. House, partisan conflict over removing committee assignments has escalated under the new House GOP majority.
State of play: Expelling members from a legislative body is "extremely rare" and usually happens when someone has been "indicted or convicted of a crime or when there is an extreme ethical violation," Bruce Oppenheimer, a professor emeritus of political science at Vanderbilt University, told Axios.
Government bodies have the right to set their own rules of conduct and to punish violations, Paulson said, but emphasized that this has only been done before in cases of "gross misconduct and criminal behavior."
The lawmakers exercised "their free speech rights in a boisterous and arguably disruptive way," he added, arguing they were being punished for speech that echoed protesters.
Members in question might resign, or for lesser violations be reprimanded or censured. But even these actions would occur after a thorough investigation, Oppenheimer said.
What to watch: A key question is whether Thursday's outcome will "make it easier" for the majority party in either Congress or a state legislature "to punish members of the minority party who are trying to get some attention to an issue," per Oppenheimer.
Go deeper