Cities are in a love-hate relationship with pickleball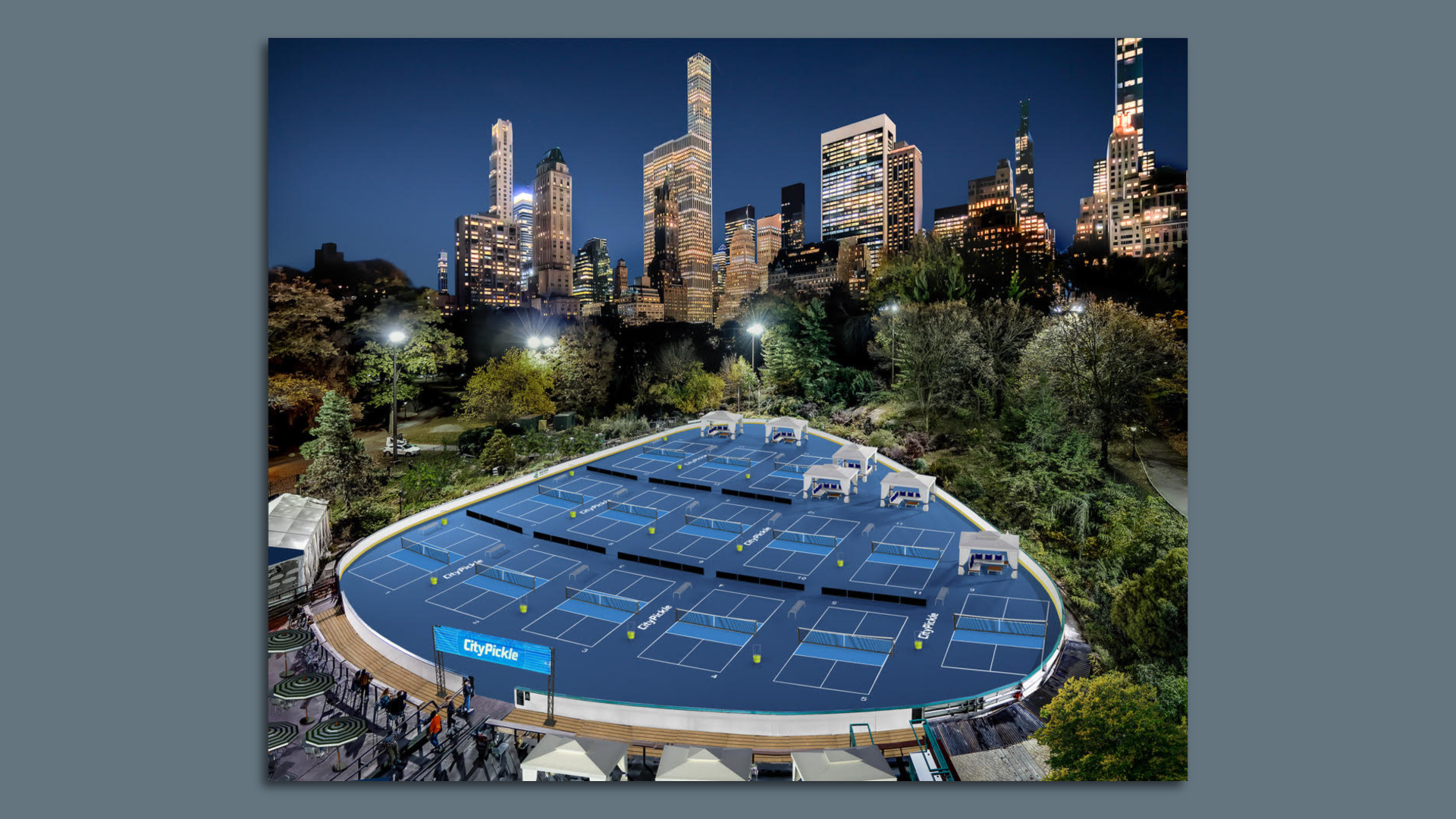 Cities nationwide are grappling with the seemingly limitless demand for pickleball courts — and blowback from neighbors who complain the constant smack-smack-smack is VERY LOUD.
Why it matters: Pickleball is America's fastest growing sport, but adherents are clashing with sleep-loving neighbors — and tennis players and schoolchildren who say their courts and playgrounds are being usurped.
Driving the news: Denver just shut some courts after finding that the sound levels from pickleball play surpassed 70 decibels — above the city limit of 55 decibels, Axios Denver reports.
Turf wars between tennis players and pickleballers have devolved into shouting matches (and worse) in San Diego, Atlanta and New York.
"In some cases, there is a valid concern for the acoustic impact to neighbors," say Carl Schmits of USA Pickleball, the sport's governing body. "And then in other cases, that acoustic concern is being used as a foil by the tennis community to prevent the conversion of existing courts."
The latest: Manhattan's largest pickleball facility opens Friday. It has 14 courts in Central Park that'll stay open until Oct. 9, in a well-funded private effort called "CityPickle at Wollman Rink."
"New Yorkers are really hungry for opportunities for pickleball," says Erica Desai, who founded CityPickle 18 months ago with her friend and tennis partner, Mary Cannon.
When the company opened its first courts last fall in NYC's Hudson Yards, "we sold out the entire month of October within two hours of that signup going public," Desai says.
CityPickle is trying to bring the "eatertainment" concept to urban pickleball, with plans to open upscale courts in cities across the Northeast — including Chicago, Boston, Philadelphia, Toronto and Washington, D.C. — where players can get lessons, hold parties, and nosh on tacos and margaritas.
Its first permanent venue, opening this spring, will be a swanky indoor pickleball club in Long Island City, Queens, with a pro shop, restaurant and climate-controlled courts.
What they're saying: "We think that social nature of pickleball is really a special sauce, and we want to create opportunities to bring together that kind of community and joy that we feel around pickleball," Desai tells Axios.
Yes, but: Pickleball can be as controversial as it is popular.
In places where tennis courts have been converted for pickleball use or noise complaints have run high, pickleball-mania has forced city officials into the uncomfortable position of playing referee.
In New York City, pickleball players were banned from a Greenwich Village playground after they were accused of "forcibly evicting" the local children, per Gothamist.
Meanwhile, on the Upper East Side, makeshift courts in Carl Schurz Park — across from Gracie Mansion, the home of Mayor Eric Adams — "have become the subject of a territorial dispute" among skateboarders, basketball players and pickleballers, per a hyperlocal news site.
Flashpoint: Cities such as Las Vegas and Lansing, Michigan, are using federal COVID-19 relief funds to build pickleball courts — which qualify because they're community facilities aimed at boosting public health.
Republicans have lobbed pork-barrel accusations at this use of taxpayer dollars.
But most communities are looking at public-private partnerships to fund court construction, says Schmits of USA Pickleball.
"Almost every large metropolitan area is moving in this direction, of evaluating how to spend, where to locate," he says. "Is it more of an equity approach, where they try to locate facilities throughout the area, or do they look at regional centers, like they're doing in Wichita?"
Case study: At a packed forum on pickleball during the U.S. Conference of Mayors' winter meeting in January, Chris Duncan, the mayor of San Clemente, California, raised his hand to describe his community's predicament.
"Every Council meeting, we have 50-plus people in red shirts" — pickleball fans — who show up to agitate for more public courts, Duncan said.
"Those 50 pickleballers go against 10 neighbors at every meeting who don't like the sound," he said.
To meet the "massive demand," the city recently voted to build new pickleball courts — but "funding is an issue" and "we're definitely looking for private partners," Duncan said.
Of note: April is "National Pickleball Month," a designation USA Pickleball is using to market the sport.
The bottom line: With Town & Country dubbing pickleball the "preferred sport of the 1%" and tennis legends like John McEnroe and Andre Agassi competing in televised tournaments, pickleball's public stature and neighborhood presence will likely continue to rise.
Go deeper