Mayors call for help with migrants and asylum seekers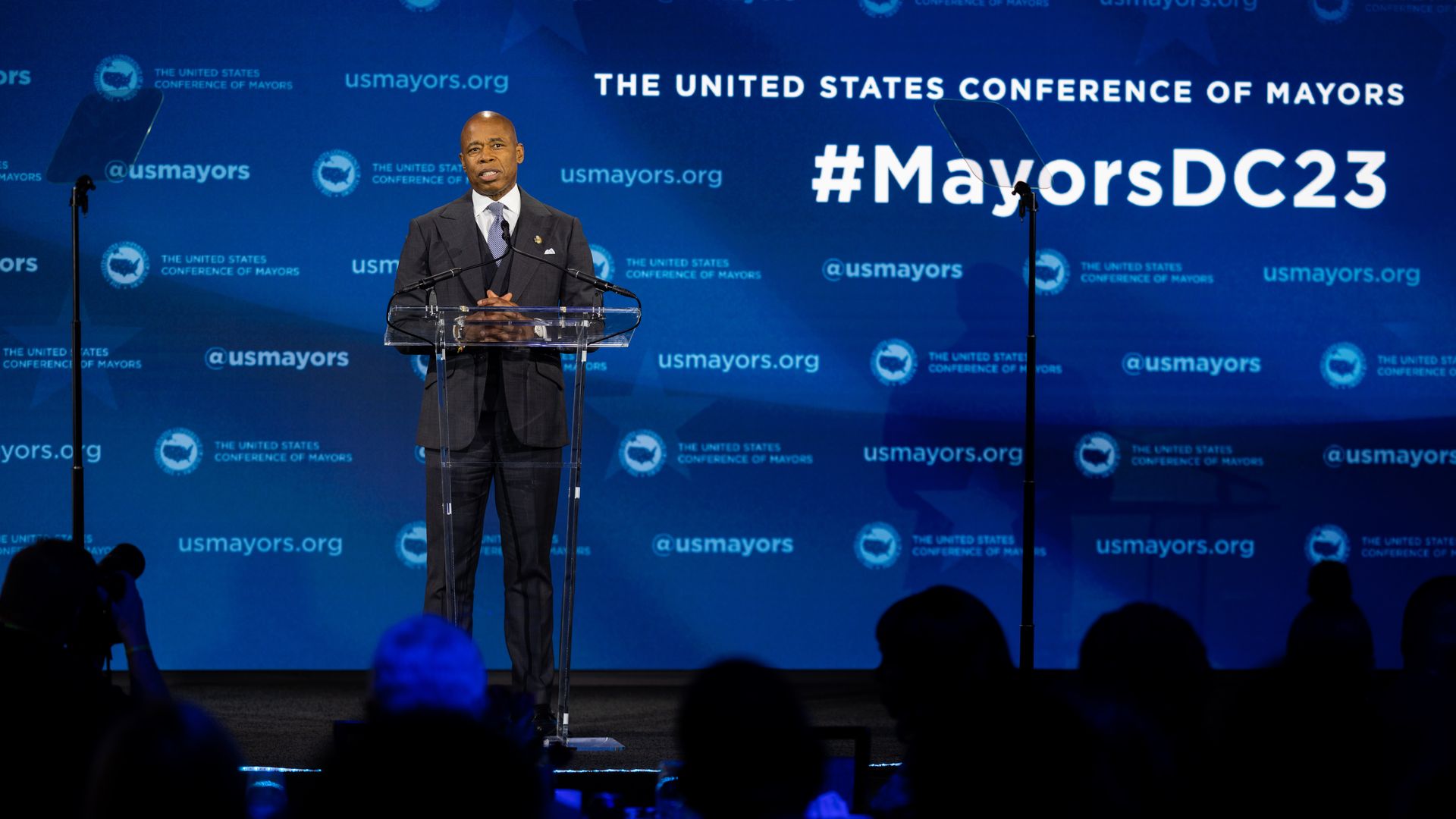 At their winter gathering on Capitol Hill this week, the nation's mayors delivered a bipartisan message to Congress and President Biden: Help stop the flow of migrants and asylum seekers into our cities — and give us the funds to take humane care of those who arrive.
Why it matters: As much as they care about issues such as climate change, mental health, COVID-19 relief funds, gun control, and the opioid crisis, immigration bubbled to the top of the agenda at the U.S. Conference of Mayors meeting.
"Unchecked immigration placed a tremendous burden on our cities," said Francis X. Suarez, mayor of Miami and president of the nonpartisan group of mayors.
"We've been very vocal and transparent about how this crisis has impacted American cities and in our call on the federal government to help not just deal with the crisis, but solve the crisis," said Suarez. (Suarez is a registered Republican, though the office of Miami mayor is a nonpartisan position.)
The meeting drew 270 mayors from cities of 30,000 people or more — including 70 newcomers and an unusually high number of women among them.
Catch up fast: Record numbers of migrants and asylum seekers arriving at the U.S.-Mexico border have created humanitarian crises, logistical headaches, and a political nightmare for President Biden from nearly the start of his presidency, Axios' Stef Kight reports.
Republican governors like Texas' Greg Abbott and Florida's Ron DeSantis have bused thousands of migrants to liberal cities like New York, Washington, D.C., and Chicago to challenge Biden's border policies, prompting the Democratic mayors of those cities to ask for federal help.
In early January, Biden released a new policy in an effort to curb illegal border crossings.
In a nod to the gravity of the issue, U.S. Secretary of State Antony Blinken was dispatched to the conference for the first time and held a closed-door session with mayors on immigration and other issues.
The following day, the mayor of San Diego, Todd Gloria (D), held a closed-door session on "Responding to the Influx of Migrants to Our Cities."
"What we truly need beyond the dollars from the federal government is comprehensive immigration reform," Gloria said at a press conference before that session began.
"What we have is an antiquated system, and Congress surely sees that."
Suarez said that "as mayors, we have to fill the potholes of America," adding: "One of our potholes is our ongoing lack of action on immigration."
Zoom out: New York City Mayor Eric Adams (D) captured the mood of the conference in demanding a "national call to action on three of the most serious issues facing us as a nation: gun violence, the fentanyl epidemic, and asylum seeker crisis."
"These are issues that need a 50-state strategy," said Adams, who in October declared a state of emergency over the busing of migrants to the Big Apple.
He recently visited El Paso to see the border crisis firsthand: "What I saw was not a state problem or city problem — it is a national problem driven by global forces impacting regular people."
His six-point migration plan included naming a "dedicated point person" in the administration, expediting the right-to-work for asylum seekers, and a "decompression strategy at the border that establishes a plan for each migrant's arrival."
Between the lines: The nation's mayors skew heavily Democratic, so they're taking pains not to offend the Biden administration.
"Mayors have never had better partners than the Biden administration," Columbus, Ohio's Democratic Mayor Andrew J. Ginther said at the meeting.
Go deeper