Hot pandemic-era sport: Pickleball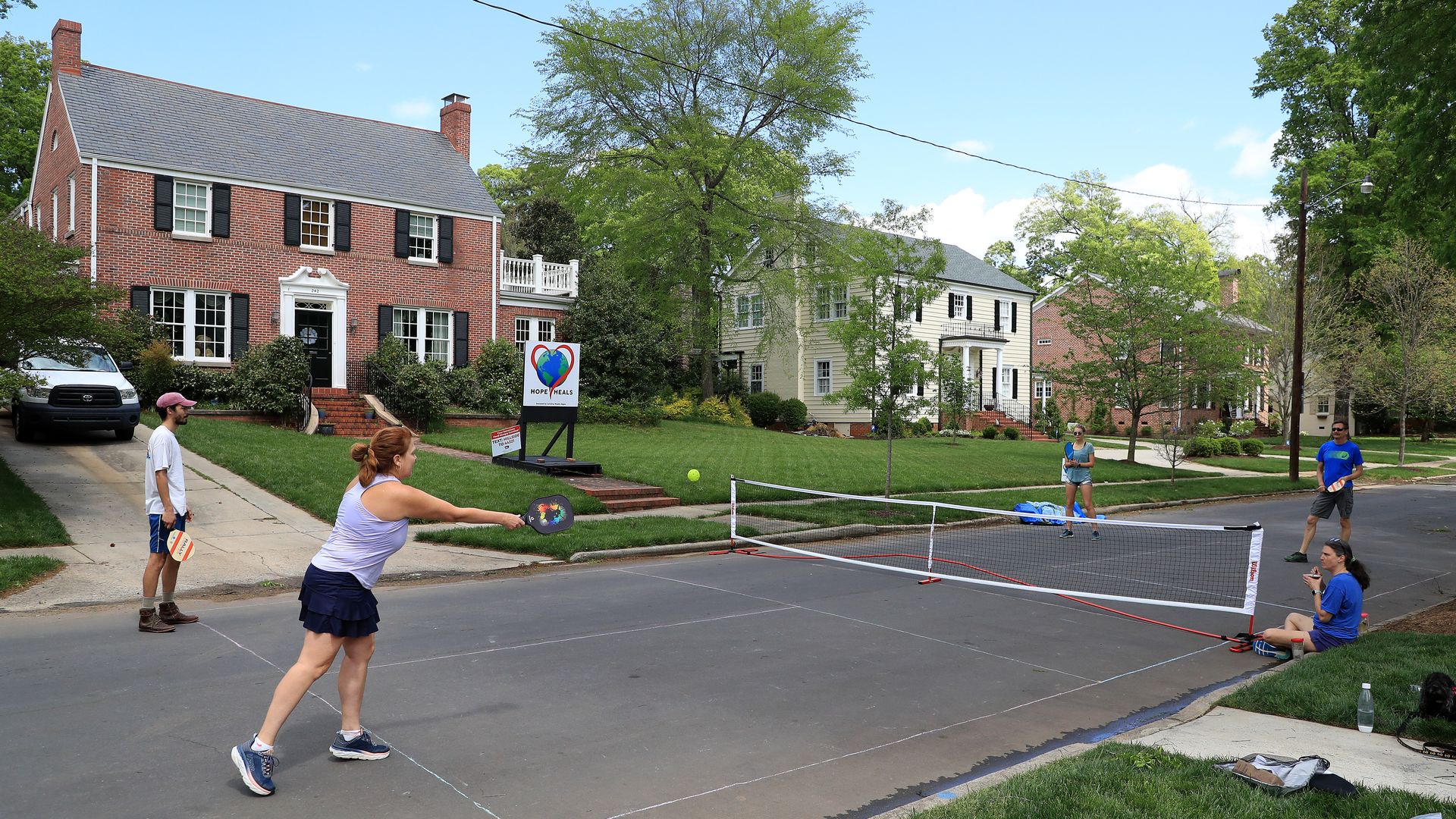 A newfangled racquet sport is taking the nation by storm during the pandemic, with cities building municipal courts and homeowners associations drafting regulatory ground rules.
Why it matters: At a time when safe, outdoor recreation options are a premium, pickleball — which has become a craze among seniors in particular — is going increasingly mainstream, as are related noise complaints.
A cross between tennis, badminton and Ping-Pong, pickleball is played with a paddle and a plastic ball with holes on what looks like a miniature tennis court.
USA Pickleball, the sport's national governing body, says it has 40,000 members who play in all 50 states.
There's a growing roster of tournaments and corporate sponsors. (Here's a primer from Axios' Jeff Tracy on how to play.)
"If you've ever swung any sort of a racquet before, you can become competent in an hour," Stu Upson, CEO of USA Pickleball, tells Axios.
Plus: "It's so social, it's almost a lifestyle for so many folks."
Driving the news: While the Sunbelt states are the biggest pickleball hotbeds, demand for public courts is exploding everywhere. According to my colleagues at Axios Charlotte, "every park update and new 55+ community has a pickleball team/designated space."
In San Luis Obispo, California — where there's typically a 20-minute wait for a court — the city is spending $120,00o to build its first permanent pickleball courts, per the SLO Tribune.
New England's first dedicated indoor pickleball complex is about to open in Hanover, Mass. (just south of Boston) with six tournament-sized courts.
"It's crazy where all of a sudden, people are putting up courts in their driveways," Upson said.
Where he lives — Darien, Connecticut — "our local country club took out one of the tennis courts and replaced it with four pickleball courts."
The other side: The thwack of a wiffleball against a paddle is resonant, and condo and homeowner associations are being flooded with pickleball-related noise complaints.
"I can't live with this constant 'pong, pong, pong' every morning," one resident of a South Florida retirement community laments.
The problem "has resulted in various lawsuits and settlement agreements costing associations tens of thousands of dollars and has severely harmed many associations' financial wellbeing," writes HOA lawyer Steven J. Tinnelly.
USA Pickleball has a task force on the noise issue, Upson says: "We're doing some research on sound barriers, and looking at equipment" that's less loud.
Flashback: The sport was invented in 1965 on Bainbridge Island (near Seattle) by three dads — including Joel Pritchard, who became a U.S. congressman — "whose kids were bored with their usual summertime activities."
By one account, Pritchard's wife coined the name because the sport reminded her of "the pickle boat in crew where oarsmen were chosen from the leftovers of other boats."
By another: "The game was officially named after the Pritchards' dog Pickles who would chase the ball and run off with it."
Go deeper