First look: White House seizes on McCarthy's budget comments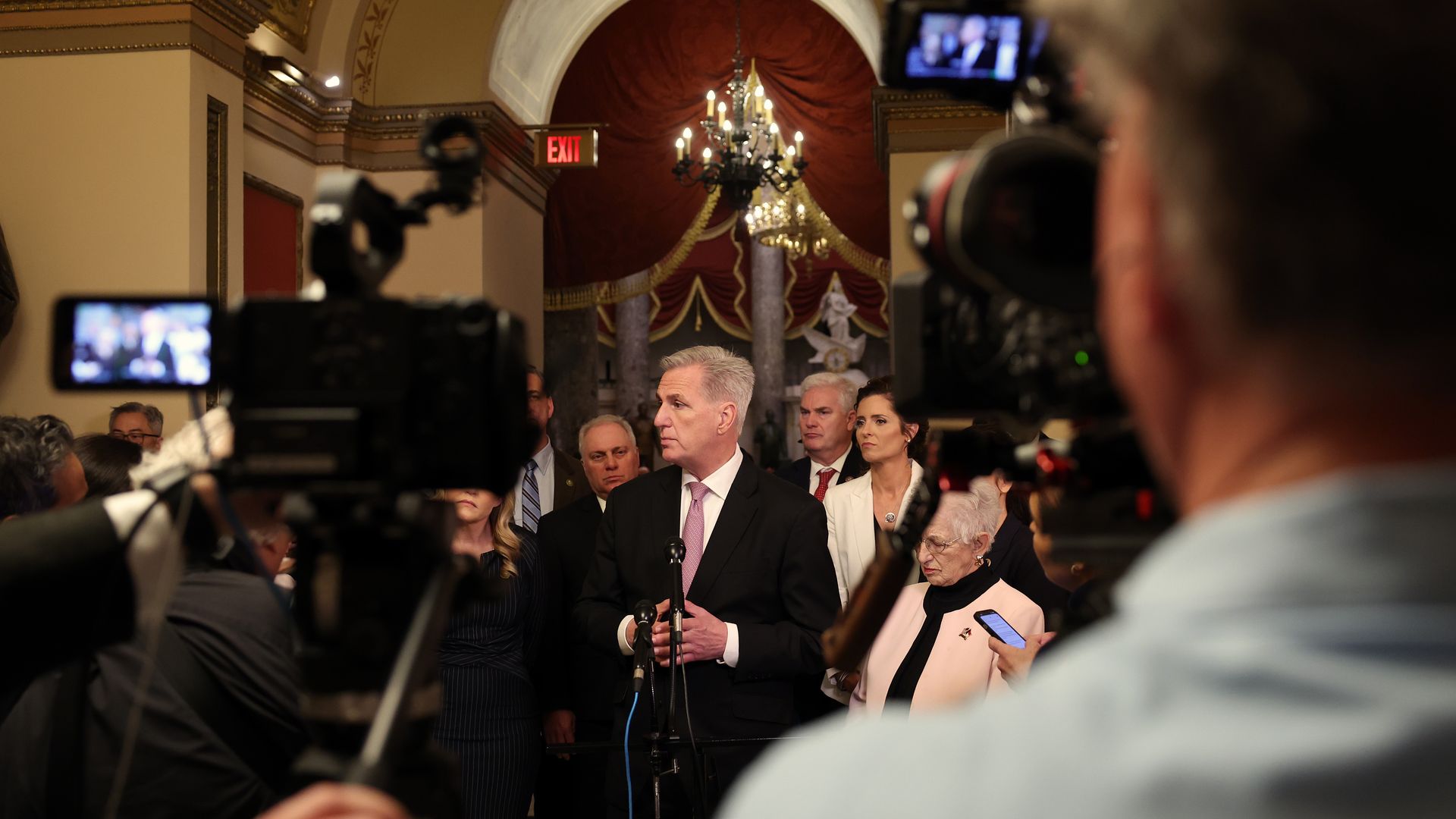 The White House is dredging up a House Speaker Kevin McCarthy (R-Calif.) comment from January to ding him over the lack of a House GOP budget proposal.
Why it matters: It's the latest reprisal in an escalating messaging war between McCarthy and President Biden over who is most responsible for the breakdown in negotiations over the budget and the debt ceiling.
The back-and-forth is dampening hopes on the Hill that any deal can be struck before the U.S. stops being able to pay its bills – which could happen as soon as July.
Driving the news: The White House, in a memo obtained by Axios, cites a comment McCarthy made in a CBS News interview on Jan. 29, in which he said "our very first responsibility, we both should have to pass a budget … so the country can see the direction we're going."
The memo also highlights House Majority Leader Steve Scalise (R-La.) saying at a press conference on Jan. 31 that their budget is "due in April" and "we're going to work to meet our deadline."
The state of play: McCarthy sent Biden a letter on Tuesday calling for them to meet for the first time since early February to discuss the impending debt ceiling crisis.
McCarthy wrote that he is "prepared to sit down to discuss a variety of means to do so that would achieve trillions of dollars in savings."
Biden responded that Republicans should release a budget proposal before the House breaks for a two-week recess on Thursday.
"For [our] conversation to be productive," Biden wrote, "We should both tell the American people what we are for."
What they're saying: Biden agrees with McCarthy's comments in January "on both counts," White House deputy press secretary Andrew Bates wrote in the memo, "because the American people deserve to know what their leaders value."
A conversation between the two men "requires seeing a full budget proposal from House Republicans, including revenue and spending," he continued.
The other side: Republicans have pointed out that Biden sent his budget request to Congress on March 9, more than a month after the first Monday in February – the date presidents are required to do so under the Congressional Budget Act.
The statute sets an April 15 deadline for congressional action on a budget deadline – two days before House returns from recess until April 17.
"We were going to do the budget in April but unfortunately the president's so late with his budget, it delays our budget," McCarthy said earlier this month.
Zoom in: The lack of a GOP budget outline has left ideological caucuses within the House Republican Conference trying to shape negotiations with the White House.
Go deeper