Biden and McCarthy: A clash of strategies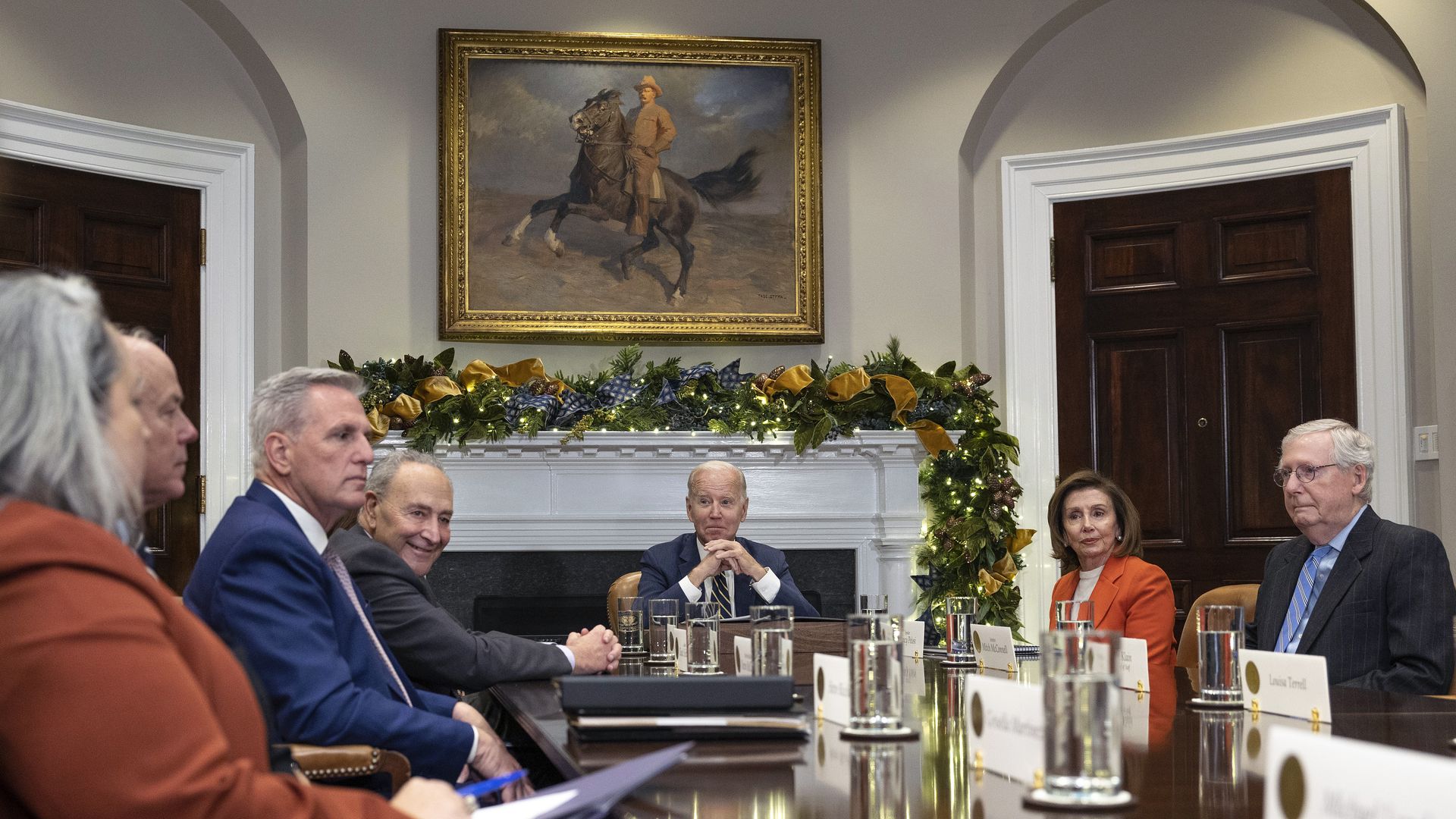 President Biden and House Speaker Kevin McCarthy enter their talks on the debt ceiling today with remarkably similar lines about each other: Nice guy, but totally captive to his party's base.
Why it matters: Biden and McCarthy, who will meet at the White House this afternoon, are leaving space for their relationship to develop, but ready to blame any failure to get along — or get a deal on raising the debt ceiling — on the other's internal party dynamics.
Biden makes clear he thinks McCarthy needs to prove he can get House Republicans to back a deal—and show he can pass a budget—before serious talks on any spending cuts Republicans want.
Treasury Secretary Janet Yellen has warned of a "catastrophe" and a financial crisis if the U.S. doesn't raise the $31.4 trillion debt ceiling by early June.
What they're saying: Biden called McCarthy a "decent man" at a fundraiser in New York on Tuesday, before quickly adding that the California Republican had to make "commitments that are just absolutely off the wall" to get elected speaker.
McCarthy insists that Biden might be ready to make a deal, if only his advisers would let him. "I know his staff tries to say something different, but I think the president is going to be willing to make an agreement together," McCarthy told CBS's Face the Nation on Sunday.
"I am looking forward to sitting down with the president to negotiate for the American public, for the people of America, how we can find savings," McCarthy told reporters Tuesday.
Driving the news: Like two presidential campaigns preparing for a debate, the run-up to today's meeting has involved a debate about the terms of the debate.
Team Biden doesn't want the debt ceiling on the table for their first meeting since McCarthy became speaker. Team McCarthy wants everything on the table.
Tuesday morning, the White House tried to box in McCarthy, blasting out a memo demanding that McCarthy commit to "the bedrock principle that the United States will never default."
The memo also called on McCarthy to release a budget and specify where his party would make spending cuts.
The other side: The speaker responded on Twitter: "Mr. President: I received your staff's memo. I'm not interested in political games."
McCarthy's team has noted President Biden's 2023 posture is at odds with Senator Biden's 2006 position, when he voted against raising the debt ceiling.
The big picture: In the last four administrations, presidents and speakers from opposite parties have had to figure out how to govern in tandem after divisive campaigns against each other.
Some pairings have produced major pieces of legislation, like Bill Clinton's welfare reform in 1996 or Barack Obama's Budget Control Act in 2011.
But with little common ground for potential policy changes between them, the main interaction between Biden and McCarthy will be on new government spending and old government debt.
Flashback: Democrats are scarred by their 2011 debt ceiling brinkmanship, when credit agencies downgraded the U.S.'s rating and financial markets stared into a potential abyss.
Then-Vice President Biden was among the lead White House negotiators, leading to a deal that raised the debt ceiling while imposing spending cuts.
Democrats felt burned by the experience. In future showdowns, President Obama refused to negotiate over raising the debt ceiling. Biden now has adopted a similar position.
What we're watching: Before heading to the White House this afternoon, McCarthy will meet with House Republicans to discuss how to cut spending.
Go deeper